XstreamingTV Review by Real User. The Xstreaming IPTV service is relatively new to the Internet TV market. They bring something a little different than streaming TV services such as Sling TV and FuboTV. You get many more live premium TV channels to watch shows, movies, sports, and news online.
This IPTV service also has over 1000s of on-demand movies (old, recent, and very recent). If you are a movie buff, there are plenty of live channels/networks with movies. If you are looking for a cheaper solution to cable/satellite TV, Xstreaming TV saves you money. Individuals living outside the U.S. and wanting access to channels from the U.S. other countries can get that also. There are no restrictions which means anyone from any country can get access.
IMPORTANT UPDATE!…
We are no longer recommending this IPTV service provider. We take pride in finding you the best out there to fulfill what you want even though you may not know what all is available to you. That said, we are recommending a top IPTV service with fewer issues that deliver great streaming content, features, and support. Click the link below to get your trial or a full subscription.
DO NOT READ BELOW… All links to xStreaming TV have been removed…
——————————–
Not only are there plenty of popular XstreamingTV channels there's also a huge live/on-demand sports section with PPV events. No extra cost to watch special Pay-Per-View special events. And just when you think that's all there is, they also have MP4 movie downloads (no fees) when using a computer.
Get Your 3-Day Trial for $1 (no credit card require) and Watch Favorite Channels Online
Two XstreamingTV Review videos were also created to better understand this IPTV service. Part 1 video introduces the X streaming TV service and covers information found on their website. In part 2, you'll look over the reviewer's shoulders to see inside the Web Player app for PC. See features and navigation in action including live and on-demand streams play.
How to Get Local OTA TV Channels and Connect Computer to HDTV/Smart TV
How to Install on Fire TV/Stick
Get Your 3-Day Trial for $1 or Pay to Subscribe Here
What Is Xstreaming TV? It's an IPTV service [https://www.tripleplay.tv/what-is-iptv/] that delivers media content (live television and VOD) across multiple devices. You only need a streaming device (computer, Fire TV, iOS or Android device) and Internet connection. Some web player apps are included as well. You can watch many of your favorite channels/networks online (national, regional & some local channels).
They are not a cable or satellite TV company nor an OTT (Over-the-Top) media service. The Xstreaming TV service claims to deliver 1000+ live premium channels and 14,000+ VODs. Time shifting is included as well as PIP (Picture in Picture) technology. I'll go more in-depth when covering all the features later in this XstsreamingTV review.
This IPTV service has a sister site (Mercury IPTV) where subscribers actually go to watch all the streaming content. You are taken to this sister site when signing up to X streaming TV.
Is It Safe and Reliable? The website itself is very safe to use as well as the XstreamingTV app. There is no virus or malware to worry about. I've never experienced any type of issue when using this new IPTV service. The content delivery is quick and smooth, and I never experienced any downtime. Most live XstreamingTV channels and VOD played without any issues.
How Does It Work? When using a computer (Windows or Mac), the web player app must be used. It opens in a web browser. The recommended web browser to use is the Google Chrome browser or Safari browser. When opting into the free trial or choosing to pay a subscription package, you also create a username and password. Afterward, you will receive an email with instructions, links, and login credentials.
Inside the members are instructions and links to download the web player for PC, iOS, Android Devices. There are instructions with steps on how to download the apk to Amazon Fire TV/Stick. You won't find the app in the Play Store. Although an app is mentioned for Apple, support told me…
"unless Apple TV has a web player with flash and other plugins enabled (which is unlikely) it won't work on there."
Note: X streaming TV app for the Fire TV/Stick does not have the same features mentioned above for the web player.
When signing into the web player app from my computer with a web browser, the Home page appears with 6 icons as follows:
TV Guide (incl. Play Last, Prev Last, English, Spanish, Sports)
Sports (Incl. Regional Locals, Sports Networks, Seasonal Sports, PPV / Events, PIP)
Search (Show/Channel/Movie)
Live TV (Incl. Play Last, Prev Last, Regional Locals, Sports Networks, Network TV, PPV / Events, Canada, Latino, UK, etc.)
Video On-Demand (Incl. A-Z Search Index, Play Last, Prev Last)
Settings (Same as Sports)
When using the X Streaming TV app for Fire TV, two more features are included:
Extra (Black & White Movies)
Favorites
Below the icons mentioned above, show more features:
Settings (Speed Test; Sync VOD & Clean Library; [ADV] Delete Xstreaming<em>TV Cache; Reset Guides)
Status
Exit
Note: It took me a while to figure out how to add channels/networks to favorites. For Instructions with steps, Click Here:
No instructions are needed to maneuver around. Everything is self-explanatory. If you ever used Sling TV, FuboTV, Netflix, or Hulu, it's just as easy. All the content is placed in easy to find sections such as TV Guide, Live, TV, Sports, and On-Demand. You can watch Part 2 of XstreamingTV Review to see navigation, how features work and watch live TV/VOD play. Click Here
APK for Firestick
If you have Amazon Fire TV or Fire Stick, this is the best device to use for your HDTV or smart TV. Unfortunately, there is no smart TV app at this time. There are instructions on how to install the apk in the members' area. You also can watch an XstreamingTV on Firestick video.
XstreamingTV Channel List
There is no XstreamingTV channel list available on the Xstreaming IPTV website. But you are welcome to opt into the 3-day trial. You get full access and can check out all the available channels/networks from different countries. As mentioned before, they claim to have over 1,000 channels and 14,000+ VOD movies.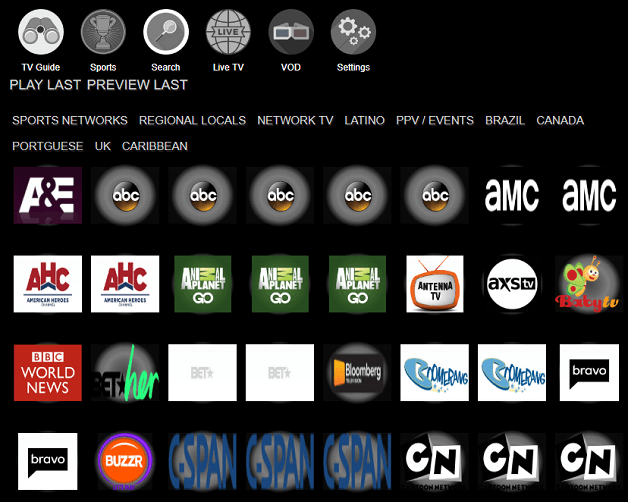 Every popular channel/network you can think of is available, which makes cutting cable/satellite even more appealing. You get plenty of channels, movie channels, sports, and news broadcasts worldwide. And there's a menu with links to help sort things out when looking for certain categories of channels.
Regional and Locals
Besides many national channels available, there is a 'Regional Local' section. If you are from the U.S., perhaps some of the other countries like UK,  you may find some regional and local channels. I was able to find several of them for the Philadelphia Pennsylvania location. If you are living without cable/satellite TV and want access to all your local OTA TV channels, consider purchasing an indoor HDTV antenna.
VOD Movies
If you love watching movies or a movie buff, no doubt your thirst for films will be fulfilled. Not only do you get access to many popular premium movie channels but over 14,000 VOD movies also. And each movie can be downloaded with no extra cost (more on this later). There are more movies than any cable/satellite subscription.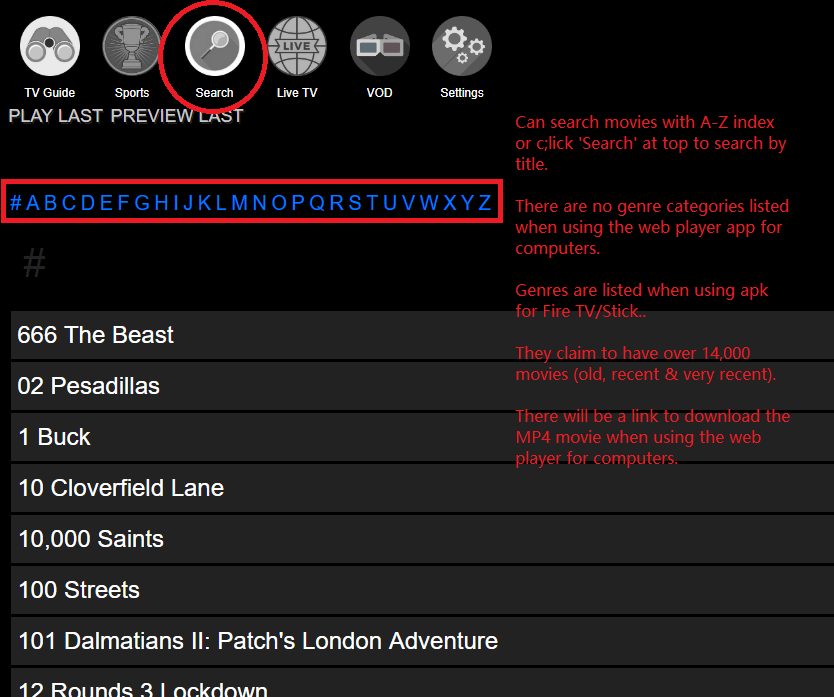 OTT streaming media service and on-demand websites such as Netflix, Hulu, and Amazon Prime Video don't let you download MP4 movies. Search movies by title, A-Z index, or genre depending on which app or web player you use. All movies come in HQ and HD picture quality, perhaps some SD picture quality also. I never came across any subpar quality.
Live Sports
If you are a sports fan or fanatic, you'll have no problem watching local ballgames and sporting events online. In fact, you can watch international sports including PPV (Per-Per-View) special events such as live boxing. There's also an on-demand section for some boxing matches and other sporting events.
Many popular sports networks are available in sports categories listed below:
Football; NCAAF; College Football; Baseball; Basketball; live Events (Fights); Cricket; Live Sports; Match Center; Combat Sports; Hockey / Ice Hockey; MMA; Soccer; Wrestling
Note: Regional Local sports included.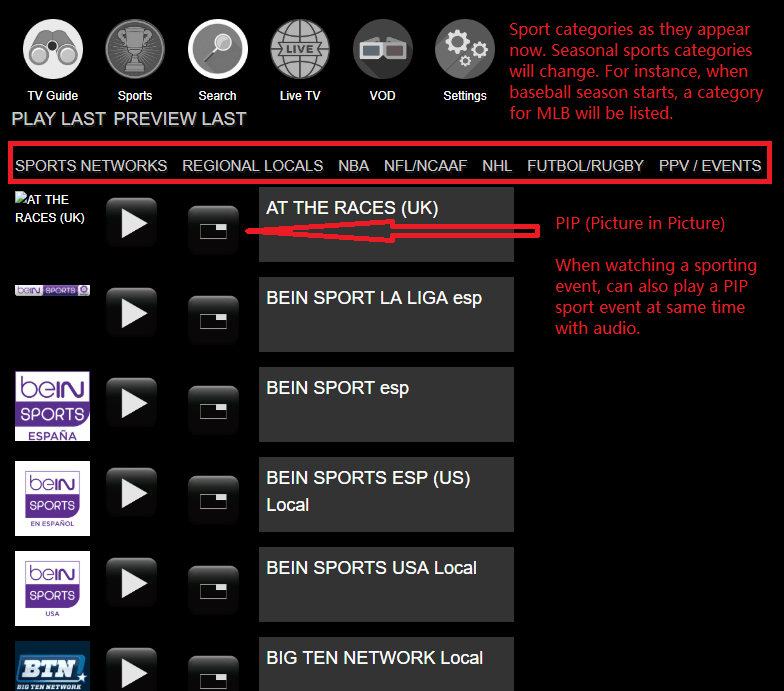 The 'Match Center' is available in the Xstreaming TV apk for Fire TV Stick. When clicking the 'Sports' icon and scrolling downward, I clicked 'Match Center' to open. After about 20 seconds or so, a list of sporting events appeared. The list includes day, times, and names of each sporting event. I can click any sporting event link to play the live stream.
Note: Be aware of schedule times of the sporting events to play and watch them online.
To Start Watching Live Premium Channels with Movies, Sports, Shows, and News – Click Here
Channels Delivery, Interfacing & Quality
I was very pleased with the interfacing of Xstreaming IPTV. Live and VOD streams both played fast and smooth. There isn't much delay when clicking a channel or VOD to play. The audio is good also. From the number of live channels and on-demand content that I played, the picture quality appeared to be 1080p HD. There may be streams with 720P, HQ, and UHD picture quality also.
XstreamingTV Review – MP4 Movie Downloads
There are only one way and one type of device you can download MP4 movies. A windows or Mac computer that uses the web player can download MP4 movies. It's a simple process that only requires going to the VOD section, choosing a movie, and clicking the download link.
Members can get access to the web player from the members' area. Just click the web player link and it will open in the web browser (Chrome or Safari browser recommended). Everything is there to watch live TV, sports, video-on-demand, etc. When clicking the Video-On-Demand icon, a list of movies appears with the A-Z index above it.
Search and click the movie link and the TV player with the chosen movie appears. You don't have to play the movie to download it. Just click the 3 vertical dots in the far right corner of the TV player. A popup window appears and you will see the Download link. Click the link to begin downloading the movie.
If you have a fast internet connection (download) speed, it won't take long to complete the MP4 movie download process. I have over 190 Mbps Internet connection (download) speed. It took less than 30 minutes to complete the download. You can play or don't play the movie MP4 to download it.
When using the Google Chrome browser, you will see the download process begin in the lower-left corner of the browser. When the download process completes, open it, or save the MP4 file to your computer hard drive or external hard drive. Using an external hard drive is best if you plan to download many movies. You don't want to eat up a lot of your computer's storage space.
Movies play in HD — crystal clear picture quality. Some may have SD (Standard Definition) quality but I never came across any sub-par or cam recorded movies. Now, you may not like using the A-Z index to find a movie. This is a longer process whether you know the movie title or not. There is no genre listed for Action, Drama, Horror movies, etc. But you can use the Search icon when leaving the VOD section to search for a movie title.
How to Download MP4 Movies – Click Here
Xstreaming IPTV: Features and Benefits
Note: Only devices with * were used and tested. It is unclear what features are available for other compatible devices (iOS, Android Devices including Android TV & Tablet).
Features
PIP (Picture in Picture) * Computer
MP4 Movie Downloads * Computer
Time Shifting (Live TV & Sports) * Computer & Fire TV/Stick
Search Titles & A-Z index
TV Guide
Regional / Local * Computer & Fire TV/Stick
Play Last & Preview Last * Computer
Close Captions * Computer
PPV / Events
Boxing Replays
Match Center – Sports Listing * Fire TV/Stick
Note: See the description of these features below.
Several of these features are not available in many streaming TV services. But not all features are available in each app. For instance, I could use the PIP (Picture in Picture) when using my computer. When I used the XstreamingTV apk for my Fire Stick, the PIP feature was not available.
PIP (Picture in Picture) * Windows & Mac computers. Allows you to play one live or on-demand stream while playing another live or on-demand stream at the same time. I was able to do this quite easily for sports, movies, and live TV channels. Unfortunately, there is no PIP feature inside the XstreamingTV app for Fire TV.
MP4 Movie Download * Windows & Mac computers. This download feature is available when using a computer to open the Web player app (in a web browser). However, this feature is not available when using a Fire Stick. You should also think about using a computer with this service if you want to download MP4 movies.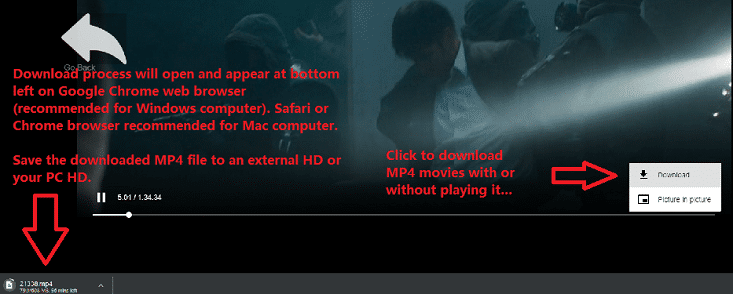 You can download movies to your computer's internal hard drive or an external drive. In the latter, this is what I did to conserve storage space on my computer. Watch the video to see MP4 movie download in action. You can burn the MP4 file to CD/DVD or upload movies from computer to other devices.
Time Shifting (Live TV & Sports) * Computers and Fire TV/Stick. When the live TV channel plays, it records so that you can fast forward or rewind in 15-second intervals (more or less). This feature helps you move through commercials a little faster (can be a little tricky).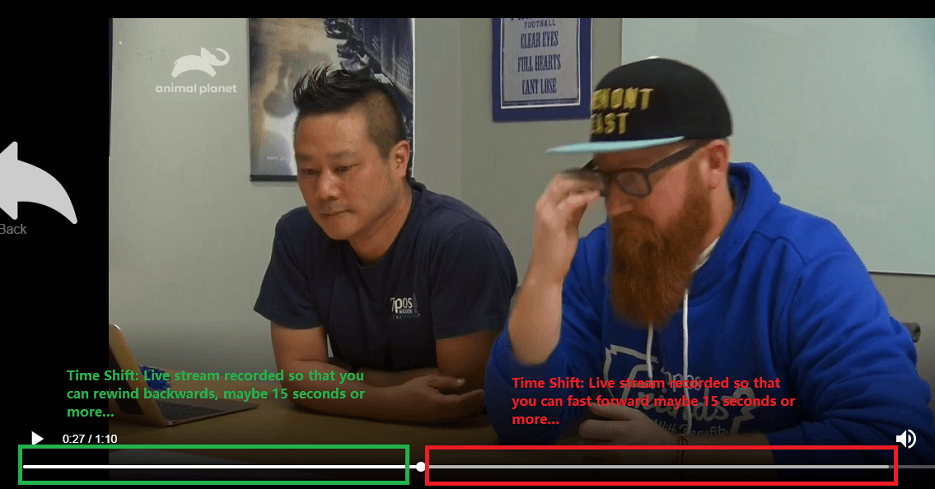 Search Titles & A-Z index * Computer. When conducting my review, I was interested in knowing how movies can be searched. They claimed to have over 14,000 movies so this was something I wanted to see. When using a computer, the Search by title and A-Z Index is available to find channels, shows, and movies.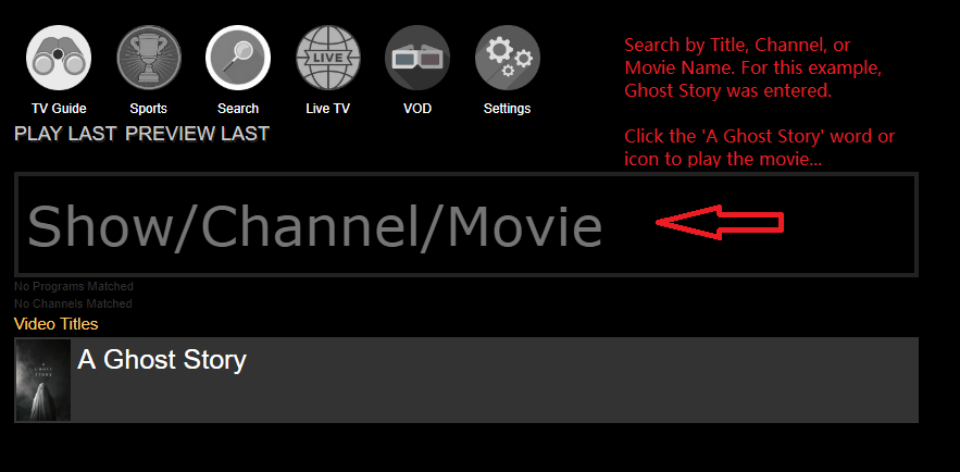 When using the Fire TV/Stick and clicking the Live TV icon, a Select Menu popup window appears. You can choose from the following:
USA Channels
Local US (May or may not have channels from your local area)
UK Channels
Canada Channels
Spanish Channels
Latino Channels
Portuguese Channels
Brazilian Channels
24HourTV (Play TV Shows/Movies)
PPV (ESPN and Events Live)
Music
Amenian Channels
Caribbean Channels
Italian Channels
French Channels
German Channels
Asian Channels
Arabic, Pakistani
Search Channel Name
Note: When choosing one of the above (Channels, Local, Music, PPV), clicking the left navigation side of the Fire Stick remote control open an Options window. Unfortunately, small parts of what is listed on the far left side can't be seen. But what I could see was List, Sort by: Title, Search, add-on settings, background, etc.
Sadly, there are no genre categories in the web player app for the computer which I was surprised. If you want to find action movies, there is no genre available. When using my Amazon Fire Stick to access Xstreaming IPTV, all the genre categories are there. If you want to see how this app works on the Fire TV Stick, Click Here.
Try 3-Day Trial for $1 and Get 1000s of Popular Live Channels and 14,000+ VOD Movies
TV Guide. The TV Guide is just like any guide. it lists all live premium channels/networks by name, program description, time, and day. This section also has the time of day with 3 links below it (English | Spanish | Sports). For instance, when clicking the Spanish link, all TV listings changed to Spanish. You can do the same when clicking English or Sports.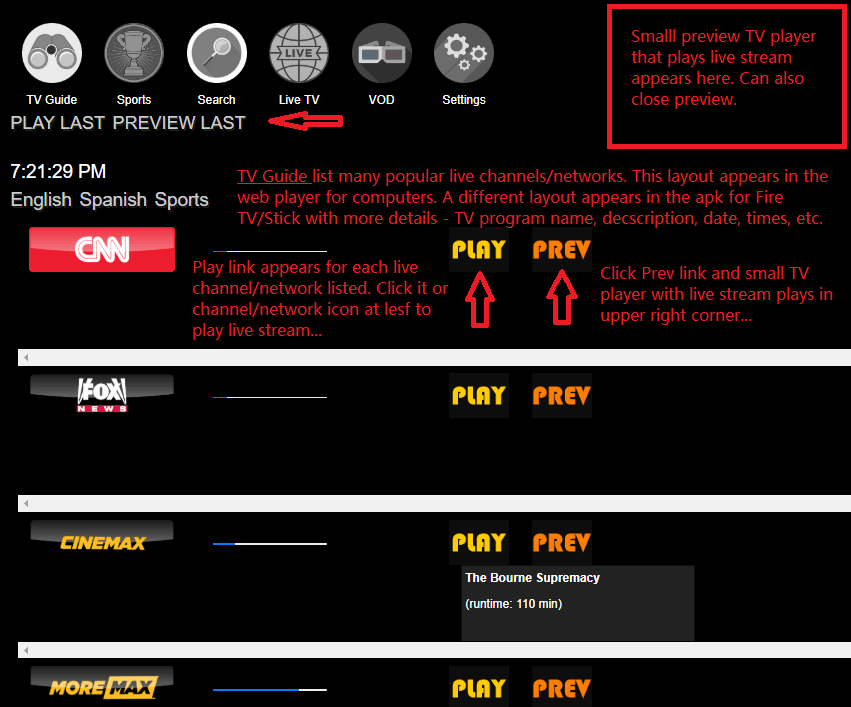 Each channel/network also has Play and Prev icons. When clicking 'Prev' for one channel, a small TV player opened in the upper right corner with the live stream playing. I could close the live stream by clicking the 'Close Preview'.
To play a channel, I simply clicked on the network name icon. I can also click on the 'Play' icon. The live channel played immediately in 1080p HD quality, like all other live channels.
How the streaming content is categorized and delivered is somewhat different from the Fire TV/Stick app. This includes features that are not the same in each app/apk.
Regional Local for computers and Fire TV/Stick. Many, many Live regional/local TV channels are listed but you may only find one or a few of your local channels. There will be more regional channels listed but not a great number. I found regional and local channels listed for my location. For Philadelphia and Pennsylvania channels/networks. I got Fox 29, ABC, CSN, CSN Philly, and several channels in Pennsylvania.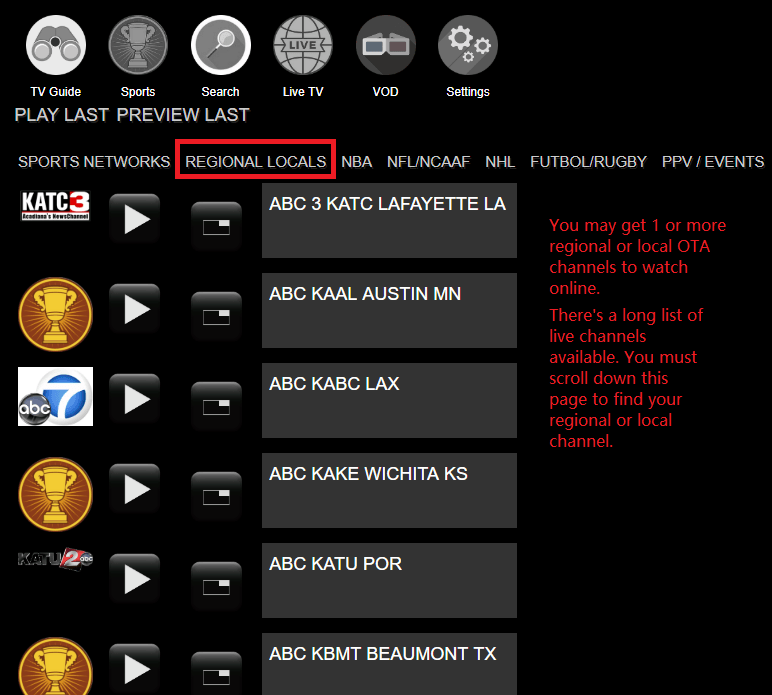 Note: If you are living without cable/satellite and want all your local OTA TV channels, I suggest you purchase an indoor HDTV antenna that cost around $30 or less. Don't buy just any antenna. Click Here to Find the Best.
Play Last & Preview Last * Computers. The 'Play Last' feature lets you play the last live or on-demand stream you watched previously. The 'Preview Last' feature lets you preview the last stream you watched previously. This is where a small TV player opens in the upper right corner with the stream playing. There's also a 'Clear Preview' button to close the small TV player.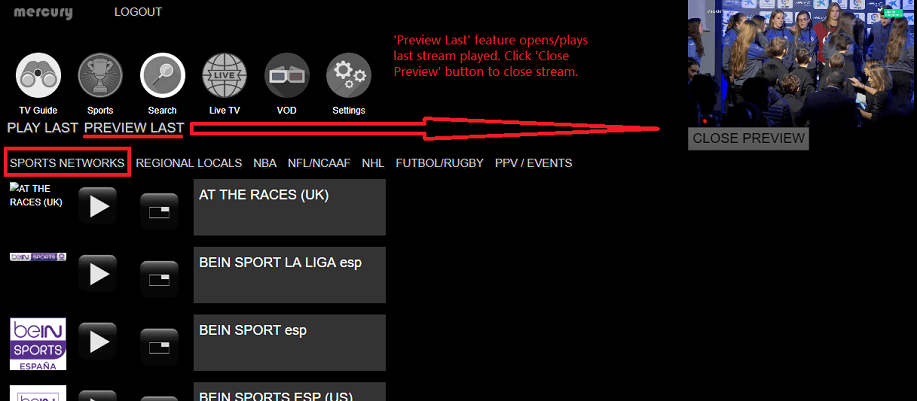 Benefits
No local sports blackouts
Watch same channels as cable/satellite TV
Download MP4 movies (computers only)
Over 1000 live channels from US, UK, CA, and many other countries
Over 14,000 VOD – movies from all genres including PPV events
Use up to 5 devices or TVs (w/ Fire TV or Stick) simultaneously
No IP address or country restriction
HQ and HD picture quality
Add to Favorites – quick access to your favorites
TV Guide – Watch what's on now or check what's coming up
Low-cost subscription packages (one-time or recurring fee)
Old time black and white movies
Local and Regional channels
Watch at home or on-the-go
3-day trial for $1
30-day money back guarantee
Support and members area
No high cost or contract
3-Day Trial for $1
There's a 3-day trial for $1 available but you don't need your credit card. The one-dollar fee is charged when opting into the monthly subscription of $25 that follows. You can choose to pay the monthly fee after the trial ends. However, there are other subscription fees found in the members' area that you can opt into instead – see below.
Device Compatibility, Subscription Packages/Cost, Refund, and Support
There aren't that many compatible devices that can be used with this IPTV service right now. You can use an iOS, Windows or Mac PC. You can also use an android device (smartphone,  tablet, Android TV. I tested the apk and web player app on my Windows computer, Amazon Fire Stick, and Android smartphone.
Note: There is no smart TV app, Xbox, Roku, or any game console app. These devices including any other device not mentioned above are not compatible.
If you don't have a Fire TV/Stick or Android TV but have a computer, you can connect your computer to any TV. Watch a video to see how to connect a computer and HDTV/smart TV. You might want to purchase a wireless computer keyword also and for good reason.  This way you don't have to keep getting up to watch something on your TV. Whatever appears or plays on the TV screen appears on the TV with audio.
XstreamingTV APK
The Xstreaming IPTV service has app and apk downloads. The Fire TV/Stick must use the XstreamingTV APK because the app is not available in the Apple Store nor Google Play Store. I followed the Xstreaming TV apk download steps. It was quick and easy to do. If you do run into a snag, just contact support.
Subscription Packages & Costs
There are two sets of subscription packages with 4 different price-sets each. One price-set list one-time payments and other list recurring billing. Both price-sets and subscription packages are listed below:
One-Time Billing & Recurring Billing
3-day trial for $1
1 month one-time fee or monthly recurring billing: $25
3 month one-time fee or 3 month recurring billing: $70
6 month one-time fee or 6 month recurring billing: $142
1 year one time fee or annual recurring billing: $270
Note: You will only find the above subscriptions and fees in the members' areas after you sign up. You can choose any payment plan you want when the 3-day trial ends or when a previous subscription you chose has ended.
When signing up for the 3-day trial, $1 dollar plus $25 are initially added to your account. But when the trial is over you can easily opt into one of the subscription packages and payments above.
You'll get access to all these subscription packages in the members' area. They are found under the Add/New tab. When my 3-day trial ended, I went into my members' area and paid the $25 one-time fee.
After making my payment, the email receipt I received did not show the $1 (trial fee) charge. And I didn't see the $1 charge in my banking account either – only $25 was charged.
As for refunds, there's a 30-day money-back guarantee. Request to cancel can only be processed when contacting Xstreaming support. Incidentally, there is no phone number to call. They can only be contacted via support email, contact form, or chatbox. When you become a member, you can create a ticket in the members' area if an issue arises or have a question.
This is what it says on the X streamingTV Terms and Conditions page (in members area) that you should visit and read yourself…
"All refund requests for Subscriptions will be considered by X streamingTV on a case-by-case basis and will be granted within 30 days of purchase. After 30 days' time, it is the sole discretion of Xstreaming to process the refund. Refunds take 1-5 business days to return to the user's account."
Speaking of support, this isn't one of the upsides. Expect some delay when contacting them. The members' area does have some information, download links, and instructions. The steps to install the X streaming TV apk for Fire TV is there. And instructions for the Kodi add-on with Repo URL is also there.
Sign Up Now to Get Your Subscription
APK/APP & Device Compatibility
You are allowed up to 5 devices (TVs w/ Fire TV or Stick) per account. This web player is not included in the five, because it's by MAC address. There can only be one login session on the web player per account.
There isn't much device compatibility in Xstreaming IPTV. Let's start with apps that are not available. No app for smart TV, Apple TV, Roku, Xbox, PlayStation, and other devices with exception to compatible devices below.
The web player app can be used with an iOS or PC. The mobile apk can be used with Android phones, tablets, and streaming devices. Also, there are instructions to download the apk for Amazon Fire TV/Stick. Its recommended that you use the Chrome web browser or Safari browser.
I did download/install the apk for my Android smartphone. I entered my smartphone Mac in the HW Mac 2 section. You can find this in the members' area under the Customer Profile. Here's How to Find the MAC Address for Your Device. My review of the mobile app will be posted when completed.
Note: Because I didn't have an iOS smartphone, Android TV, and tablet on hand, these devices with the app couldn't be tested.  You'll have to test the app on your device when opting into the 3-day trial.
How to Connect Computer with Xstreaming IPTV to HDTV or Smart TV
If you only have a computer and no other compatible devices here's what you can do. You can connect any Windows or Mac computer to any HDTV or smart TV. How. All you need is to buy an HDMI cable to connect both the computer (or tablet) to your TV. Watch Video Here to Learn More.
If you have a smart TV, you can connect wirelessly. If not, I suggest buying a wireless keyboard. Learn More Here.
Internet Connection (Download) Speed Needed
It's stated that at least 15 Mbps download speed is required to play live and on-demand streams. However, the higher or faster the connection (download) speed the better. Take into consideration peak hours (after work evening, weekends, holidays & special events). This is when most people are online using the same ISP (Internet Service Provider) you are using.
If you experience any buffering or playback issue, then consider increasing your Internet connection speed. The time it takes to download MP4 movies depends on your download speed. Increasing the Internet connection (download) speed will complete the download process quicker.
Get Your 3-Day Trial for $1 with Full Access Here
Pros & Cons
Pros
The X Streaming TV app (apk) has some really nice features such as PIP, time-shifting, and MP4 movie downloads. However, you'll need a Windows or Mac computer including Fire TV/Stick (XstreamingTV apk download) to get all features. Only computers can download MP4 movies.
You can use up to 5 TVs or devices when entering the MAC ID for each device in the members' area. The first Mac ID was automatically entered when I completed the apk download on my Fire TV Stick. For multiple TVs, you need to install the Amazon Fire TV or Stick for each. Then download the apk to each device. Keep in mind, you can also use an Android.
All streams come in HQ and HD picture quality. There may be SD quality for some of the on-demand content. Still, all the streams I tested had crystal clear picture quality. The audio is sufficient also.
The ease of use when maneuvering around the web player app is great. The channel delivery of live and on-demand streams do not take long to play. You'll have many ways to find streaming content to play when using different devices.
Downloading MP4 movies is very simple to do and there is no download fee. Since I have over 190 Mbps Internet connection (download) speed, downloading a movie took less than an hour. I could also download more than one movie at the same time. It's recommended to use either the Chrome browser or the Safari web browser. It's recommended that you have at least 15 Mbps but more the better.
With so many sports, movies, news broadcasts, and other TV channels from different countries, there's enough content for all to enjoy. Cutting the high cost of cable/satellite TV seems like a no-brainer. If you are worried about losing your favorite channels and networks, there's no cause to worry.
Many popular networks for movies, sports, news, and TV shows are available. And if you live in the U.S., more than likely you'll get some of your regional and local TV channels as well.
The 3-day trial makes it easy for you to test this IPTV service. You can check out all the live channels/networks with the trial since there is no XstreamingTV channel list.
This IPTV service offers some cost savings without losing many of your favorite TV channels/networks with sports, movies, and news. There are four one-time fee subscriptions as well as four recurring billing subscriptions, starting at $25.
Cons
On the X streaming TV website, it says, "watch 4 games at once on our webplayer". However, I could only get one PIP (Picture in Picture) to play while watching another stream play. It seems Xstreaming IPTV made past changes that downgraded this feature. Keep in mind there is no PIP feature in the XstreamingTV apk for Fire TV/Stick.
There is no XstreamingTV app in the Play Store, so you'll have to download/install the apk. Simple instructions with few steps are provided in the members' area.
Although many genres for movies are listed in the apk for Fire TV Stick, no genres are listed in the Web Player app. Only an A-Z index and Search (channel, show, movie) features are available. Having no genre makes it impossible to find, for example, all Actions movies, all Sci-Fi movies, etc.
There aren't any VOD episodes in the Web Player app. As for the apk for Fire TV, there are many VOD TV episodes available. When clicking the 'On-Demand' icon, and then clicking 'InternetVOD', a directory appears. This directory has Movies, TV Shows, My Movies, My TV Shows, New Movies, New Episodes, and so on.
However, some of the content under these directories did not have content to play during my search. As it appears now, this IPTV service is not a good choice for watching old/recent/current TV episodes. Not only that but it takes some time to search, find, and play something to watch — even if there's a VOD stream available. This is only related to the 'Internet VOD' section.
Update: Support did follow up with a question I had as follows…
"If you can't find what you're looking for on the InternetVOD's, then you can look on XStreamingVOD's. If it's not there, then we don't have it, usually due to copyright takedown."
When living in the U.S., you won't get all your OTA TV channels from local television stations in your area. You may get some. But this shouldn't be an issue when purchasing an indoor HDTV antenna.
Some countries did not have any content for them. This is why it's important to opt into the 3-day trial (no credit card required). Some channels didn't play but I'm sure the service can fix the issue once you report it. As for a country with no content, there is no fix.
XstreamingTV Review – Conclusion
In this XstreamingTV Review, I covered many features, benefits, and different types of streaming content delivered. I also covered what compatible devices can be used including the desktop/mobile web player app, and other important information.
By now, you should know what the subscription package includes and costs. The cost savings, 3-day trial, 1000+ live TV, and 14,000+ VODs should be exciting enough to give this IPTV service a try. And also note that the upsides outweigh the downsides. With that said, think about how you can benefit when using this IPTV as well as being safe to use.
You can download as many MP4 movies as you want or watch them online (live or on-demand). You get access to all your popular sports TV networks, whereas you'll never miss a live sporting event again. No local blackouts, no contract, no download fee, no other cost. And don't forget you get access to PPV events that also include special boxing matches.
If you are ok with using a computer and/or Amazon Fire TV or Stick, no doubt you will benefit. But, there are other compatible devices that can be used also. Xstreaming IPTV with its sister site, Mercury IPTV, offers a great online TV solution that one can benefit from. Try Xstreaming IPTV today (3-day trial) and start watching your favorites online.
This ends our XstreamingTV Review
Click Here to Get 3-Day Trial for $1 (no credit card), 1000s of Premium Channels, Sports, PPV Events, !4,000+ VOD Movies, and MP4 Download