IPTV Service You Might Want On Your List To Watch TV Online
US Live Streams Review by a Real User and Tester. If you have been thinking about canceling your cable TV subscription or living without one and looking for something that meets your needs, read on. There might be something in this US Live Streams TV review that may pique your interest. The cost of watching paid television and purchasing movie rentals is a thing of the past when it comes to watching everything online.
IMPORTANT UPDATE:
New customers are no longer being accepted at Hurricane but there is an alternative SO Player IPTV service you can subscribe to. Just click the link below to visit the website or read our full review…
DO NOT READ BELOW THE LINE… We Removed all links to the IPTV service for SO Player…
————————
Update: US Live Streams is no longer recommended. You will find a better IPTV service when clicking the link below…
Click Here to Get FREE Trial or Subscription and Your Watch Favorites Online or Click Here
SO Player App Info and Installation
How to Watch Local Channels Here
How to Remove Your Device When Switching IPTV Services
Note: For SO Player and Nora Go apps only
Newcomers to Internet TV – Click Here
There's something for the entire family which makes this streaming TV service ideal. Not only can you watch everything at home but on-the-go as well when using a mobile device (tablet or smartphone).
NOTE: No Need to Read Below the Line…
———————————
We tested and reviewed this IPTV service that delivers 100s of live channels found on cable and 1000s of on-demand TV series (episodes included) plus all kinds of movies. UsLiveStream is an all-in-one live TV/VOD entertainment that also includes global channels, catchup TV with DVR, music/radio channels, recent movies, live/on-demand PPV events/NFL, gospel channels, and more. The other good news is they are not affiliated with any cable TV company.
US Live Streams Review – For Any TV Viewer Worldwide
This IPTV has no restrictions whatsoever. It doesn't matter where you live or what country you're in. Everyone gets access to the same streaming content delivered. You can watch live channels from many of the popular networks from the US and the UK. There are Spanish, French, and Filipino channels including local channels from Canada. If you are someone who's bilingual or multilingual, you might enjoy the best of both worlds.
Our US Live Streams review covers several aspects of this service such as the interface, content delivery, free app, features, and so on. We were really pleased when testing this IPTV service that we gave it a high rating. See our Pros and Cons as well as watch our video reviews on. You can download/install the free SO Player App right now or after you sign up for the FREE Trial or subscription.
Click the image below to see USLS and app in action…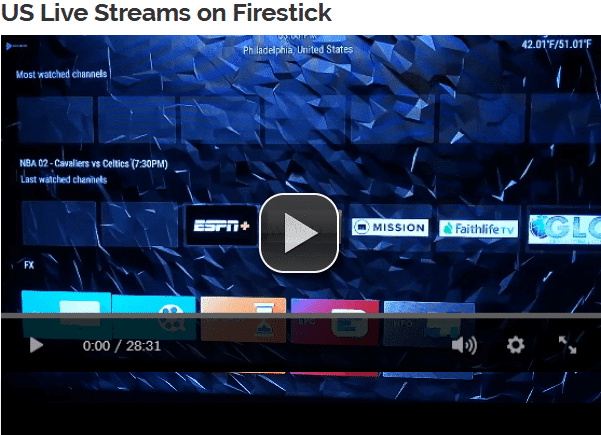 Click to Streams Watching Your Favorites Online
US Live Streams Channels and Quality
You get over 600+ live channels from all the popular networks. Just think of a network name and more than likely they deliver it. There are no regional channels but you get everything else. If you love watching sports, don't worry. You still get access to any and all sporting events live online. There are local channels available with most if not all US cities. However, there are only a few available for each city and some local channels may not work. Keep in mind, local channels are still relatively new with these IPTV services.
For those who want to cancel cable TV and still watch their local channels, I suggest purchasing an HDTV indoor antenna if you don't already have an outdoor antenna. Or, take a look at Locast where you can watch local channels from your city. Not all cities are included but Locast is growing and planning to add more markets.
What You Need to Watch TV Online
High-Speed Internet Connection
Compatible Device
Install SO Player App
US Live Streams Subscription
When signing up to USLiveStreams for the FREE Trial or subscription, you must also enter your email address and create a password. Remember both because you will be needing them when renewing your subscription. A subscription will only last one month. There is no automatic rebill or monthly subscription. You simply pay as you go. Your email and password will become your login details when going to your 'My Account' to sign in.
The 'My Account' link can be found on the US Live Streams website. After completing the sign-up process, you will be provided with our personal activation and login credentials. This will include device pin codes, the provider ID, username, and password. This info is needed to activate the SO Player app.
SO Player is not a standalone TV app. It requires an IPTV like US Live Streams to activate the app. The SOPlay connects with the IPTV service that delivers all the live channels and VOD content. Never think SO Player is a subscription and always know your IPTV service name.
Compatible Devices
Amazon Fire TV/Cube/Firestick (popular)
NVIDIA Shield
Apple TV
Computer (Windows or Mac)
iOS devices (iPad, iPod, iPhone )
SP-110 Box
Android devices (TV/Box/Smartphone/Tablet)
Mag Box
Note: Other devices are not compatible.
Cost, Money Back Guarantee & Support
There are two subscription packages:
$23 for one month only – 3 device connections
$25 for one month only – 4 device connections
The money-back-guarantee is for 48 hours. If unhappy for some reason, simply contact the service for a refund
Contacting customer/support is quick easy and usually available online via chatbox.
Sign Up Now For FREE Trial or Subscription
US Live Streams Review – Conclusion
We provided all the essential information in our rating review at the very top. Also included is a link to watch the Introduction video and review video to see US Live Streams and SO Player in action. You'll look over my shoulders to see me play live channels, VOD movies/TV series, see features, and more.
This IPTV service is a winner. It's not hard to get set up and there are the video tutorials and instructions to help you. But if you are a newcomer to Internet TV, then I highly recommend signing up to download our FREE Guide: How To Watch TV Online. Otherwise, you may want to find a friend or family member to help you get set up and install the free app.
If you have doubts about this service and have not watched the video review, I encourage you to do so. There is no channel list but you can see all the network names when I take you through them (see review video). The FREE trial should ease your concerns. There's no credit card required to opt into the 24-hour FREE trial. I suggest you do the trial and test everything for yourself.
This Concludes Our US Live Steams Review
Click Here to Watch Movies, TV Shows, PPV, News, Sports, and More