My Thoughts...
Product Name: My25DollarBucket
Product Description: Note: This review also covers the Flixster Media Review since both IPTVs have the same ownership and same everything. Here's what you get: IP Lock SO Player IPTV service delivers 100s of live channels from many major TV networks (premium & some local & regional channels, sports, news, movies, kids, global channels including the US, UK & CA, etc.), 24/7 shows, PPV events, music channels, and adult 18+ (locked by default). Also delivers 1000s of VOD movies w/ genres and TV series w/ seasons & episodes, and more. Can connect up to 4 devices at one time, EPG (TV guide) included, and free trial (not available when special/big fighting event air/stream on Saturday).
Offer price: 24.99
Currency: USD
Availability: OnlineOnly
Usability

Performance

Picture Quality

Compatibility

Live Channels

VOD/CatchUp

Sports/PPV

Global Channels

EPG (TV Guide)

Features

Support
My25Dollar Bucket Review
You can certainly save a bundle when subscribing to this IPTV service without losing much in content. There are bound to be many of your favorites with all the major TV networks included to watch live sports, movies, news, documentaries, kids, and the list goes on and on. Not only that but the 24/7 shows, PPV, global channels, VOD movies/TV shows/Replays–all under one roof–make up for an awful lot of entertainment for one viewing. The best thing to do is enter into the free trial when available (not available during the big fight weekend (Saturday) but the trial will be available afterward. You can connect up to 4 devices which means other household members can watch whatever they want also. You experience an easy to use the platform to watch your favorites online that's also very newbie-friendly.
Keep in mind the information provided also covers the Flixster Media review whereas both IPTVs have one and the same owner with everything being the same.
Pros
Many popular TV network
Premium, local, regional, sports, news, kids, movies, and other channels
24/7 shows
PPV events to watch all the fights (no extra fee)
US, UK, CA, Spanish, French, Filipino channels
On-Demand movies w/ genres and new releases
On-Demand TV series w/ seasons & episodes
Can watch on smart TV, smartphone, computer & various streaming devices   
Free trial available to test everything for 3 days
Great for sports fans/fanatics, movie buffs, TV series watchers, and kids
Easy setup for newcomers to Internet TV
Can save a bundle of money when paying low-cost fee
Can connect up 4 devices simultaneously
Quick/smooth interfacing, great picture quality & content delivery
Cons
Cannot Add to Favorites TV networks (VOD can be added)
Cannot program EPG using Firestick
Only 1 channel available in French category
Only 4 Filipino channels with one working channel
Not all local channels available with some not working
No CatchUp TV but most IPTVs stopped delivering it
No Record feature
Some non-working channels but typical to all IPTV services
My25DollarBucket Review (a.k.a. My $25 Bucket) by Real User/Tester. If you are looking to save money and still watch many of your favorite TV networks, shows, sports, and so on, here's a way that may appeal to your wishes. And if you are new to Internet TV, this IPTV service with the SO Player app will simplify things for you when getting set up.
NOTE: The owner of this IPTV service also owns another with the same everything. What you are about to learn here is the same for both IPTVs. So if you are looking for a Flixster Media review, you found it. There's no sense in writing a separate review. If one IPTV service goes out of service or the website is inaccessible then you have the other IPTV.
You can Click Here or click the bar code image below to visit the Flisxer Media website if you want…
---
However, no IPTV service is perfect so you need to know the pros and cons as I will explain everything in more detail later. First, let me take you through what I found and experienced when opting for the free trial. I reviewed many different IPTV services over the years and found SO Player IPTV services very easy to set up and use.
The streaming content delivered with a quick/easy interface, and navigation should make you feel at ease as there is nothing complicated. Even children can use the My 25DollarBucket IPTV service via any compatible streaming device.
What You Need/Requirements
There are essentially 4 things needed, many of which you probably already have on hand as follows:
Internet Connection. You need an ISP (Internet Service Provider) such as Comcast to give you Internet access. You should have high speed Internet and more/faster the speed the better. For IPTV services, I suggest having at least 30 Mbps download speed. I have over 200 Mbps but you don't need to have that much. Test your device via speed test app or Here
Compatible Streaming Device. You will find a list of compatible devices below. You should have a new or fairly new streaming device such as smart TV, smartphone, computer, Fire TV/Firestick, etc. This IPTV service allows up to 4 device connections at one time when connected to the IPTV service (My $25 Bucket).
Free SO Player App. You can either download/install the free app now or sign up to the IPTV service first. It's your decision. My advice would be to install the app first to see if there's a problem before you shell out any money. You will find instructions and video tutorials on the IPTV service website or in this review post at the top. You can find the app inside the Google Playstore or Apple Playstore. This is not a standalone TV app. You need an IPTV service to deliver the streaming content…
IPTV Service Provider. The IPTV services deliver all the streaming content. The app when installed on a compatible device connects to the IPTV service to watch everything online. If you find something not working, don't try to search Google to find the SO Player website. Instead, go to the IPTV service to get help. Always remember the name of your IPTV service. There is nothing more needed other than the 3 things mentioned above
Who Is It For
If you speak and understand English, you stand to benefit more from using My 25 Dollar bucket. With exception to French, Filipino, and Spanish channels, everything else is in English including the on-demand movies and TV shows/series sections. Global channels are in their respective sub-categories such as the US, CA, UK, etc.
However, if you are bi-lingual or multi-lingual and speak Spanish for instance, you stand to benefit even more. This IPTV service is available to everyone worldwide so no one is left out. If you can maintain an Internet connection, then you can use the service to watch your favorites online. Everyone gets access to the same streaming content.
If you happen to love watching live and on-demand sports, I found and played some of the major sports network channels out of many including on-demand UFC/NFL/NHL Replays. There are also PPV events to watch all the fights including the big fights (special events)–no extra cost. I also found one regional sports channel (NBCSN-Phila) in my local TV area.
Movie buffs and those who love to watch their favorite TV shows and series should also be pleased. For movies, all the popular genres are available and TV series had seasons/episodes. There are several popular kids networks, streaming content for adults only (locked by default), many popular news channels, and much more. Something for the entire family.
My25DollarBucket Channels & VOD
The SO Player app makes everything attractive to the eye and easy to navigate, find, and play. In my My25DollarBucket Review, I found 6 main categories listed as follows:
Home
TV (live channels)
Movies (VOD movies & TV series)
TV Shows (no streaming content)
EPG
Settings
This main section also includes what you watched previously and displays it (Continue Watching, Recently Watched). Add to Favorites for VOD movies or TV series you saved previously appears here as well. However, I did not find a way to add live channels to favorites.
When clicking the TV categories, a list of sub-categories appeared with channels:
All
USA
News
US Locals
Sports
Kids
UK
Canada
Spanish
French (1 channel)
Filipino (4 channels-only 1 working)
24/7
Music
Adult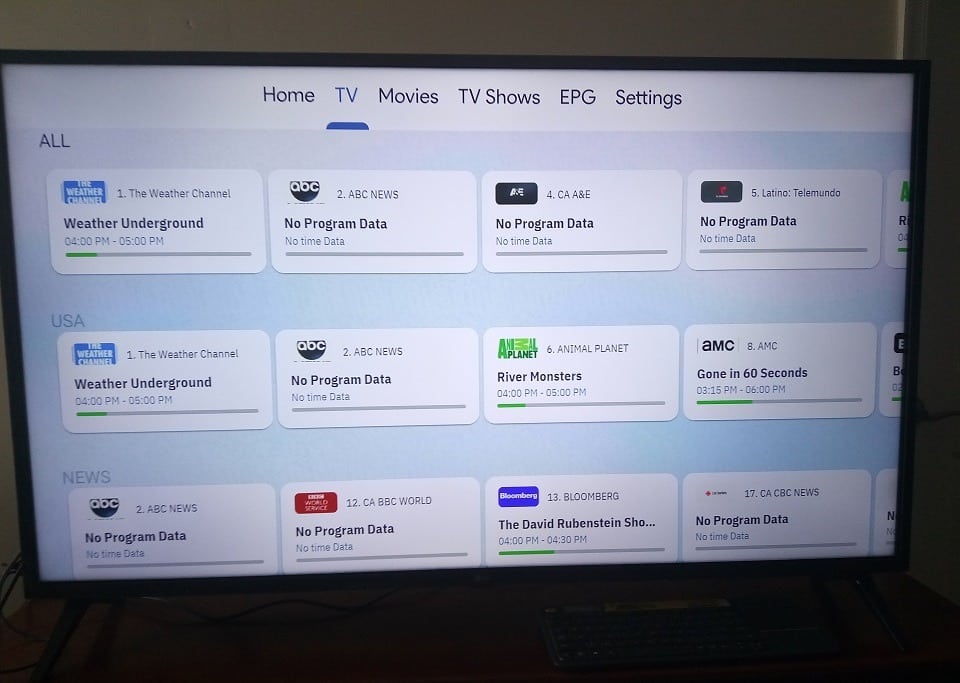 When clicking the Movies (Video-On-Demand) category, the following appeared…
Last Added
New Releases
TV Shows (TV series w/ seasons & episodes)
Genres
UFC Replay
NFL Replay
NHL Replay
You'll see all the attractive banner images to click and play the channel or VOD.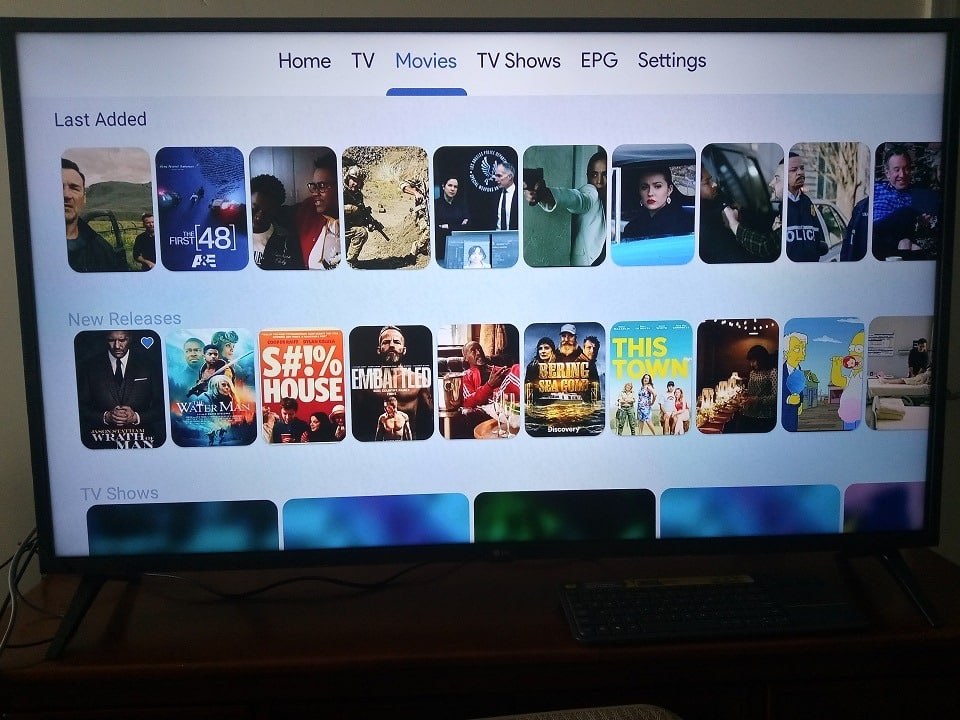 My 25 Dollar Bucket Features Included
Further, into my My25DollarBuck review, I found there's not much here to be excited about. Other than your typical full screen, search tool, tracking what you watched previously, Add to Favorites VOD content, and EPG, there's nothing more.
SO Player App (Old or New Version?)
During my My25DollarBucket review test, they gave me the SO Player upgrade, not the old version. If you are familiar with the SO Player app already, then you probably like the old version better. I am not sure but you may be able to continue using the old version app. As for newcomers don't be a concerned with this because you don't need to get yourself confused. Just follow the instructions provided by My $25 Bucket to get set up and start watching your favorites online.
When downloading/installing the SO Player app to your compatible device(s), you will need the activation/login credentials. The IPTV service will send this info via email. You will get the following…
Account Info
Username (all numbers)
Password (numbers)
Provider ID (3 digits)
4 device pin codes (1 per device)
Plus additional info
Just follow the instructions inside the app when ready to enter your activation/login credentials.
My25DollarBucket Compatible Devices
Because it's the SOPlayer app being used, gaming devices are not compatible including some of the other streaming devices such as Roku and Chromecast. Here are the ones that are compatible. The others I will list with a question mark because I know the old version SO Player in the pass listed those streaming devices as compatible. However, the newly upgraded SO Player app may not be compatible. Any device that I haven't listed means it's not compatible.
Computers (Windows / Mac)
Fire TV devices (Fire TV / Firestick)
iOS devices (incl. smartphone, iPad, iPhone, iPod?)
Android devices (incl. TV, box, smartphone)
Tablet
Apple TV
NVIDIA Shield
Mag Box?
3-Day Free Trial & Subscription Cost
The free trial lasts for 3 days which gives you enough time to test everything on your compatible device(s). I suggest opting into the trial first when available before shelling out any money. You want to make sure the app can be installed on your device. In other words, no issues. No credit card info is needed when entering into the trial so there's no risk at all. Then again, there's nothing really stopping you from signing up to get your activation/login credentials first.
Subscription Cost: 1 month for $24.99 (non-recurring billing)
Just as it says, you are not going to be rebilled when the one-month period ends. You have the option to renew your subscription if you want. Otherwise, no more service and you pay nothing.
After signing up for the free trial or subscription, you will receive 2 or 3 emails immediately. Make sure and double-check to see you typed in the correct email address when signing up. If you don't see any emails, then open your Junk or Spam mail folder for those emails. If any are there, move them to your regular email inbox.
You can renew the subscription when one month has ended. Just visit the My $25 Bucket website again to make another purchase as you did before. This time you will be a returning customer so enter your login details. Or, you can click the Account link they will give you in one of the emails to log in and renew.
My25DollarBucket Review: Pros & Cons
There is no honest review without unbiased pros and cons so that you get the truth. You'll find out what I found including what I liked and didn't like when reviewing My25Dollarbucket. First and foremost, this IPTV service did past the test. Otherwise, I would not have written this review. You can click the links above to watch video reviews and see inside as well. You can watch me navigate, and play live/on-demand streams which should help you make a decision whether or not to buy-in.
PROS
Compared to other IPTV services, I can't stress enough how easy this will be for newbies to go through the SO Player setup, navigation, finding and playing the streaming content delivered. Much of the streaming content I tested played quickly and smoothly. However, I did not spend a lot of time playing one channel at a time and I didn't test most of the channels available.
Nevertheless, the audio and picture quality was great as the streaming content played seamlessly. You get SD, HD (1080p), and maybe FHD picture quality. There's a wealth of entertaining channels and VOD to watch online. Many of the major TV networks included whereas you can continue watching as you did before. The sports Replays I thought were a bonus since many IPTV services don't include them.
You can connect up to 4 compatible streaming devices simultaneously. That's 4 household TVs if you have them (HDTV via streaming media device and/or smart TV with internal app store). There's a 3-day free trial with no credit card required which should make you feel comfortable.
When going to the EPG (Electronic Programming Guide) or TV Guide, there are sub-categories of live channels also. Clicking one of the many sub-categories will load all the channels from a single sub-category into the EPG for you to choose a channel to watch. For instance, click Sports, and the EPG will load all sports channels. Click Spanish and it loads all Spanish channels in the EPG.
CONS
One of the things that I take very seriously when reviewing IPTVs is the cons. If there are more cons than pros, then I don't go any further with the IPTV service. At the end of my review and testing, I concluded the pros outweigh the cons.
Although I could add VOD to favorites, there is no feature way to add live channels to favorites. The French section only had one channel listed so why bother to have this section in the first place? The Filipino section has 4 channels available but only one channel played at a time. Many US local channels are available but you don't get all of them for your location if any. I found 4 local city channels and only two worked/played.
There is no CatchUp TV in case you were wondering but know that most IPTV services that delivered this content once upon a time removed this content for some reason. Lastly, if you do experience any buffering, hopefully, it's minor and eventually goes away. This goes on with all IPTV services no matter what they tell you. The main thing to do is test everything yourself.
Conclusion
Understand that no IPTV service is flawless. After all, technology and the Internet can be unpredictable at times but it's all getting better. All IPTV services will tell you what they've done to prevent buffering issues on their end. And they will tell you that if any buffering occurs–it's on your end. This could very well be the case and you will need to do certain things to eliminate constant buffering issues should you experience them. Learn More Here.
That aside, SO Player and My $25 Bucket do work well together. The name of the game for me is to find the best IPTV service with a limited number of issues which I am presenting to you. You already know there is a free trial when available at no cost to you–no risk. The low-cost subscription fee with great savings, when compared to cable TV, is the other benefit.
You know the types of streaming content delivered and you have my videos reviews to learn more and watch further. The rest is left up to you whether or not to give this IPTV service a try. If you do give it try and decide this isn't for you, then you lose nothing when entering into the free trial when it's available.
This Concludes Our My25DollarBucket Review as well as Flixster Media Review.