Magic Stream TV: 800+ Live Premium Channels & 1000s of VODs (SO Player & Nora Go)
Watch movies, TV shows/episodes, local TV, sports, PPV fights, news, and more online
Magic Stream TV Review by Real User. If saving TV costs without losing what you love to watch is high on your list, MagicStreamTV could be something of interest. That's if you don't have a problem watching everything online. Since many TV viewers are using Netflix, Hulu, Amazon Prime Video, and other sources to watch movies and TV online, they've become alternatives to cable/satellite TV.
IMPORTANT UPDATE:
We are no longer recommending any Nora Go or SO Player app and IPTV services for them. Too many of them are not accepting new customers/subscribers, went out of service, and we are getting many visitors telling us they can no longer renew their subscriptions including no support.
You must choose an alternative IPTV service that does not use SO Player or Nora Go.
We recommend visiting our IPTV Comparison Chart that's currently being updated to add more top IPTV services that use other apps. Click the link below to find the best IPTV service…
DO NOT READ BELOW THE LINE… We Removed all links to the IPTV service for SO Player…
————————
UPDATE:
Magic Stream is now out of service and won't be coming back for reasons unknown.  We've found a great alternative IPTV service for you with everything included as MagiStream. You can even use the same app.
Click Here to Learn More and Subscribe
Please Do No contact us about another IPTV service with a similar name. We are only referring to one of a kind IPTV service that is no longer in service. If you have a current subscription with an IPTV service that has a similar name and still in service, then you should know that we are not talking about them. You must contact them if they are your IPTV service provider. We are not an IPTV service or support website.
DO NOT READ BELOW… Click the Link Above to Visit Our Top 10 IPTV Comparison Chart
———————————
Magic Stream TV brings another alternative that includes live premium channels, local channels, sports, on-demand movies/TV series, and more. You get everything under one roof, whereas there's no need to subscribe to anything else.
In A Hurry?… Click Here to Opt into Free Trial or Subscribe
What Is It, How Does It Work, and Who's It For
What is it? Simply put, subscribers of this IPTV service can watch their favorites online without any set-top box, hardware, or antenna. There is an app that can be downloaded/installed across a number of compatible devices. MagicStream TV and app both work hand and hand to make watching TV online easy and entertaining.
How Does it Work? This IPTV service helps transitioning from conventional TV to Internet TV easier. There are instructions and video tutorials on their website. Just follow the video tutorials to download/install the free app to your device. You can do this first or sign up for the free trial or pay the subscription.
Magic Stream TV then sends the subscriber an email that contains the activation/login details. There are instructions and links to download the app to your device. Once the app is downloaded, you simply enter the activation/login credentials. When completing the entry, it will activate the app and now you are ready to watch TV online.
Click to Watch the Video Review Below to See Everything Inside and Watch Streaming Content Play…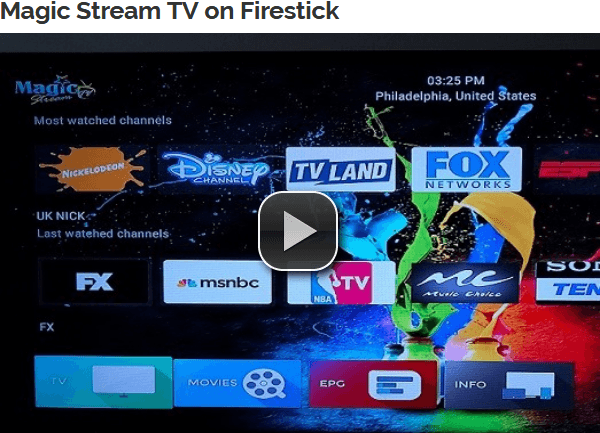 If you can point and click using a smart TV remote, Firestick remote, or computer, then this becomes childsplay. In my Magic Stream TV review, I used my Amazon Firestick which is a very popular streaming device.
When inside the app, the Main Screen appears with the following clickable categories:
When highlighting the TV icon, I found two sections: Most watched channels and Last watched channels. The app tracks and builds a list of channels you were watching previously. Later, you can click whatever channel is listed to start watching it again.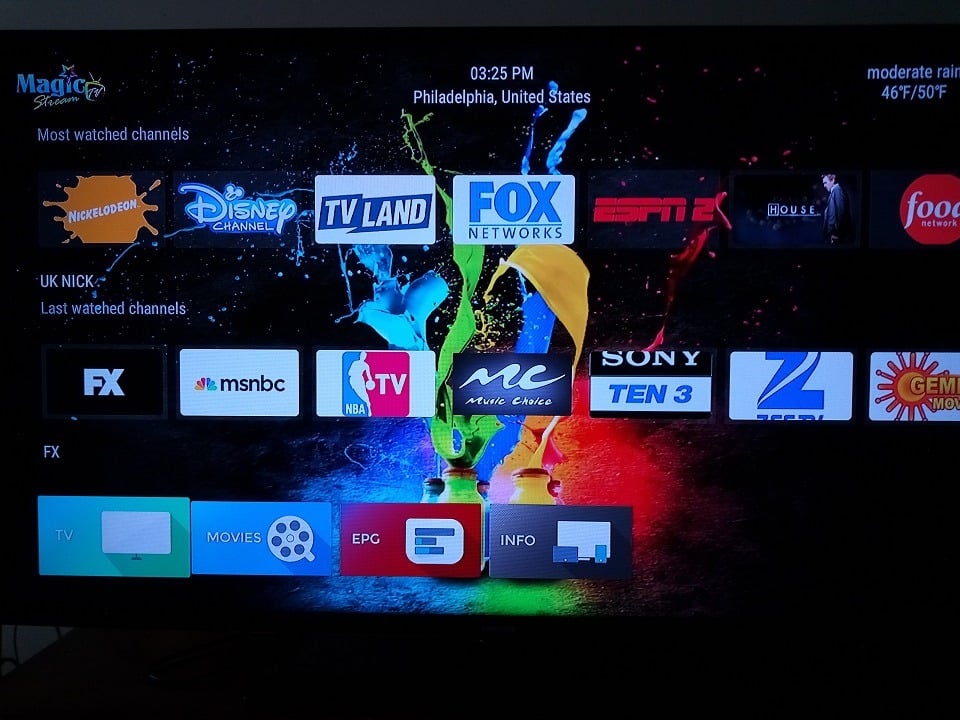 When I clicked the TV icon to open what was inside, a live channel began to play immediately. I clicked the Selection button on my Firestick to get the TV menu and the following appeared…
Search tool (hourglass icon) — use to search a channel/network by name or city.
Channel sub-categories in left column, TV network names in the middle column, and section numbers in the right column. Here's a breakdown of all sub-categories in the TV menu.
All
Pay-Per-View
News/Local
Cable
Premium
Sports
Sports Packages
24/7
Kids
Spanish
Religious
UK
Canadian
Filipino
Indian
Music
Adult (locked by default)
When highlighting the Movies icon, the following appeared: Most popular movies, and then below it is Most popular categories. Everything is clickable which means you can start watching what's there immediately.
Search tool – search by title
New Movies
Drama
Action
Thriller
TV Series-New Episodes
Comedy
Adventure
Fantasy
Sci-Fi
Crime
Horror
Animation
Romance
Game of Thrones
Mystery
Biography
Kids
Documentary
The Big Bang Theory
When clicking the Movies icon, the following appeared:
All Movies
Most popular movies
Last Watched Movies New Movies
Most popular movies
Last Watched Movies TV Series-New Episodes
Most popular
Last Watched TV Series – popup window with a list of TV series
Sports Replay – NFL, NHL, UFC (Play/Resume, Play Trailer/Restart, Read details)
Click Here to Sign Up and Start Watching Your Favorites Online
When highlighting Movies or TV Series 3 features appear: 1) Play/Resume, 2) Play Trailer/Restart, and 3) Read details.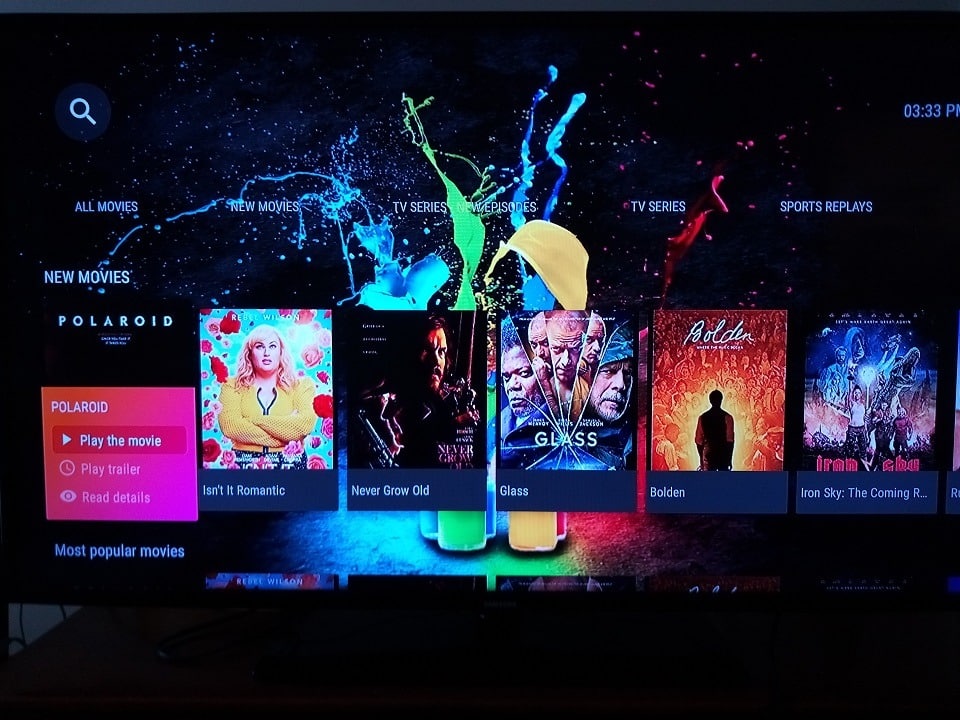 Clicking the Play link allows watching whatever you selected. When highlighting the EPG (TV Guide) icon the following appeared that says… "Upcoming shows for the next hour from your most watched channels."
Clicking the EPG icon makes the TV Guide appear with a number of TV network names in the left column. On the right is a column for TV shows listed with their respective time slots. One cool feature I particularly liked was the ability to choose and add a specific live channel sub-category to the EPG.
In other words, I could choose the Cable sub-category, play a TV channel from the Cable sub-category, and then click the 3-line button on my Firestick. This made the EPG (TV Guide) appear. All live MagicStreamTV channels from the Cable section were now listed in the TV Guide. I can do the same thing to get all Magic Stream TV channels from the Sports section listed in the TV guide.
Who's it For? Anyone, anywhere in the world can subscribe and watch their favorites online with this IPTV service. There is no Geo-restriction. In other words, one's IP address or country will not be blocked. If you are bilingual and multilingual and can speak one or more languages such as English, Spanish, French, Indian, or Filipino, then you can benefit even more.
Features & Benefits
800+ live premium TV channels in HD
1000s of movies/TV series/episodes (Latest Movies & Shows)
Dedicated live sports section plus sports packages & PPV events
Many popular sports networks, movie networks, kids networks, news networks
USA local channels
24/7 TV
Religious channels
US/UK/Canadian/Filipino/Indian channels
No Geo-restriction (anyone from any countries can use)
EPG (TV Guide) – Can list different live TV sub-categories
Search Tool
No contract or credit check
24/7 Customer Support
No hidden/cancellation/activation Fee
3-day trial (no credit card required)
Connect up to 5 devices / $5 for each additional device
MagicStreamTV – Content, Performance & Interface
Content
Live Channels. This IPTV service claims to have over 800 live HD channels. You get premium and local channels to watch sports, movies, shows, and news including Pay-Per-View. There are sub-categories with channels for Spanish, Canada, Filipino, Indian, UK, Gospel, Kids, and other types of channels.
There are many live TV channels with entertaining shows for the entire family. In other words, channels/networks you find on cable/satellite TV are available. In addition, you'll find many popular news networks, kids networks, movies networks and so on. You can watch your all favorites shows, talk shows, soaps, sitcoms, and so on.
MagicStream included a sub-category called News/Local that has all the popular news networks and USA local channels. However, many cities are not listed. I found this out when searching for local channels from my city, Philadelphia. When scanning through this section, I could see many cities were not included.
If you are thinking about canceling or downsizing your cable/satellite TV subscription, more than likely you still want your local channels. Just purchase an indoor HDTV antenna with an amplifier (75 or more radius). Use this antenna to scan for channels inside any HDTV or smart TV and it will gather all the OTA TV channels from your area. Click Here to Learn More.
Live Sports/PPV Events/Sports Replay. Sports fans and fanatics should be happy with Magic Streams TV sports. They deliver many popular sports networks and you get Pay-Per-View events also. There is no extra cost to watch all the fights and special events.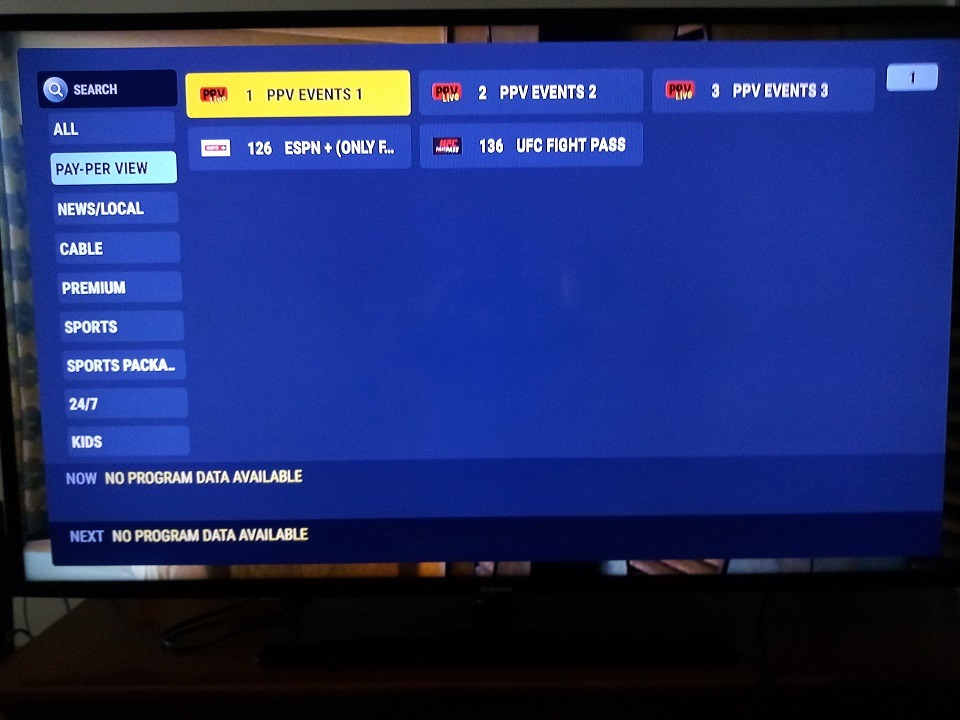 Subscribers can watch local, national, and international sporting events. Watch any ballgame, super bowl, playoff game, tournament, summer ball, etc. With all the sports avialable, no subscriber will miss a sporting event again or experience another local sports blackout.
At the time of this Magic Stream TV Review, the Sports Replay section had 3 types of sports listed: 1) NFL, 2) NHL, and 3) UFC. You can catch up on what you missed or watch a sporting event again very easily. It's unclear whether or not they will add more sports to this section. But I can only guess they add the recorded sporting event to the Sports Replay section within 24 hours after the live broadcast.
On-Demand Movies/TV Series. There are 1000s of on-demand movies and TV series/episodes. There's also a section called 24/7 with recorded shows. When opening the Movies category, many movies and TV Series with episodes are available. You can use the Search tool to find a movie or TV series by title just like searching for a live channel in the TV category.
There is a New Movies section where I watched a couple of good movies. You'll find both old and new movies from any one of the genres available.
Click Here to Watch Sports, Movies, Shows, and News From Favorite TV Channels/Networks Online
EPG (TV Guide). EPG stands for Electronic Programming Guide which is a TV guide. It has a list of TV networks on the left side and names of different shows in their time slots on the right. What's cool about this feature is that you can add a group of live channels/networks from any one of the sub-categories.
For instance, I opened the Cable sub-category or section from the TV category. Using my Firestick, I played a live channel from the Cable section. Next, I clicked the 3-line button on my Firestick to open the EPG (TV Guide). All the channels from the Cable section were listed and I was able to play/watch whatever I wanted.
I did the same thing for the Sports sub-category and all sports were listed in the EPG. As you can see, you can a section of channels from any sub-category such as News/Local, Premium, Kids, Spanish, etc.
Performance
Overall performance was good but not perfect. I watch a sporting event which was an NBA playoff game and experienced an ongoing buffering issue. My ISP package includes 150 Mbps Internet connection (download) speed. MagicStreamTV says you need at least 30 Mbps. As you can see, I have much more.
I suggest you enter into the Magic Stream TV free trial first. Test the service and app together and watch some sporting events on your device. The issue may not include all sporting events. I did not experience any buffering issues with channels outside of live sports or when watching other sports.
Most channels from different sub-categories worked/played. As for channels that didn't work/play, this is common to all IPTV services that I reviewed and tested. I played some live channels where the picture froze. When closing the app and opening it again, some of those channels worked while others didn't. You can contact support to see if they can get a non-working channel up and running again.
Live channels and on-demand streaming content play quickly after clicking what you want to watch. I only came across a couple of streams with sub-par picture quality but still watchable.
Internet Connection (Download) Speed. Performance has a lot to do with your Internet connection speed. Try to get as much as your budget will allow but make sure to have at least 30 Mbps. But here's the trick. Just because your ISP gives you 30 Mbps doesn't mean your device will receive this amount.
This is why you should try to get 2 or 3 times more speed. In most cases, having adequate Internet connection speed eliminates buffering and playback issues. Still, you may experience minor buffering issues from time to time with some live channels.
Navigation. Navigating through the app which is connected to the Magic Stream IPTV service is a cinch. You can get in and out of different categories and sub-categories easily. Search live channels and on-demand content by title or city (local channels) any other ways. No manual is required. Everything is pretty much self-explanatory when looking inside the app the first time.
Interface. I experienced a fast, smooth interface that had no delay when executing anything I wanted to do. Both the app and IPTV service worked hand and hand to deliver the best of web TV entertainment. Thus giving me a great web TV experience.
If you are new to all this, don't worry. Just watch the video review above that takes you inside the app to see everything including how streaming content play.
SO Player App & Compatible Devices
When subscribing to the IPTV service, subscribers can connect one devices but additional devices can be added for an additional cost of $5 each. Free trial users can connect up to 3 devices simultaneously. This is mentioned on the website page when clicking the link to subscribe.
However, the free trial only allowed me to connect one device. I left a support message about this and waiting for a response.
Below is a list of compatible devices. There may be more devices compatible with SO Player.
Amazon Fire TV Devices
Android Box/TV
Android Phone/Tablets
Apple iPhone/iPad
Mac Computer
Windows PC/Tablets
Smart TV (Nor Go app)
Not Compatible: Roku, PlayStation, Gaming Devices, and Chromecast. Contact support to see if any other streaming device is compatible.
As for the Nora Go app, some smart TV users, may find the app when searching for it in the smart TV app store. I found this app in my Samsung smart TV app store and downloaded/installed it. If you can't find either app (SO Player or Nora Go) in your smart TV app store, then your smart TV is not compatible. Just use the Firestick instead or purchase one. Learn More Here.
Magic Stream TV Free Trial, Subscription Packages/Cost & Support
Free Trial
There's a 2-day trial that you can opt into which I recommend doing first. No credit card is required and you get full access to everything. Three days should be enough time to test everything on your device. After signing up, the IPTV service will send you an email immediately.
If you don't see the email in your inbox, be sure to check the Spam/Junk mail folder. If the email is there, just move it to your regular inbox. The Magic Stream TV free trial lets you try before you buy so take advantage of it. The email will have your activation/login credentials. Once this information is entered, the app will be activated and provide access to the streaming content.
Subscription Package and Cost
There are two types of subscriptions for the same price. Subscribers can connect up to 5 devices simultaneously ($5 per additional device):
Monthly Subscription (Auto-Pay): $30 – $50 (Depending on Number of Devices Added)
Month to Month (No Auto Pay): $30 – $50 (Depending on Number of Devices Added)
It is unclear whether or not there's a money back guarantee. I also contacted support about refunds and waiting to hear from them. There's a possibility that no refund is given. If anything changes after receiving an answer, I will add an update here.
Get Your Free Trial or Subscription Here
Support
There are three ways to contact support: 1) Chatbox; 2) support email; 3) Phone numbers (not toll-free).
I sent two messages through the chat box and 24 hours have passed. Still no response to my questions. However, I made no attempt to call one of the phone numbers provided. But I will send an support email next. It appears the chat box has no one minding the store. You can, however, leave your email address with your message.
Something to note: You can not purchase a subscription via phone number. The subscription must be paid through the Magic Stream TV website.
Magic Stream TV Review: Pros & Cons
Pros
If you read my full review, you can see the pros do outweigh the cons. Besides some of the downsides, the content, performance, and interface all made good on delivery. You get most if not all the popular live channels/networks to watch online. This includes news networks, kids networks, sports networks, and movies networks.
Subscribers and free trial users also get access to local channels, dedicate sports section, PPV events, and channels from other countries outside the US. There's a wealth of entertaining streaming content available. With 800+ live channels, also comes 1000s of on-demand movies and TV series with episodes.
There are some features that come in handy such as Search tool that lets you search by channel name, city, or by title. You have the EPG (Electronic Programming Guide). That's your TV guide and comes with a very cool feature that allows you to group and interchange channels in the EPG TV guide.
If you are hoping to find a way to watch live sports, movies, shows, or the news online when cutting cable or ditching the dish, this IPTV service could be it. From what I experienced, this IPTV should satisfy many TV viewers where they save cost without losing watching their favorites.
There are other channels and content included such as Gospel, Adult (locked by default), and Music. This additional content enhances a greater Internet TV experience.
Cons
All IPTV services have downsides, more or less. I've already pointed out about experiencing a buffering issue when watching one live sporting event. I mentioned also some live channels not playing but most channels I tested from all the sections did play. Support is a tad slow when using the chat box. You may get a quicker response when sending a support email or giving a phone call.
Many cities from the News/Local channels section are missing including my city. If you city is missing you may want to contact support to see if they add your city. In any case, each city does not have all local channels. You may only 2-4 channels available for each city.
Conclusion
First off, the free trial is a no-brainer that lets you try before you buy. There are no restrictions, meaning any person living anywhere in the world can get access to Magic Stream TV. No IP address or country is blocked. No local sports blackouts, hidden fees, contract, set-top box, or hardware to install.
You simply sign up and look for the email with your activation/login details, and then download/install the SO Player app. Next, activate and log into the app to start watching TV online. The ease-of-use helps newcomers transition from conventional TV to Internet TV. When logging into the app the first time, you are not required to login again.
For what it's worth (only $30/mo) you don't need any other streaming TV service. You may want to cancel Netflix if you have it. Savings can be huge when comparing this IPTV service to cable/satellite TV. To get all your local TV channels, just purchase an indoor HDTV antenna.
MagicStreamTV with live TV channels, sports, and on-demand content provides the best of all three worlds. If you don't have a smart TV, I recommend purchasing the Amazon Fire TV or Firestick.
This Concludes My Magic Stream TV Review
Sign Up Here And Watch Entertaining Premium Live TV Channels, Sports, and VOD