My Thoughts...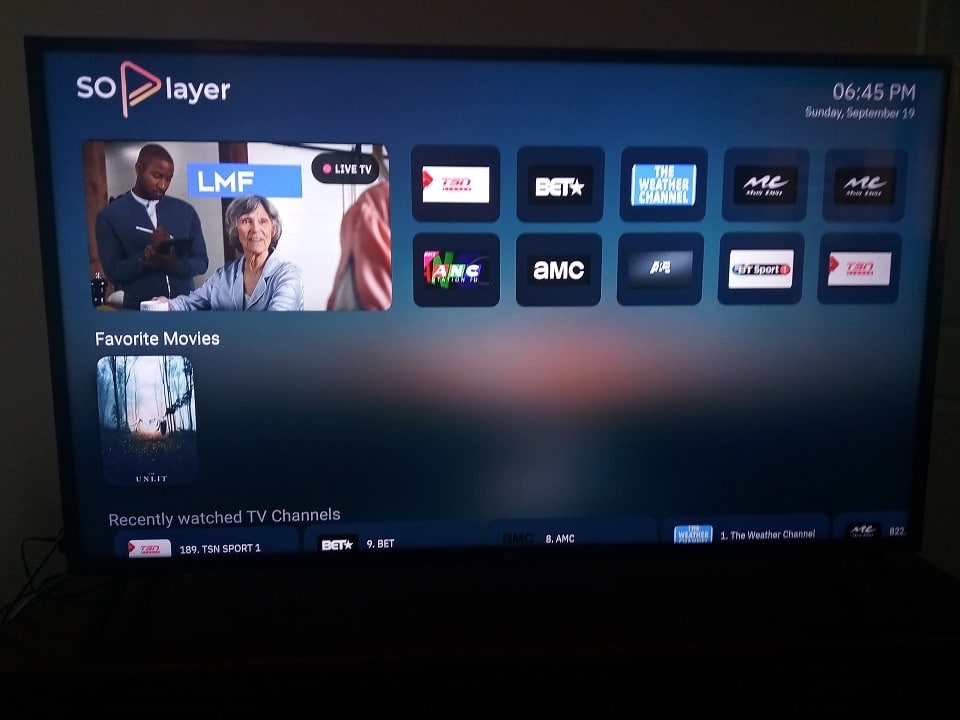 Product Name: Iron Mountain Media
Product Description: IP Locked IPTV service for TV viewers that want to saved money while watching their favorites online. This IPTV service brings together both live TV channels and on-demand streaming content. Live channels consist of premium (movies, news, sports, kids, etc), global (US, UK, CA, Spanish, Filipino & Canada), some US locals/regional, and music. On-demand content includes movies with new releases and genres, VOD sports, & VOD TV series with seasons and episodes. Also included are PPV events (no extra costs) and Adult 18+. Features include premium and full screen, Add to Favorites (VOD only), recently watched channels, and search tool. Also includes the EPG (Electonic Program Guide) that lets you load the TV guide with a category of channels such as sports online or the US only. Can connect up to 4 streaming devices at one time. One smartphone out of the 4 can be used to connect to Iron Mountain when traveling to watch your favorites on the go. Watch Everything on your smart TV (Samsung or LG w/ internal app store) or HDTV with a streaming device (NVIDIA Shield, Fire TV/Firestick). Can also use Apple, Andriod Devices (phone, TV, box), iOS (iPhone, iPad, iPod), Tablet, or Apple TV. Get the 3-day free trial or choose 1 of 2 subscriptions for one month. No recurring or automatic payments. Pay as you go or don't renew on your end.
Offer price: 25.00
Currency: USD
Availability: OnlineOnly
Usability

Performance

Picture Quality

Compatibility

Live Channels

VOD/CatchUp

Sports/PPV

Global Channels

EPG (TV Guide)

Features

Support
Iron Mountain Media Review
Get all your favorite live premium channels from major TV networks to watch movies, kids, news, sports, local US channels, etc. Includes channels from the US, UK, CA, plus Filipino and Spanish channels. Get access to many VOD movies with genres and new releases, including TV series with seasons/episodes, and NFL Replay/UFC Replay. And there's plenty more. Subscribers also get access to music, PPV events to watch all the big fights/boxing matches, and adult 18+ with locked by default. Some feature enhancements are included such as Add to Favorites (VOD only). EPG (TV show) can be programmed to add a specific group of live channels that will load the TV guide. Up to 4 device connections can be made at one time to watch something different on each streaming device or TV.
Pros
Live channels from major TV networks for entire family
Local US channels
Some global channels
PPV events (no extra charge)
VOD movies/TV series (new releases, genres, seasons, episodes)
Many compatible devices can be used
Watch it all on your TV
Watch on smartphone with traveling
Great sports package (incl. local/national/international, pros/college & seasonal sports such as NFL. NBA, NHL & MLB)
EPG (can program to load TV guide with specific category of channels only)
Connect up 4 devices at one time
3-day free trial including 1 & 2-month subscriptions
Very low-cost without losing your favorites
Cons
IP Lock IPTV (locked into 1 IP address, cannot outside IP address & can't use VPN service which is optional)
French sub-category only includes one channel
US local channels do not include all local OTA channels – those included some may not work
For live channels, no Add to Favorites feature – only for VODs
Iron Mountain Media Review with Pros and Cons. You should be happy to know the downsides after reviewing and testing this IPTV service were very minimal. So if you are searching for a way to cut costs or add more entertainment to your TV viewing, read on. You just might find many if not all your favorites to watch online.
Iron Mountain is an IPTV service that uses an IP Lock platform. Although you can't use a VPN service which would have been optional if you could, anyone anywhere can get access. You are limited to just one IP address but you can use a smartphone with WiFi connection when traveling. You get to see the upsides and downsides later in this review.
So what are the requirements? Glad you asked, seel below…
Requirements to Complete the Setup
There are 4 things needed to get set up to use an IPTV service to watch your favorites online:
Internet Connection. You need high-speed Internet with at least 30 Mbps download speed. More or faster speed is better which helps prevent buffering issues on your end. I pay for over 200 Mbps from my ISP which is Comcast but I dont get that amount of speed for each device I use. Make you test the compatible streaming device you are going to use via SpeedTest or install a speed test app.
Compatible Streaming Media Device/TV. You will find compatible devices that you can use further down this Iron Mountian Media review. You should have a new or fairly new streaming device that's up-to-date (lastest update). I suggest using an Ethernet cable for your primary device, may that be your smart TV or Firestick. All other streaming devices can use a WiFi or wireless connection. Using an Ethernet cable gives the fastest Internet speed and will help eliminate buffering issues should any occur on your end. You can find an Ethernet adapter for your device at Amazon.
Free TV App. You will download/install the SO Player app to the compatible device. No signing up or payment is required to install the free app. However, once the TV app is installed, it doesn't deliver any streaming TV content. You must subscribe to an IPTV service.
IPTV Service Provider. You must sign up to either get the trial or subscription in order to get the activation/login credentials. The credentials includes the Provider ID, Device Pin Codes, Username and Password. This will activate the SO Player ap that connects to the IPTV service, in this case Iron Mountian Media. All live channels and on-demand streaming content comes from the IPTV service. If channels don't or something goes, don't go searching online for SO Player help. Also remember your IPTV service name, where they are located and go to them for support.
Who Is It For?…
Any man, woman, child, can use and get access to the IronMountainMedia streaming content. There are many English channels but you will find channels for Spanish, Canada, UK, Filipino, and the US. Everyone living anywhere in the world will get access to the same channels and VODs.
If you know Spanish, you can enjoy the best of both worlds when watching both English and Spanish channels. Sports fans should be happy as well as movie buffs and TV series lovers when getting access. To put it lightly, IPTV services give you an all-in-one Internet TV platform whatever interests you.
Streaming TV Content (Live Channels & VODs)
There is plenty of live and on-demand streaming TV content for the entire family, even children. There are many channel categories and sub-categories making it easy to search and find what you want to watch online. The picture is HD (1080) or higher and the audio is very good as well.
During my Iron Mountain Media review video, I play random channels/VODs, and they all played. I am not putting myself on the line by saying all channels and VODs work. No IPTV service is perfect and I'm sure there are some channels that don't work in Iron Mountain. Still, you can always contact support to fix broken channels.
Here's what they deliver:
100s live TV channels (premium, global, US locals, movies, kids, sports, news, etc.)
1000s VOD TV series with seasons/episodes/UFC & NFL Replays & movies w/ genres plus new releases
PPV events with no extra cost (catch all the big fights/special events)
Live sports (local, national, international, pros, collegiate, seasonal)
Other streaming content include Music, Adult 18+ (locked by default)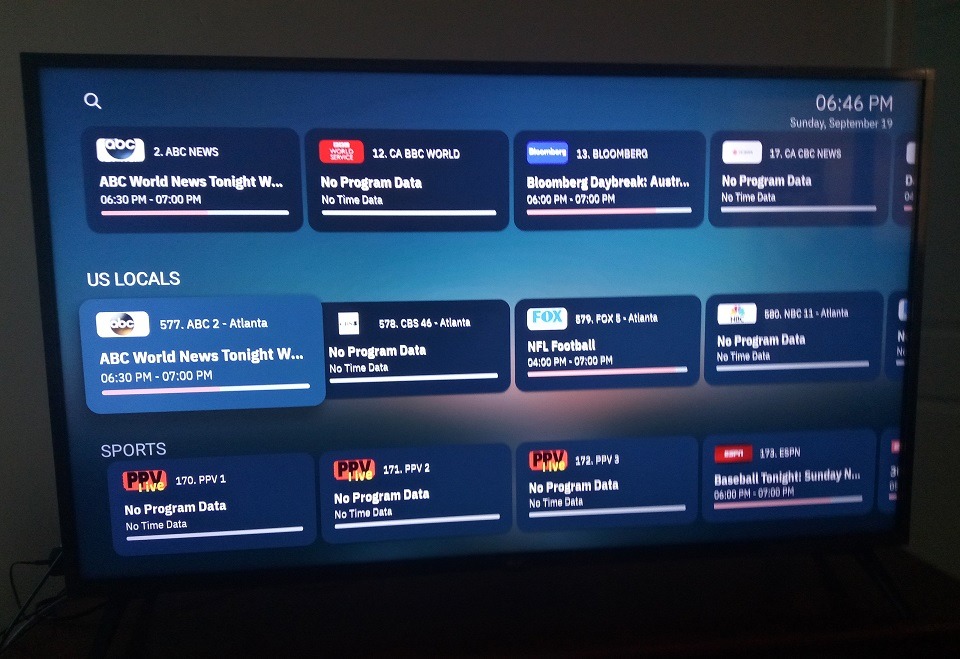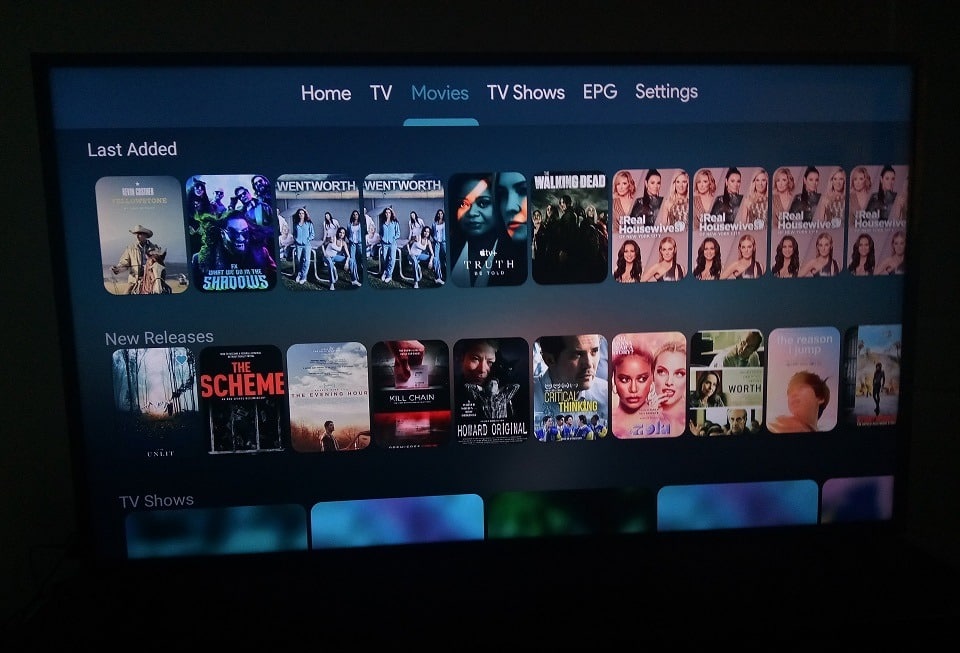 Feature Enhancements
There are not many features included in any SO Player IPTV service. When going through my Iron Mountain Media review here are the feature enhancements I came across:
Preview/Fullscreen
Recently watched
Add to Favorites (VODs only)
Search tool (live channels & VODs)
EPG – Can select a category of channels to list inside TV guide or choose another category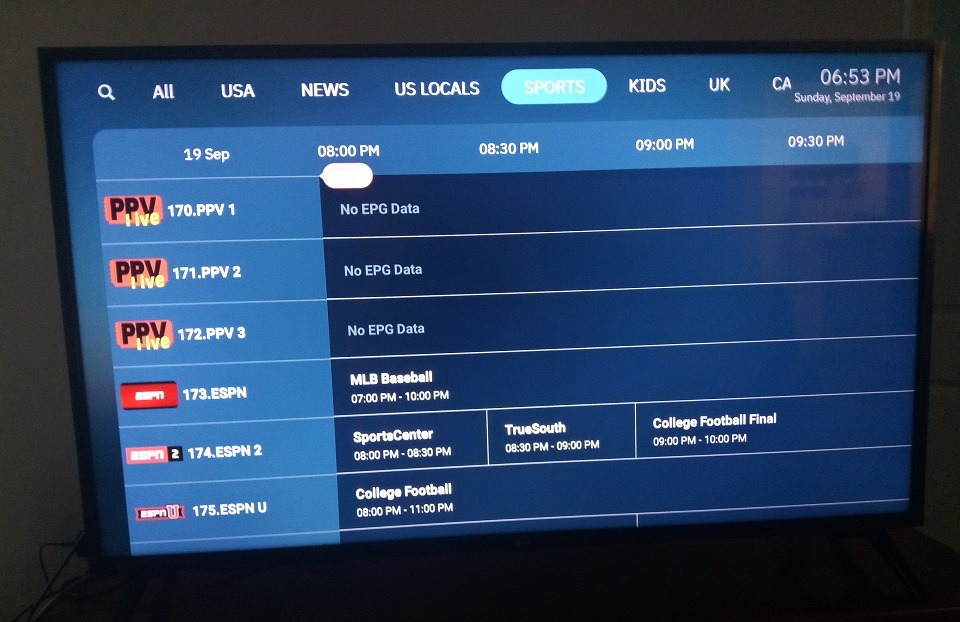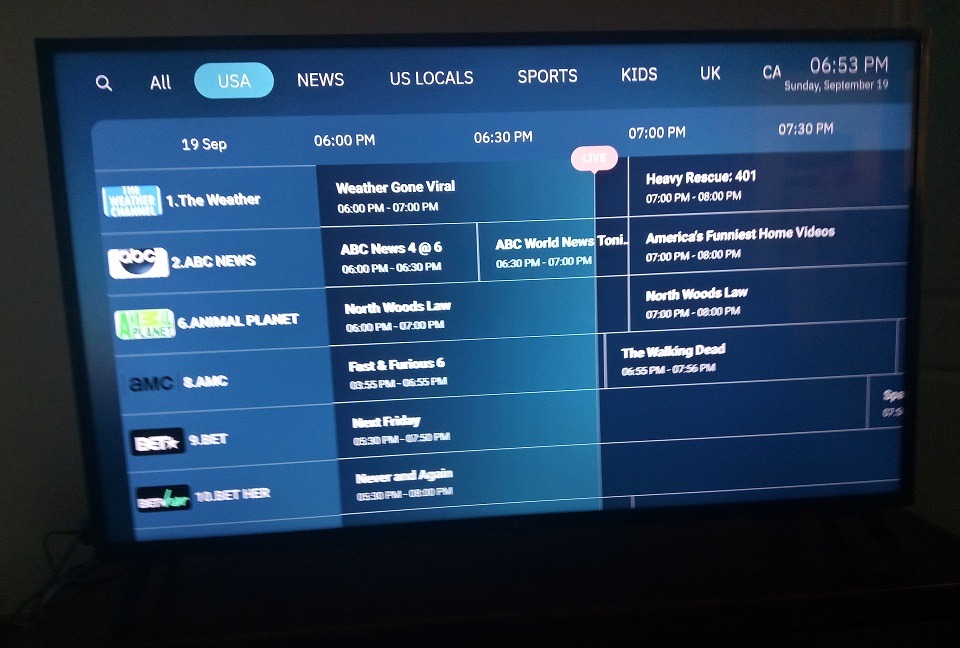 What to Expect When Signing Up
Once you complete the signup process for the trial or subscription, expect to receive around 3 emails immediately from Iron Mountain Media. One email will include your Activation/Login Credentials to enter inside the TV app. If you don't see any emails, you must look inside your Spam/Junk mail folder. If any are there, just move them to your regular email inbox.
You don't need any equipment or antenna. Of course, you can always connect an indoor HDTV antenna to your TV and scan for local channels. Iron Mountains does include local US channels but you won't get all of them. And it's unclear if all US local channels are included and working.
When requirements are met as stated above, you simply navigate through the TV app with all streaming TV content available.
Activation/Login Credentials for SO Player
After you sign up to Iron Mountain, they will send your Activation/Login Credentials right away. You will also get this info on the last page after completing the sign-up for the trial or subscription. So there are two ways to get this info.
The Activation/Login Credentials include the following to activate SOPlayer (TV app) but not all the credentials may be required given the compatible streaming device used:
Username & Password (all numbers)
3 or 4 Device Pin Codes (depends on subscription paid)
Provider ID
If you experience a problem using the app at any time, always contact the IPTV service. In this case, you would contact Iron Mountain Media on their website. If you get an error message such as 'Bad Credentials' contact support. Do Not going online search for SO Player support.
Always remember your IPTV service name and where they are located. You want to save the 3 emails they send you initially so that you can refer back to them. It will also include your account info.
Depending on the subscription paid, you will get access to 3 or 4 device pin codes. You can connect those devices at one time to the IPTV service and watch something different on each streaming device or TV.
Compatible Devices
These are the compatible devices that you can use:
Computers (Mac, Windows)
Tablet
Apple TV
NVIDIA Shield
Amazon Devices (Fire TV, Firestick)
iOS Devices (iPhone, iPad)
Android Devices (phone, TV, box)
Iron Mountain Media Free Trial, Subscription Costs, Money-Back Guarantee & Support
I created a video that takes you through the free trial process. Paying the subscription is no different other than using the payment method to purchase the subscription. You can look for that video when finding a button inside the star-rated review to see the video covering the Iron Mountain website.
3-Day Free Trial & Subscription Cost
Free Trial does not require any credit card, payment. It's zero cost so you can sign up now to test the TV app connected to the IPTV service. The trial lasts for 3-day which is very generous. Mostly IPTV trials last for 24 hours only. After signing up expect to get 3 emails. One email will have your Activation/Login credentials. It's the same thing if you signup to pay the subscription instead.
One Month Subscriptions Only…
3 Device Connections: $25.00 USD
4 Device Connections: $28.00 USD
The subscription lasts one month only. There's no automatic or recurring billing. Once the subscription ends, you have the decision to renew it. To renew the subscription, you must revisit the Iron Mountain Media website. When signing up for the trial or subscription, you will be given a Username and Password to log into the 'My Account' — see link at top of their website.
NOTE: The free 3-day trial may be temporarily removed during any big fight/special event (weekend) on PPV. When the special event ends the free trial will be made available again.
Money-Back Guarantee (Refund)
Again, this IPTV service is very generous. Most IPTVs with free trials have a no-refund policy. There want individuals to use the free trial to test everything before shelling out any money. Iron Mountain gives you a 30-day money-back guarantee. When visiting their website, scrolling down to the bottom to find the 'Refund Policy' link and read.
Support
Support comes just 2 ways:
Contact From
Chatbox
I suggest using the chatbox as there may be a live agent online to answer your questions and provide support. I don't know if the agent is available 24/7. But understand there is no phone number or any other way to contact them. You will get their email address after they contact you via email.
Iron Mountain Media Review – Pros & Cons
PROS
There are 100s of live entertainment channels to watch many of the same major TV networks you get from cable TV. This also includes 1000s of movies with all the main genres including new movie releases. The TV series/shows come with seasons and episodes.
If you live watching boxing and big PPV boxing events, you can so do with no extra cost. Sports fans will enjoy watching local, national, and international sports online. There's NFL football, MLB baseball, NBA basketball, and NHL hockey, and many other sports.
There are other countries included outside the US such as the UK, Canada, and Filipino including Spanish channels. Picture quality is HD 1080 and higher, the audio is great as well, and channels/VODS played when testing. The interfacing is fast and smooth, easy to navigate throughout the app to find what you want to watch online.
CONS
There is only one French channel which I don't understand why even include. The Filipino section only has 4 channels. You cannot add live channels to favorites which I'm sure most people would have preferred rather than adding VODs to favorites.
You won't get all your local OTA TV channels if any and some local channels may not work. Still, you can always purchase an indoor HDTV antenna to connect to your TV and scan for local channels. Watching streaming content away from home has restrictions.
Firstly, you can only use one IP address with this IPTV service. Change the IP address and you will be locked out. In other words, you can watch everything at home which is your IP address via the modem box you're using. You cannot share your IP address with other people outside your IP address.
But other people in your household can use other compatible streaming devices to watch what they want. Also, you can only use one smartphone when traveling outside your home via WiFi connection. You cannot use any other compatible device.
Conclusion
When conducting my review for testing purposes, everything worked. However, I didn't test 100s of channels and 1000s of VODs. And I didn't play any of the streaming content for long periods of time. Also, I didn't experience any buffering issues. But this is where you come in when opting into the free trial. You can spend more time testing things that interest you the most. The 3-day free trial gives you enough time to test.
You see the low cost and much you can save using this IPTV service compared to cable TV. And whatever TV subscription package you are currently, you have to weigh which one provides the most of everything you want. Although you can ask Iron Mountain Media pre-sale questions, it's a no-brainer just entering into the free trial to get all your questions answered.
Once you complete the setup process with the TV app installed, it's clear sailing to watch your favorites online. This IPTV service for SO Player is one of the better ones out there. I recommend trying them out for yourself and see what happens. If it's all good, then pay for one of the subscriptions.
This Completes Our Iron Mountain Media Review