If you want the Xtreme HD IPTV Subscription, you are certainly in the right place. I'll give you inside information both in the video above and written below. In fact, I also cover the Xtreme HD IPTV trial (36 hours) if interested in testing before actually subscribing.
IMPORTANT NOTE: The 2nd video that automatically follows the video above has very poor picture quality. I didn't know this at the time when I was recording. I don't know what caused it so I do apologize. You may want to skip watching that video and select video 3. You do need to watch the 3rd video that covers the Bouquets.
I'll explain more about Bouquets which allows you to pick and choose specific countries/languages with channels/VODs you want only. Xtreme delivers so many live channels and VODs from over 50 countries that I'm certain you have no interest.
—————
Besides the Xtreme HD IPTV trial, this IPTV service has 5 subscription plans to choose from. I'll break them all down below. When I created the first video on this IPTV service, they didn't have the Bouquets feature on their website come time to subscribe. So you'll get that information here.

Xtreme HD IPTV Subscription w/ Bouquets
If you ever heard of a la carte' TV before where you get to choose specific channels that interest you, then Bouquets comes close. You can choose any one of the Xtreme HD IPTV subscription plans explained below and when you do, the Bouquet feature comes into play. You select your device type, then click the Bouquets button and a popup window appears.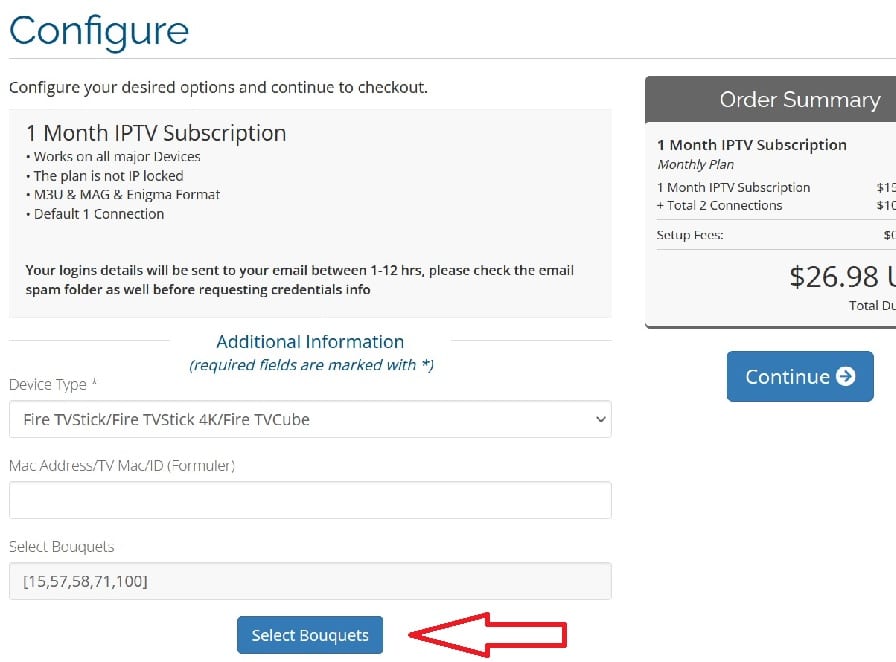 In that popup window, you will find a list of checkboxes from 3 categories — Live TV, Movies, and Series. Starting with the Live TV section, you can select/click the names of countries with channels that interest you only. For instance, I chose English-speaking countries such as the US, UK, Australia, and Canada when clicking the boxes.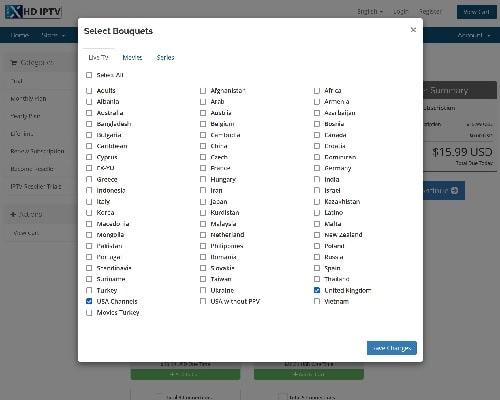 What I did next…
I clicked the Movies section in the popup window and chose Movies English. Next, I went to the Series sections and chose Series English. I didn't want over 50 non-English speaking countries with channels, movies, and TV series. By the way, there is no Bouquet feature in the Xtreme HD IPTV trial.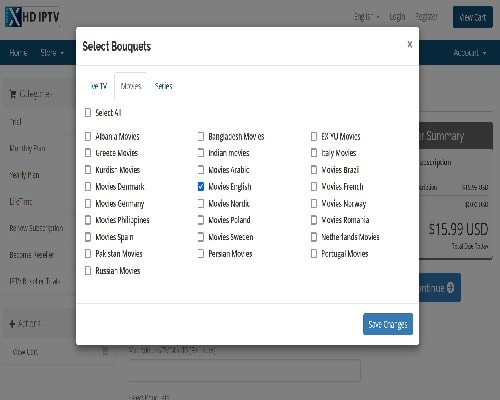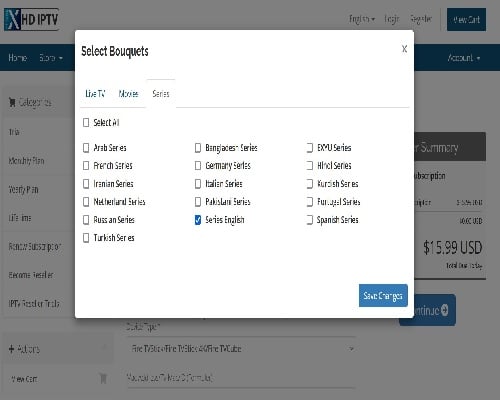 You can choose streaming content from your homeland/country in your language. Adult content can be excluded as well. It's totally left up to you. You can really narrow down the content you want to watch online by language/country.
This can also help eliminate freezing or buffering. I tested Xtreme with and without the Bouquet. Without it, the Xtreme HD IPTV subscription included channels from over 50 countries. And it also includes many VOD movies and TV series from different countries most of which did not interest me.
Subscription Plan Breakdown
1-Month, 1-Device Connection (Addon Connections Allowed- Up to 5 Devices): $15.99/mo USD
3-Months, 1-Device Connection (Addon Connections Allowed – Up to 5 Devices): $45.99/mo USD
6-Month, 1-Device Connection (Addon Connections Allowed – Up to 5 Devices): $74.99/mo USD
12-Month, 1-Device Connection (Addon Connections Allowed – Up to 5 Devices): $140.00/mo USD
Lifetime, 1-Device Connection (Addon Connections Allowed – Up to 5 Devices): $500.00/mo USD
Payment Methods: Debit / Credit Card; Cryptocurrency. Can Pay Subscription Inside TV App
When the Xtreme HD IPTV subscription ends, you must return to the Extreme HD IPTV website to renew the subscription. Keep in mind that it's always the IPTV service that delivers all the streaming content. They provide activation for the app as well as provide support for the app and streaming content they deliver. Therefore, always remember the IPTV service name and where to find their website.
Get Your Subscription or Trial Here
Xtreme HD IPTV Trial
The low-cost trial cost $3.00 USD.
The trial gives you 36 hours of testing the TV app and IPTV service when connected. You might ask why not a free trial. Unfortunately, there are many individuals out there that are only interested in free trials. And there are those only interested in watching the big fights/boxing special events on PPV.
Nevertheless, the Xtreme HD IPTV trial is something you should think about using so you can test everything. You will get a boatload of live channels and VODs but you get to see if you're favorites are included, among other things.
If you experience any poor streaming performance, don't be alarmed. Remember, I said earlier to read the troubleshooting guide on their website first. When you pay for the Xtreme HD IPTV subscription of your choice, you can use the Bouquet feature to narrow down only the content you want delivered.

Access to Huge Amounts of Streaming Content Can Cause Problems
This is true. You'll see the difference in performance when getting the Xtreme HD IPTV trial or Xtreme HD IPTV subscription. The performance lags a bit when going in and out of categories and sub-categories of channels and VODs. In fact, the TV app would automatically close down on its own on my end. Each time I had to relaunch the TV app to watch again.
What I figured out was you can't rush the selection of a category or category. It's the same thing when playing a live stream in a preview. I would click the full screen and the TV player app would shut down. When I give the live streaming time to play in the preview and then select full screen, there was no issue.
Also, I was experiencing some consistent buffering issues. Another thing you will like about Xtreme is they include an outstanding troubleshooting guide on their website. I highly suggest you read it before making a payment. Eliminating the content that doesn't interest you will improve the streaming.
NOTE:
I encourage you to read my full review, especially the part that tells about my experience with buffering and what I did.

In Closing…
Xtreme separates itself from other IPTVs by giving you a low-cost trial (some don't offer any trial). They give you a detailed troubleshooting guide section on their website. And when paying the subscription, you get the Bouquet feature which enables you to choose one or more countries/languages you want. Everything else will not be included in the TV player app.
But you should also contact Extreme support to make sure they provide the Bouquets you requested. This is what I had to do. You can give them the code numbers or tell them the names of countries/languages you want to be included for Live TV, Movies, and Series.
You have the luxury of choosing either Xtreme HD IPTV subscription or Xtreme HD IPTV trial. Remember you don't get the Bouquet feature in the trial. Xtreme is not a perfect IPTV service neither are any of the rest. There are always pros and cons. And there can be streaming performance issues where most of it can come from your end.
Latest posts by Web TV Guy
(see all)