enplay or Generic Player helps bring GenPlay Streaming to TV viewers across the globe. IPTV services that support the app have had their share of changes and issues in the past, perhaps not as much as in the present. On one hand, you have the GenPlay IPTV (Gen Play TV) whereby you must pay for the subscription to activate and use the Genplayer app to watch TV without cable TV.
The other side of this is the app itself which many individuals have or want to install first. This can present a problem when these individuals have not identified the IPTV service supporting the app. And that goes for any app being installed first. In case you are new, I'll cover what is Gen Play soon. Do Not construe the brand name with this brand name or similar name.
Issues At Hand & Why Alternatives Are Needed…
As you continue reading below, there will be a section where I will introduce to you at least 3 GenPlay TV alternatives. Why am I doing this? One is to eliminate the issues at hand whereby individuals are searching the Internet in droves–they can't find the IPTV website, their account, log in, pay to join or renew, etc.
Second, it's always a good idea to have similar IPTV services on hand should you need to switch IPTVs. Not just for Genplay IPTV or GenPlayer TV but any IPTV provider. Another thought is to have a backup IPTV in case the IPTV service you have goes under for some reason. The latter can be temporary or permanent. If temporary but this happens too often, one should not hesitate to make the switch.
The Genplay Generic Player alternatives support the Thorium Player app or the Carbon Player app. Both apps have the same technology as GenPlayer. the Thorium Player IPTV and Carbon Player IPTV are also quite similar. However, they also provide CatchUp TV and all three IPTVs include free trials as well.

Learning Basics of IPTV Services and IPTV Apps
Let's take a quick dive into what an IPTV service does and what the app can and cannot do.
First off, it's best to start with the IPTV service whether it's Generic Player IPTV or some other IPTV. They tell you what TV app(s) they support. You must pay to receive IPTV service or enter into the trial if available to get the activation/login credentials. Those credentials are used to activate the app so that you can watch TV online.
Something else to note is the IPTV provider delivers all the streaming TV/VOD content, no different from the Genplay streaming TV. They provide support for the streaming content delivered and you must return to their website to renew to continue watching your favorites.
Is GenPlay free?
The TV app, in this case, Genplay or Genplayer is a free app download. You can install it before signing up for IPTV service. You just need to know beforehand the IPTV service that supports it. Otherwise, you get no streaming content. Just an app installed on your compatible device.
You must have the activation/login credentials to activate the app to watch TV online from your compatible streaming device. For instance, the Genplay Service ID, Username, and Password are required to activate/use the app as I said before. The same thing goes for the alternatives that I'm about to share with you. They also require the Service ID, Username, and Password.
The Genplay URL is needed for you to install the app on any compatible Android TV, Box, or Smartphone. Or, you can install the app on devices with Android operating systems such as the Firestick, Fire TV, and NVIDIA Sheild. The same thing applies to the three IPTV alternatives below.
Additional Info…
In order for Genplay streaming or any IPTV streaming service to work, you must have a fast Internet connection speed as well. While 30 Mbps download speed is good, 60 Mbps would be better, and 100 or more Mbps would be best. Read this very informative article regarding 100 Mbps in today's world.

Very Similar Alternative IPTV Services With Very Similar Apps
If you happen to be in the market for an alternative or backup IPTV to Genplay streaming, you get them here. That's if you want basically the same technology, look and feel. But you get more streaming content which includes CatchUp TV also. Gen Play TV Does not deliver CatchUp and doesn't offer a free trial.
Take a look at the screenshot below of one of the top recommended alternatives. Looks very familiar if you used GenPlayer before. Only the brand name of the app and theme design has changed but CatchUp TV is also included.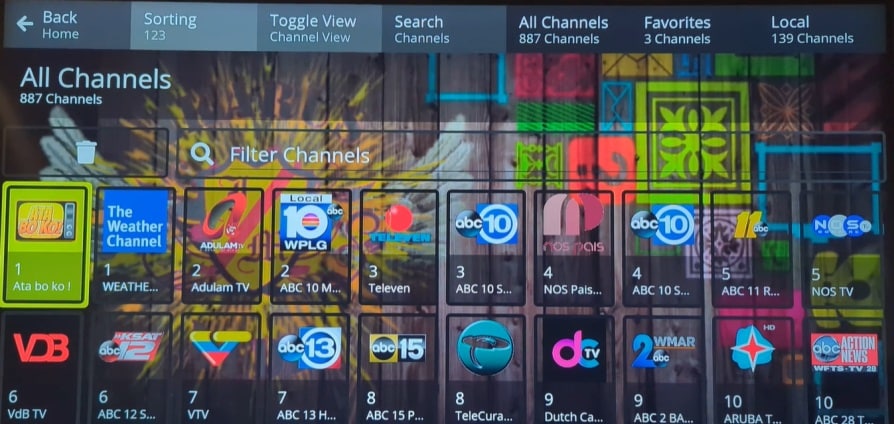 Okay, so let's dive in…
Thorium Player IPTVs…
I'm giving you two Thorium Player IPTVs and one Carbon Player IPTV. Again, I am emphasizing you get a very similar Genplay streaming medium and app. When you see the screenshots and video tutorials, you will know what I mean. In other words, you won't lose a thing should you make the switch.
If you have not subscribed to the GenPlay TV service wherever they may be online, you might think about the alternatives. Not only will you not have an issue finding these alternatives online but no issue locating customer service, the login page, or your account.
After you sign up to subscribe or enter into the free trial, expect to receive some emails immediately. One email will have your activation/login credentials, setup installation info, links, etc. I provide a lot of info on top IPTV services that were physically tested and reviewed. However, I never reviewed Gen Play TV. And quite frankly, I think the recommended alternatives are better.
Click below to sign up, subscribe, and activate…
Carbon Player IPTV Service | Read Written Review | Watch Video Tutorials
See It All In Action – Same everything & has CatchUp TV

Thorium Player IPTV Service 1 | Read Full Review | Watch Video Review
See Everything In Action Here – App very similar to GenPlay (Generic Player)
NOTE: The installation video will play first. You can select the next video to see it in action.
—————
ThoriumPlayer IPTV 2 | Read Review | Watch Video
What It All Here with Your Own Eyes – Very similar to Gen Play

In Closing…
I have covered the Genplay IPTV including other IPTVs and what that entails. You must pay to become a subscriber or opt into the free trial. I also covered the Gen Play TV (a.k.a. GenPlay TV) app and told you about what it can and cannot do.
Because you are dealing with IPTV services and see what can occur down the road, I provided you with some GenPlay IPTV streaming alternatives. You can sign up for one now which I provided in this article post. You won't lose a beat if you no longer have a subscription with the other IPTV requiring the Service ID. And if you have not subscribed, you begin here by choosing one of the alternatives above.
I'm an Internet TV researcher, tester, reviewer, and enthusiast that enjoys sharing and delivering information to like-minded individuals interested in watching TV online using their smart TVs and streaming devices.