How to Download and Install Nora Go on Smartphone
The Nora Go app for Android smartphone and Nora Go app for iOS iPhone are just two of the many apps available from the IPTV provider. You can watch many of your favorites online when using your phone at home or on-the-go. The Nora Go on Smartphone is an easy install when downloading it from the Play store.
——————————————————-
UPDATE…
We are no longer recommending the Nora Go App or any Nora Go IPTV Service Provider. We now recommend SO Player App and SO Player IPTV Services – CLICK HERE to Learn More or Subscribe or READ FULL REVIEW HERE.
For More Info, Click Here and Read the IMPORTANT UPDATE message…
DO NOT READ BELOW…
—————————————————–
See Videos on How to Remove Devices from IPTV Service and Prevent Device Lock (SO Player or Nora Go)
You may want to ignore the content below the dotted line to avoid getting confused…
——————————————-
To stream live TV channels and on-demand movies/TV shows, both Android and iOS phones should have at least 3G. Of course, 4G is better because of the faster speed you get. See how much Internet speed your smartphone has right now: Speedtest for Android — Click Here. Speedtest for iOS — Click Here.
Get your username, password, provider ID, and pin codes by email from recommended IPTV service – Click Below…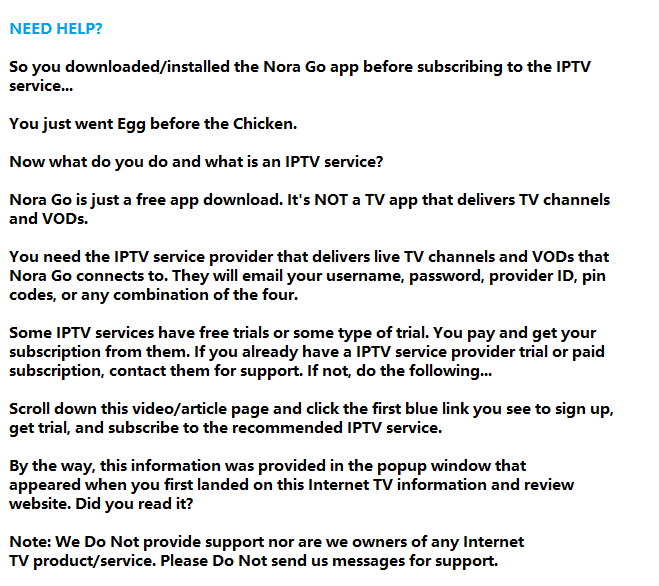 Nora Go Smartphone App
The video above provides instructions on how to search to find, install, and download Nora Go app to Android smartphone.
Getting Started…
When subscribing to the IPTV, new subscribers will receive a series of emails. One of those emails is very important. It contains the subscriber's username, password, 4 Pin Codes (1 per device), and the provider ID. Included are additional information, instructions, and links for more help. The IPTV website has plenty of instructions including the FAQ section. And there are three easy ways to get support when using the support email, chatbox, or toll-free number. You can click this link if you want to further your knowledge of the IPTV provider is and how it works.
Note: If you don't get any emails, be sure to look in your Junk/Spam folder for them. If they are there, just move them to your regular email inbox where you normally receive emails.
Easy Steps to Follow: Search, Find, Download & Install Nora Go App for Android smartphone. The video above will take you through some of the steps. However, it doesn't show you the steps to enter your login details, provider ID, and one of the Pin Codes. You'll have to experience this part on your own. The steps are pretty straight-forward. You simply do what it asks.
A keypad will appear to enter your username, password, etc. Once the information is entered, you're good to go.
Now, let's go through the steps to find the Nora Go app smartphone:
Turn on your Android smartphone
On the Home screen, tap 'All Apps' and scroll down to find the Google Play Store
Tap 'Play Store'
In the Search bar at the very top, tap it to make the keypad appear
Now type the name Nora Go. The name Nora Go may appear in the list below, just by typing nora
Tap the Nora Go name directly below the Search bar or tap the small magnifying glass on the keypad to enter
In the next screen, the NoraGo screen should appear. Now tap the green 'Download' button
That's all there is to it. Once the downloading completes, the Nora Go app for the android phone is installed. Just tap 'Open' (green button) and you should be taken to another screen to enter your credentials.
To find login details, the IPTV service sends a series of emails to the subscriber. There's one important email that has the username, password, provider ID, and pin codes. This email will have other information including links to help the subscriber further. Make sure to put this important email somewhere you won't forget. You will need those credentials again later on.
The easiest way to enter your credentials, if using a computer, is using the mouse to copy the username. Then paste in the username in the appropriate box. Do the same thing, just copy/paste, for each credential that must be entered in its appropriate box. Otherwise, you'll have to type all credentials in yourself via keypad when using a different device.
Note: The video above doesn't show the login screen with the keypad to enter your login details. However, you can check out the recording that covers this process. Unfortunately, you won't see where I had to enter the provider ID and one of my unused pin codes. This is because I had already downloaded/installed the app and entered the provider ID and my pin code. Both of these are now locked into my device.
Just follow through the login process and enter the provider ID and one of the unused pin codes when needed. You get pin codes, one for each device. You can stream up to 5 devices at once when connecting to the IP TV provider. However, you can only use one mobile device outside your household when connecting to the IPTV service.
Do Not switch to mobile phones. One of your mobile phones must be locked in. Otherwise, you will need to contact support.
Once all the login credentials have been entered, you are taken to the home screen on the Nora Go app for the smartphone. Now if you want to open the NoraGo android app later on, just go to your smartphone home screen. Tap 'All Apps' and scroll down until you find the Nora app name then tap the name.
When opening Nora Go app for Android smartphone again, you won't be asked to enter your login details again. You will be taken directly to the home screen to start watching live TV or on-demand movies and TV episodes. In the video, you'll see all the features and live channels/VOD play.
Sign Up, Get FREE Trial or Subscribe Here
Nora Go iOS iPhone App
No video was created to demonstrate the steps for Nora Go iPhone app download. Just use your iPhone and go to the Apple Store to find, download, and install the Nora Go iPhone app. When the keypad appears, just type the name 'Nora Go' and proceed to download the app. Once installed, you will need to open the Nora Go iOS app. At some point, you will be asked to enter your login details — see 'Getting Started' above.
Using the app on your iOS iPhone to watch live TV and online content will be the same as the Android app. Remember, you can connect up to 5 devices simultaneously. You can use any combination of Androids and iOS phones if you want. But you'll probably want to save one Pin Code for your smart TV or streaming device connected to your HDTV.
Nora Go on Smartphone Entertainment
The people at IPTV Subscription claim they deliver over 800 live premium TV channels. It's hard to check this claim but there are a lot of channels. The live TV content is broken down into several categories as follows: English, US TV, Sports TV, UK TV, Canada TV, Latin TV, and so on. However, more channels from popular networks are in the US and UK sections.
The video of the Nora Go on smartphone (android) will take through the entire app. You will see the value when only paying an average cost of $1 per day. You will see the benefits when finding all your favorite TV channels/networks, live sports, movies, TV episodes, and on so. Whether it's the Nora Go app for iPhone or Nora Go app for smartphone, you'll get the best of web TV entertainment wherever you are in the world.
Important: It is recommended to use a VPN service to protect your web privacy, regardless of what you do online. You Do Not want other people to contact via email and knowing what you do online. Furthermore, you can prevent Internet Service Providers, website owners, and other online companies from knowing where you go online. Why not Hide your IP Address through a low-cost VPN service. See below…
To get some additional information on How to Set Up the VPN on Your Phone, click the banner above. Next, click Support >> Guides (Product Documentation). Then click 'Desktop' from the drop-down window in the left column and select 'Mobile'.
Get Free Trial and Start Watching Your Favorites Online