You can complete the install Tribe IPTV Firestick process when watching the video above. Actually, you will be downloading/installing IPTV Smarters Pro on Firestick via Apk URL that comes from the IPTV service. I didn't write a step-by-step guide. You'll find the guide on the Tribe TV website. But I will cover some important things to help fill in the gaps about the Install Tribe IPTV on Firestick setup.
3/19/23 UPDATE:
The Tribe IPTV site isn't online to take any orders. We have no idea what happened and don't know if paid subscribers still have service. The website may be having technical difficulties and we have no idea when they will be back online if at all. However, there is an alternative IPTV service that supports the IPTV Smarter Pro app also – CLICK HERE to REVIEW.
———-
To read the setup instructions for a compatible device, I will direct you to the following:
Go to the Tribe IPTV Price Page HERE. Then select… Tools >> Tutorials from the menu at the top of their website. On the next page, hover over Tutorials in the menu to see compatible devices. Choose the Firestick device. This is how you get Tribe IPTV for Firestick instructions.
If you are going to use the Firestick, Fire TV, or Fire Cube, select Firestick from the dropdown window. Follow the detailed step-by-step instructions. By the way, the Firestick is the best streaming device to use for IPTVs in my opinion, and for a number of reasons. One being mostly all IPTV services list Fire TV devices as compatible.
Read Full Review With Pros & Cons Here
Watch More Video Tutorials Here…
Tribe IPTV Signup for Trial/Subscription
See Everything In Action (on Firestick)
IPTV Smarters Pro Web TV Player
How to Get IPTV Smarters Pro Free Trial (includes more features)
Other Info…
Best VPN Service for IPTV Services
How to Prevent/Stop Consistent Buffering on Firestick

IPTV Smarters Pro App/Apk
If you are using any Fire TV device other than the Firestick, just follow along and make adjustments on your end. IPTV Smarters Pro is the supported app but you won't find this app inside the Amazon app store. So we need to sideload the app which requires an IPTV Smarters Pro Apk URL — see below…
https://www.iptvsmarters.com/smarters.apk
NOTE: The Apk URL above should be written down. It must be typed into the Downloader app that you see below. This will start the IPTV Smarters Pro app/apk download/installation process. Continue reading below so that you get the full understanding or watch the video at the top. You will also find the Apk URL when reading the Tutorial section on the Tribe IPTV website.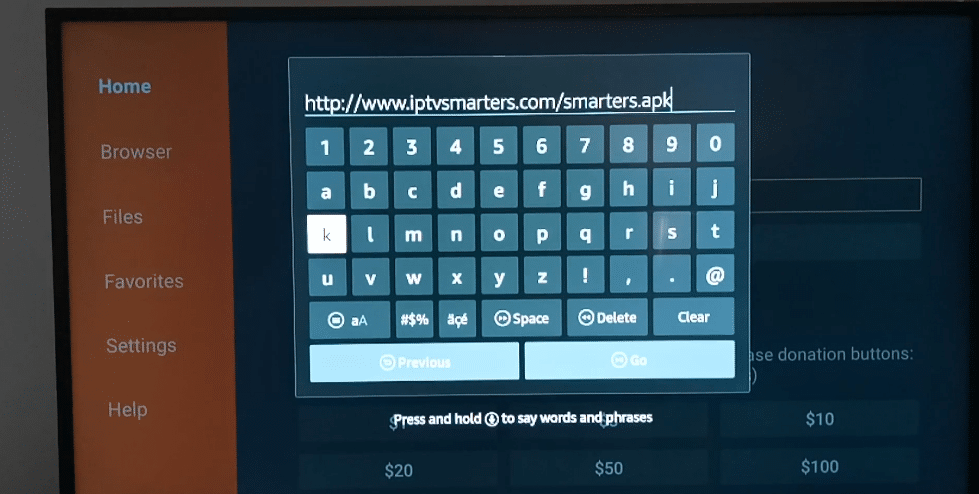 We must get the download from the Apk directory but you don't need to go there. Tribe IPTV will provide the Apk URL needed to type inside the Downloader app. So we must download/install the Downloader to type in the Apk URL. Once this is done the downloading/installation of the IPTV Smarters app will commence.
Just follow the video at the top to get a complete visual of the entire process. But before we can do anything, a parameter must be enabled inside 'Settings' on the Firestick. This is the process needed to install Tribe IPTV Firestick correctly. Yes, there are more steps involved but worth the reward that comes after.

Install Tribe IPTV on Firestick Requirements
There are a few things required to make the install Tribe IPTV on Firestick work so that you can enjoy watching your favorites online.
First, you need a High-Speed Internet connection of at least 30 Mbps download. However, 60 Mbps would be better, and 100 Mbps or more would be even better.
You need a compatible streaming device which I mentioned where to go to get the install Tribe IPTV Firestick instructions previously.
The TV app is free to download but does not deliver any streaming TV/VOD content on its own. For that you will need an IPTV subscription — read below…
Additional Info…
You must find the ideal IPTV service that supports the app/apk. Always remember that the IPTV service delivers all the streaming content. You must remember their name and know where to find their website. They provide activation/login credentials for the app.
Support for the app and streaming content comes from the IPTV service, in this Tribe IPTV. When it comes time to renew the subscription, simply revisit the Tribe IPTV website to renew. You will have an IPTV account as well.
You must pay the IPTV service subscription at Tribe TV to get your activation/login credentials. This will consist of the Service ID, Username, Password, and Portal URL. You type in the info directly into the IPTV Smarters Pro app. Or, you can use the Web TV Player app that opens inside your web browser. See the link for 'IPTV Smarters Pro Web TV Player' above to learn more.

What to Look Out For…
After you sign up to get your low-cost trial or subscription, look for emails from Tribe coming your way. If you don't see any, look inside your Spam or Junk mail folder. If any are there, move them to your regular email inbox.
You will also create an IPTV account that has your order information and activation/login credentials. You must sign in first to renew your subscription when time.
I can't emphasize enough how many subscribers of IPTV services get completely lost after paying for a subscription. They can't remember the IPTV name and think the app delivers all the streaming content by itself. They don't have any emails saved to find the name and where to find the website to get support or to renew the subscription.
These are the common issues that arise later on. So I know there will be a number of individuals that will complete the install Tribe IPTV Firestick process and later forget everything. Or, don't fully understand what they are doing. So I want to save you time and a headache when knowing what to do. Get organized and save everything including bookmarking/saving the Tribe IPTV website and their emails.

In Closing…
You may prefer written step-by-step instructions rather than watching a video tutorial. If this is the case, just scroll up to find where I point you to those setup instructions on the Tribe IPTV website. However, if I were you, watch the install Tribe IPTV Firestick video tutorial to get a complete visual of the entire process. Sometimes it's best to see it than read it.
Latest posts by Web TV Guy
(see all)