Plug TV: The IPTV Service That Could Be An Alternative to Cable or Satellite TV Without Losing Your Favorite TV Programs
Get Plug TV Review by Real Tester and Reviewer. Unlike other IPTV services that require consumers to purchase a set-top box, The Plug TV service says you don't need one. Instead, all you need is an Internet connection, compatible streaming device, and IPTV service.
UPDATE: New customers are no longer being accepted for this IPTV service but there is an alternative SO Player IPTV service you can subscribe to. Right now, current customers can renew their subscription but who knows for how long. You should take a look at the alternative when clicking the ling below
DO NOT READ BELOW THE LINE… We Removed all links to the IPTV service for SO Player…
————————
Sign Up for Alternative IPTV Service with Trial & Subscription Here
Most individuals already have a streaming device such as a computer, smartphone, smart TV, or Amazon Firestick with an Internet connection. And if you don't have a Firestick, I suggest you get one because most streaming TV services are compatible to that device.
If you're looking to cut cable or Satellite TV costs or living without, the Internet brings a world of goods. Never has it been a better time to find an alternative that suits your needs, pockets, and taste for Entertainment. No need to give up the remote or enter into any contract. No more paying any hidden or cancellation fee and no more experiencing local sports blackouts.

These are just some of the highlights of watching TV online. But you need to know what exactly does GetPlugTV offers, what channels they deliver, and what does it cost. We'll cover all these things including pros and cons later on. You'll know whether or not this IPTV service is what you want.
What Is Get Plug TV
What is it? PlugTV is one of the better IPTV services out there. I can attest to this after conducting a full review. Although not perfect, nor is any IPTV, this one delivers on its promise. They supply the streaming content. You watch it on your device. And the good news is there's no set-top box to install. Subscribers get access to live television online including video-on-demand across an IP-based delivery system.
Plug TV IPTV claims to have a network team of engineers that delivers high-quality digital media. This in turn enables subscribers to watch many of their favorites online. In addition, the Plug TV people provide the latest updates and news. You get access to over 600 live premium channels but not just from the US.
They deliver live channels with sports, news, TV shows, movies, local channels, and CatchUp with DVR feature. Also provided are on-demand TV series, movies, and PPV events. There are only 4 things needed to use this IPTV service:
Internet connection
Compatible streaming device
SOPlayer app download
IPTV service
Sign Up Now and Get Access to Favorites Channels and TV Programs
How It Works
When signing up to enter into the free trial or subscription, there is nothing more required. Just fill in your personal information. The free trial doesn't require any credit card information. After the signup process is completed, expect a couple of emails from Get Plug IPTV.
One email will provide a link to visit your account with all your information (My Account, My Order & TV Subscriber Info.). When you sign up, the system will ask you to create a password. This is the password used to sign in to your account. This is the same place where you would go to renew your subscription after it ends (1 month or 3 months). No recurring billing.
The other important email has account information with activation and login details. This information is also included when signing into the subscriber's account. Also included are app download links.
Depending on the compatible device use, the SOPlayer application can be downloaded from the Google Play Store or Apple Store. The Get Plug TV website has a video tutorial with Get Plug TV apk download instructions (for Firestick). My advice would be to save both emails so you can find them later. You'll need both at some point and time.
After the SOPlayer app is downloaded to your device, you will need the activation & login information that was emailed to you. They need to activate the app and log in. Once this process is completed, you are now inside the core of the app with all the plug TV content displayed. There's no need to sign in again after the initial sign in.
Watch video review of GetPlugTV, see it in action, and how to install app. Click video below to play…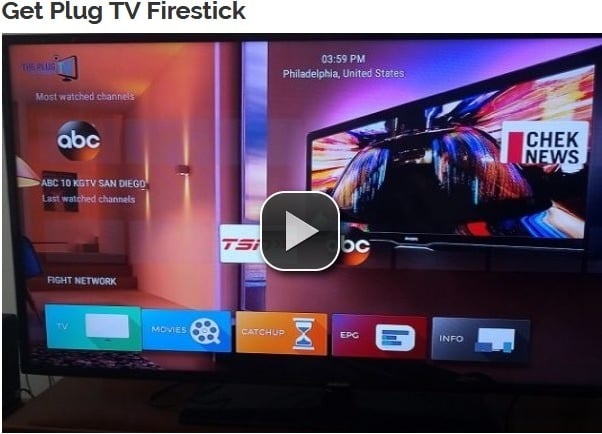 Watch All Your Favorites Online At Home or On the Go – Click Here
Breakdown of Sections
Simply let your eyes do the walking sort of speak. Everything is easily laid out to find. All you have to do is point and click on the category, section, or channel, or video to start watching TV online.
Here's a breakdown of what you will see:
Main Screen – 4 Categories
TV (600+ live premium channels)
Movies (1000s of VOD movies, TV series & PPV Events)
Catchup (DVR TV shows)
EPG (Electronic Programming Guide [TV Guide])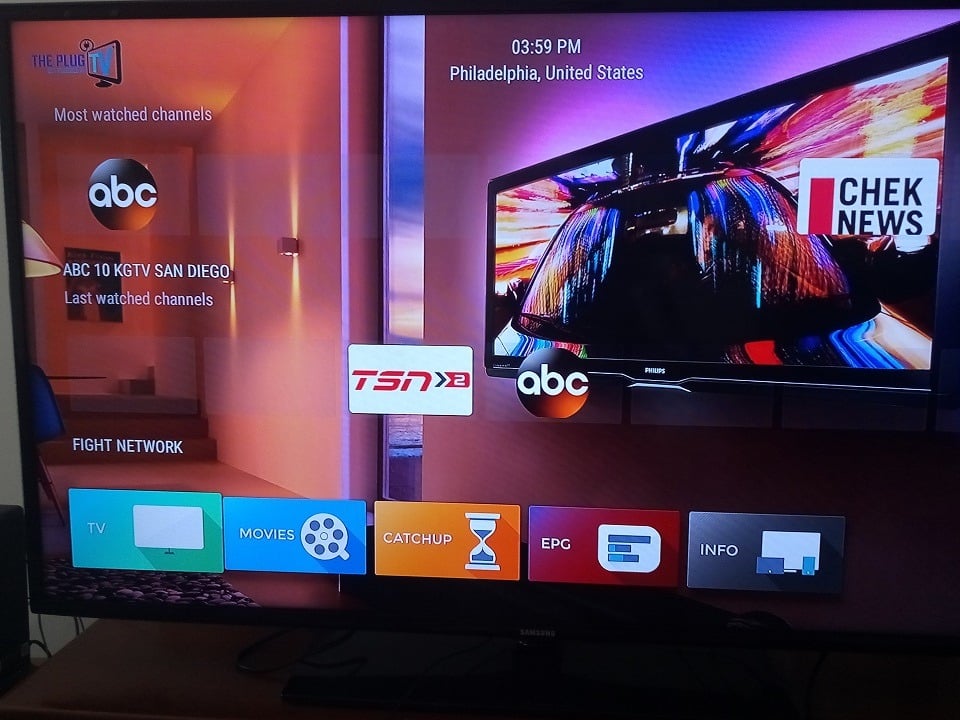 TV icon (green button) highlighted:
Can play to watch…
Most watched channels
Last watched channels
Movies icon (blue button) highlighted:
Can play to watch…
Most popular movies (scroll right/left)
Most popular categories (New Releases, Genres & TV Series)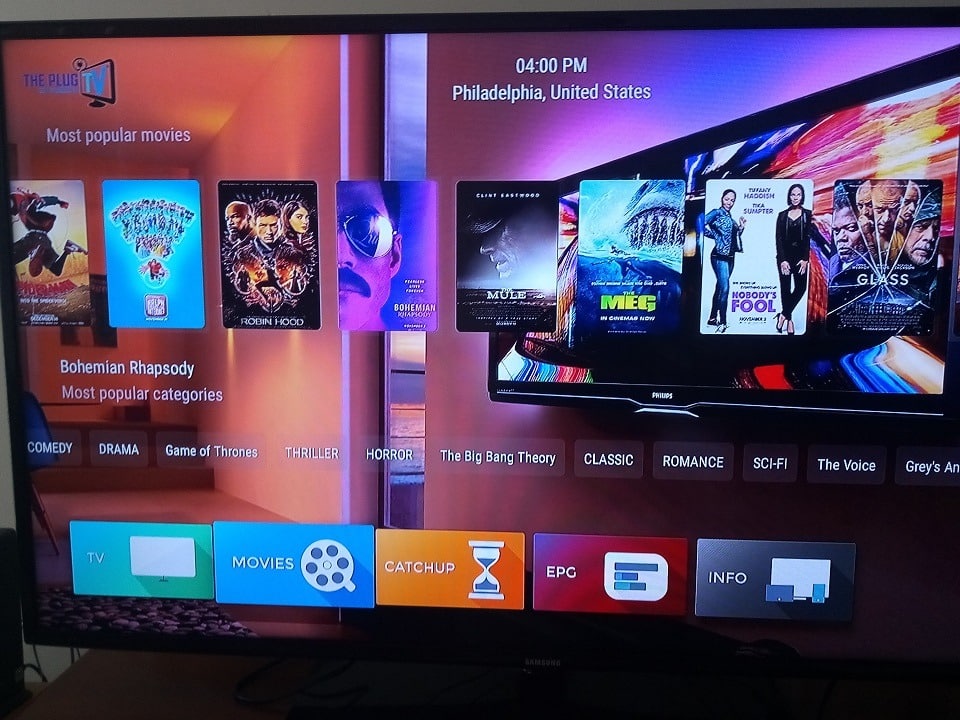 CatchUp icon (orange button) highlighted
Can play to watch…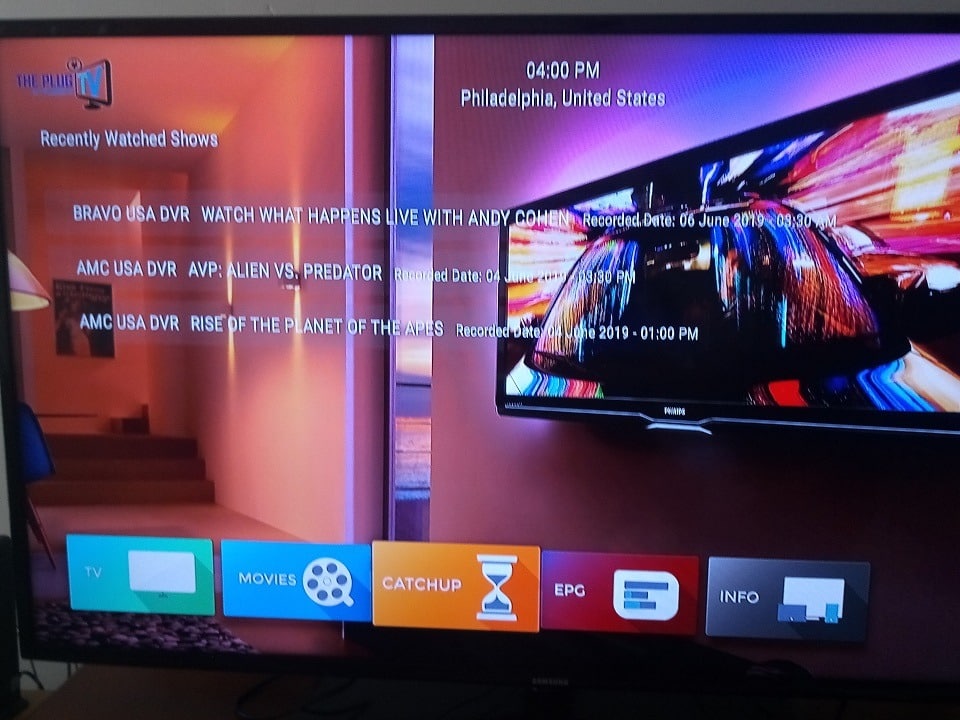 EPG (Electron Programming Guide) highlighted:
Can play to watch…
Upcoming TV shows for the next hour from your most-watched channels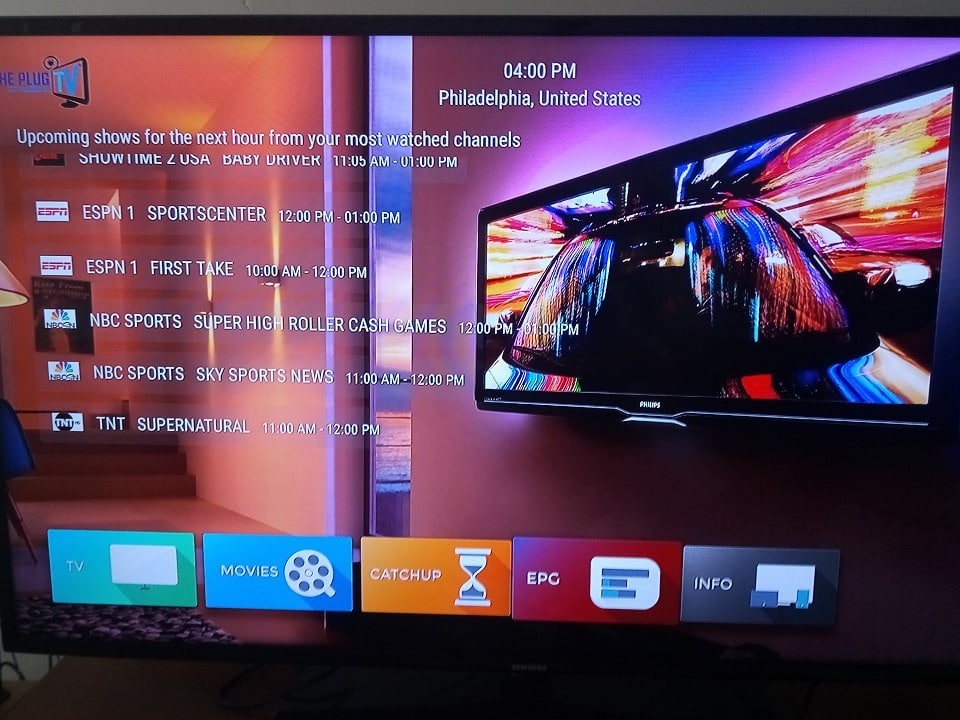 TV icon click to open
Last channel/network shows or plays automatically
TV Menu (Search, All, English, USA Locals, Canada Locals, Sports w/ PPV Events, MLB, NBA, NHL, NFL, ESPN +, PGA Champ, Spanish, French, Filipino, UK, Adult, Music Channels/Radio Channels)
Note: Can use Search feature to search channel/network by title or city name
With TV menu open…
List of channel sub-categories in left column
3 columns of channel/networks names in the middle
List of numbers starting from 1, 2, 3, and so on in the right column
Note: All Sports sub-categories also include PPV events and sports links with names of teams playing each other; Adult sub-category locked by default; Content in ESPN + including PGA Champ sub-categories plays when streams are live. Only then can you watch the event.
Other Sections
Movie icon click to open and play
Search (search TV series or movies by title)
All Movies (Movies and TV Series w/ Episodes)
New Releases (Movies)
TV Shows (Dropdown window with a list of TV Series)
Action, Comedy, Classic, Christmas, Documentary, Drama, Family, Horror, PPV Events, Romance, Thriller, Sci-Fi,  Workout
 Most Popular Movies
Last Watched Movies
Highlight to select a movie. The following appears:
Play the movie / Resume playing
Trailer – Restart the movie
Read details
Select a TV series from TV Shows list:
Highlight and click the name of TV series. Many episodes appear. What appears below…
Most Popular Movies
Last Watched Movies
Note: Does not say TV series but Movies instead.
CatchUp click to open and play:
Search tool (search by title)
Column list TV channel/network names on left with DVR to the right of each name
Column list 7 days of DVR recordings on right
Two columns list TV show names in their time slots
EPG click to open and play:
Column with TV channel/network names on left
Column with names of TV programs on right in their respective timeslots
Who Is It For
It doesn't matter where a person lives in the world. Anyone can get access to the GetPlugTV channels and on-demand content. No one's IP address or country is blocked. Anyone who's bilingual or multilingual can benefit more. Not only are there English TV channels but there are Spanish, French, and Filipino channels.
Everyone can get access to all the local channels from the US and Canada. I'm from Philadelphia, PA and had access to all the local channels from different cities.
If you are into sports, there are many popular sports networks including PPV events. By the way, there's no extra charge to watch PPV events. There's also on-demand PPV events section. Watch any pro, college or International ballgame or sporting event live.
If you are into movies and/or TV series, there's plenty available also. This includes live channels with many popular movie networks as well as TV shows, sitcoms, soaps, series/episodes. Then there's the Movies category with VOD movies and TV series.
If you are into watching the news, there are many news networks. And for those looking for DVR capability, there are many Get Plug TV channels/networks recorded for you. When going through my Get Plug TV review and seeing all the content displayed, there was something for the entire family including children.
Benefits/Features:
600+ live premium channels (movies, sports, PPV, news, shows)
1000s VOD (movies, TV services w/ episodes & PPV Events)
CatchUp w/ DVR (all recordings by IPTV service)
EPG (TV guide)
Countries – US, UK, Spain, France, Filipino
USA local channels & Canada local channels
Connect up to 4 devices
Watch what you want, when and where you want
Access to any sporting event (pros, college, international, local, national, including the fights)
No local sports blackouts, no contract, no set-top box, no credit check, no hidden/cancellation fee
No country or IP address restriction
Free trial to test everything (no credit card)
Get Access to All Features and Streaming Content Here
Get Plug TV Review: Content, Performance & Interface
The following portion of this review will dive deeper into the streaming content and give an indicator as to how good is the app and IPTV service. Then see how user-friendly everything is when going through the Interface.
Content
There are said to be 600+ live premium Get Plug TV channels with popular movie networks, news networks, kids networks, sports networks, and so on. All of which can be found on cable or satellite TV but at a much cheaper cost.
The GetPlugTV channels also include local channels from the USA and Canada. However, I am not sure all cities in the United States are included. As for the cities included, some local channels did not work. When I searched for my Philadelphia local channels, 4 channels appeared. Only 2 channels worked/played. You may get the same thing, whereas some local channels don't play.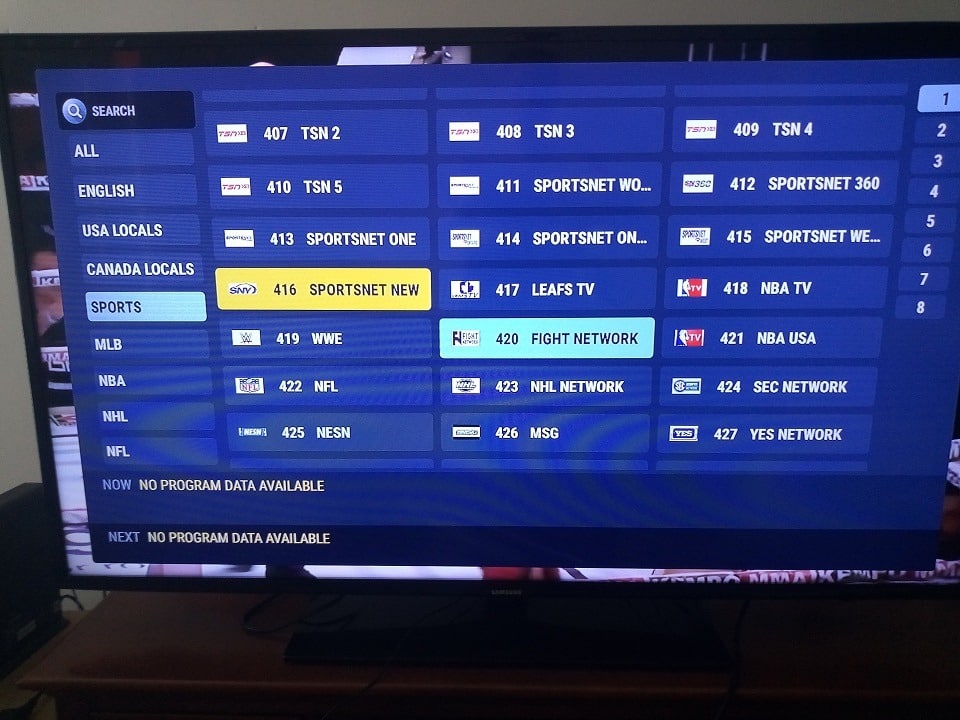 All the content is well organized and there are a few ways to find what you're looking for. Use the Search feature to find a channel/network name or city name. This is the quickest way. Another way is scrolling through the category or section of channels. Or use the number column from 1 on up (ascending order) to find a group of channels.
You'll find Get Plug TV channels in the CatchUp / DVR section where many TV programs from channels/networks are recorded for you. Then there's the EPG (Electronic Programming Guide) which acts like a TV guide. All live channels/networks are listed with TV programs in their respective time slots.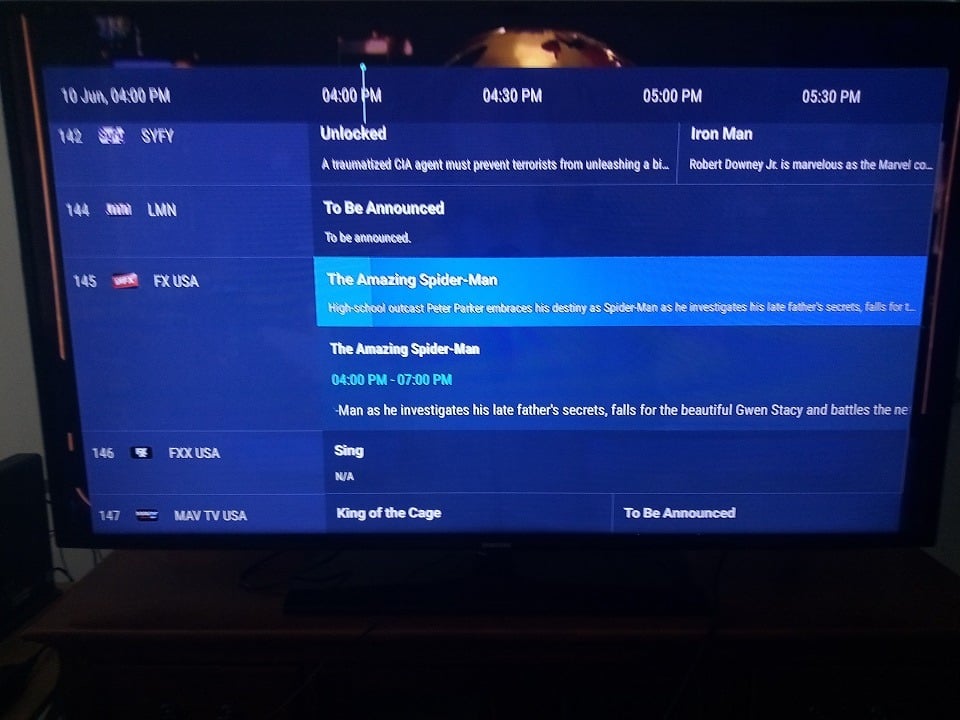 There are USA, English, and Local channels including UK, Spanish, French, and Filipino channels. And if that wasn't enough, you get access to the Movie category with 1000s of VOD movies, TV series with episodes, and PPV events. All the popular movie genres are included and popular TV series. This section also has a search feature to search by title.
Performance
Just like any streaming TV service, a new or fairly new compatible device is always best to use. Most IPTV services suggest having at least 20 or 25 Mbps Internet connection speed. I recommend having 2x or 3x more to avoid buffering issues.
If you are going to cancel cable or satellite TV, you need to keep your Internet connection. Just contact your ISP (Internet Service Provider) and tell them you only want Internet service. You can use the savings to increase your Internet connection speed if you need to do so.
I have an over 160 Mbps plan from my ISP which is Comcast. This doesn't necessarily mean that I will avoid buffering issues at times. As long as the buffering isn't consistent with many live channels or videos, I'm ok.
When reviewing the Plug TV free trial, I did not experience any buffering issues. But I only had one day to test and couldn't test the vast majority of channels. However, the overall performance was very good. Using SOplayer, my Firestick device, and Get Plug IPTV service — all worked hand and hand without any major issue.
Interface
I found the interface to be smooth, fast when playing different channels, and on-demand content. I could get in and out of channels, on-demand videos, categories and other sections very easily. The design and layout of the app were easy on the eye and very user-friendly. This included the easy navigation to find anything that I wanted to watch.
Get Access to Everything Now to Watch Movies, News, Sports, PPV, Shows, and More
Compatible Devices – Connect Up to 4 Devices at Same Time
The list below includes what compatible devices can be used. You need to think about what device you have now from the list below.
Smart TV (Samsung & LG)
Computer (Windows & Mac)
Amazon Fire TV / Firestick
Android Boxes
Smartphones
Tablets
Windows PC & Mac
iPad & iPhone
Apple TV
Subscribers can connect up to 4 devices simultaneously. This means different members of the household can watch something different.
Note: Not available on Roku, Chrome Cast, PlayStation, Xbox, and other streaming devices; Not all smart TVs are compatible – can use Firestick instead. You can search for and download the SOPlayer found in the Google Play Store or Apple Store, depending on the device to be used.
Anyone that has a smart TV, s/he may be able to search and find the SOPlayer inside the Samsung or LG smart TV app store. I don't know about other brands. If the app can't be found, then it means the smart TV isn't compatible. One workaround would be to connect an Amazon Firestick to the HDTV or smart TV. Learn More Here. Or connect a computer to the TV via HDMI cable. Learn More Here.
There are also instructions in the FAQ section when visiting the IPTV website for How to Install on Firestick. You can watch favorite shows anywhere, anytime on your Mobile device. Keep in mind that a laptop isn't considered a mobile device. Instead, it's a portable device the same as a Firestick, Smart TV, TV Box, etc. Mobile devices are tablets & Cellphones ONLY!
Get Plug TV App (SOPlayer Download)
The GetPlugTV download is nothing more than the SOPlayer download. Depending on the device such as the Firestick, you will need to sideload the GetPlug TV apk (SOPlayer). Again, Firestick instructions can be found in the FAQs section when visiting their website. The Plug TV app is a free download. You don't need to sign up or subscribe to download/install it.
Just keep in mind this is not a standalone TV app. You need to sign up for the IPTV service free trial or subscription to activate and use the app to watch TV online.
Get Started Now, Sign Up, Get Free Trial or Subscription & Download Free App
Get Plug TV Free Trial, Subscription Fees & Money Back (Refund) Guarantee, Support
Free Trial
There is a 24-hour Get Plug TV free trial available. However, the free trial isn't available on the last day of each month. It's said the free trial will be available again on the 1st of the new month, early afternoon. I don't know why this is the case but I thought you should get a heads up if you don't see the free trial available.
Signing for the free trial is simple to do. You are required to enter your personal information but no credit card information. The only time you enter credit card information is when paying for the subscription. Before the 24-hour free ended, I received an email that reminded me the trail was almost over. When the trial ended, the next email came to get access to my account information. This is where you can subscribe and subscribe again.
Subscription Cost & Money Back Guarantee
There are two subscriptions available where you are allowed to connect up to 4 devices simultaneously. This includes getting access to over 600 premium live channels and 1000s of VODs. See both subscriptions below:
1-Month Subscription: $25.00
3-Month Subscription: $75.00
Money-Back Guarantee: First 30 days refund policy
Note: Free trial was said not to be available during the last day of the month but will be available again starting the 1st of the new month.
Support
There are 4 ways to get your questions answered or support help:
FAQs section
Chat Box
Contact Form
Phone Number (see the signup page)
The FAQs section will no doubt answer some or all your questions. And if not, you can use the contact form or even call them (not toll-free). But I found it easier and quicker to get answers or help using the chatbox. If the PlugTV representative is online, you'll get a fast response. If not, be sure to leave your email address and someone will get back to you.
Getting back to the phone number, you cannot order anything this way. All sign-ups and subscription purchases must be processed through their website.
Get Plug TV Review: Pros & Cons
Pros
Subscribers get Plug TV channels to watch on a number of compatible devices. Using the Firestick is one of the best web TV experiences one could ask for if there's no smart TV or app for it. There is entertainment for the entire family both young and old. Setup instructions are straight-forward and there's no set-top box to install.
With 600+ live premium channels and 1000s of VODS, subscribers get a host of different TV channels to view movies, sports, PPV events, news, and shows. This means getting access to many if not most of the channels/networks you were able to watch on cable/satellite TV.
Whether you are into sports or movies, TV shows or news, navigating to different sections of the SOPlayer app is easy. Subscribers can let their eyes guide them through sections to find what they are searching for. The Search feature is just another way to find channels/networks, movies, TV series quickly.
The Get Plug IPTV service allows individuals worldwide access to all the content with no restrictions. There are channels from US, UK, Canada, Spain, France, and Filipino. Also included is CatchUp with DVR feature whereas GetPlugTv does all the recording, not you.
The EPG brings a TV guide to the fold with a list of TV networks and TV programs in their relative time slots. Another feature of this is the ability to group a channel section. For instance, you can choose all channels from the US section so that those channels appear in the EPG ready to watch. You can do the same for other channel sections such as Sports or UK or Spanish.
During the Get Plug TV review, I did not experience any buffering issues. However, I only tested this IPTV service for one day. The trial had ended. There are plenty of VOD movies that also includes recent movies. Plenty of popular TV series with episodes and on-demand PPV events. If you are into watching the fights and big events, not only can you watch them live but on-demand as well.
The free trial comes without using a credit card. Just complete the signup process and you're in — full access to everything. The low-cost subscriptions bring plenty of savings when compared to cable/satellite TV.
Cons
My review revealed many of the benefits and features but now it's time to get real. There are not that many downsides to using this service which makes it worth a try. However, time will tell just how good GetPlugTV really is.
No IPTV service is without flaws and certainly not Plug TV. Some channels will not play or may play without audio. For instance, some channels from the Gospel section and UK section did not work. Mostly all the radio channels found in the Music section didn't work. Many of the Music channels did work. Nevertheless, out of 100s of live channels, and ones I tested did work/play.
Although I did not experience any buffering issues, you may experience some buffering issues here and there. As long as it doesn't become a major problem, everything should be fine. The subscriber should have 2x or 3x as more of the recommended Internet connection speed of 20 or 25 Mbps.
Local channels may not be included for all USA cities. Many local channels appear not to be included for Canada. Expect some non-working local channels from different cities. If any local channels are included for your city, expect to see 3-4 channels available. It's best to purchase an HDTV TV indoor antenna to get access to all local channels.
The one-day trial isn't long enough to test everything thoroughly including reliability. They should have provided a 3-day trial instead. One thing to note is the support representative told me that their refund requests are extremely low. But time will only tell what your experience will be like.
Conclusion
At the end of the day, you get an IPTV service with huge cost-savings. If concerned about losing all your favorites, don't be. There are plenty of popular TV networks to watch favorite channels and TV programs online. Get Plug TV channels to have HD picture quality with good audio.
Subscribers can connect up to 4 devices or 4 TVs if they choose. There are a few ways to watch everything on the big screen television. 1) Smart TV (the provided app is available), 2) Amazon Firestick, or connect Windows/Mac computer to TV via HDMI cable.
Subscribers can also watch everything on-the-go when using a smartphone. You can download the free app (SOPlayer) to any number of compatible devices. This allows watching TV online the way you want, when and where you want.
With all the popular sports including PPV events (live & on-demand), sports fans should be delighted. With all the VOD movies including live channels/networks for movies, you get a wealth of movies. Also included are popular news networks, kids networks, and channels from other countries. If you are into watching TV series with episodes, no problem there.
As you can see, there's more here to enjoy and save when using the Plug TV IPTV service. Once the setup is complete, you're home free and can enjoy watching your favorite television programs online. I recommend signing up for the free trial first so that you can test everything on your device. If everything checks out the way you hoped, then the next step is paying for the subscription.
Keep in mind, there is no recurring billing when a subscription ends. Your credit card will not be billed again. To continue the subscription, simply pay again to subscribe for another month or 3 months.
This Concludes the Get Plug TV Review
Start Your Subscription Now or Free Trial and Watch All Your Favorites Online