Are Third Party PC Satellite TV Software Services and Movie/Video/TV Show Download Services Legal?

Should websites like the one below be banned from the Internet?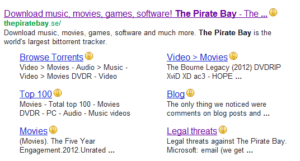 Let's go one step further…
If you are a fan of watching TV shows, movies and sports online or downloading software (TV players) and media files to watch everything on your computer or mobile device, then you'll want to read this article about copyrights and linking to it.
From a legal standpoint, we know that piracy is illegal which means taking someone else's copyrighted material, without permission, for ones use or self gain. Many people are guilty of that today when uploading and downloading copyrighted materials to/from the web. But is linking to the content consider illegal?
Many individuals are not fully aware when they download, watch or link to certain content online that it could be infringing on copyrights (illegal).
Question is… Is there some kind of Government loophole involving the Internet that allows 3rd Party Internet TV Software and TV show/movie download services a legal right to link to copyrighted content, as long as it's not hosted on their websites?
Read more on Is Satellite Direct Legal…