Entertaining 3rd Party, Internet TV Service With Popular TV Channels, VOD and Radio Stations for All Countries…
Stream Direct to US, UK, Canada, Australia, New Zealand, Germany, Bangladesh, India, Pakistan, Indonesia, China, Algeria, and Over 100 More Countries
**************************************************************
Limited Time Offer at $3.95 per Month – Click Here
StreamDirect Pro Review by Real User and Tester. A new version arrived, whereas the look and feel, channel delivery, and features changed were upgraded. Rather than write this entire review over, look directly below to see what has improved. Also, according to support, a DVR feature will be coming soon.
The look and feel now has a sleeker look and is more appealing to the eye with a black background
More channels appear to be added as well as working channels
Users can now search channels by country, category, or by channel name
Users can now add channels to favorites
The content (over 11,000 channels & on-demand-videos) are organized by genres (Business, Children,
Comedy, Community, Documentary, Drama, Educational, Entertainment, Episodes, Food, General,
Government, Health, Information, Lifestyle, Local, Movies, Music, News, Political, Regional, Religious,
Shopping, Sports, Talk Show, Unknown & Weather Web TV)
The content is also organized in dedicated sections as follows: (TV/Countries; Radio; Favorites; LIve
Sports; Toddler TV (recently changed to Adult TV); TV Shows; VOD)
TV Guide added

I suggest taking advantage of the 7-day trial for a few dollars to get full access and see for yourself – see
links at end of review.
Note: All screenshots below are now old and will be replace with new screenshots soon
**************************************************************
Believe it or not, the best way to get full access to Internet TV (live and VOD streaming content) has always been with a computer; it allows access to all streaming content including 3rd party, web-based services like StreamDirect Pro. Using a streaming media device, game console or smartphone with Internet access to watch recorded TV shows and movies are nice, but they come with restrictions.
Not only does a computer has everything needed to get access to all types of streaming content online, there is no restriction.
Any computer with a broadband connection can access any free-to-use or pay-to-use, web-based TV service and can be
used to connect with any large screen television. The same holds true if wanting to download TV software or surf the Internet through a web browser to find more streaming content to watch.
All this without any restrictions, streaming media device, game console or cable/satellite, whereas unlimited streaming content from the web can be all yours. You get to choose the content and cost — not some cable or satellite TV company or some ISP (Internet Service Provider) that makes you buy into their bundled package. Consider the Internet your a la carte TV programming empire, whereas you get to choose what best suits your needs and pockets with Stream Direct TV services (Not associated with any cable or satellite company).
The mental block that some people have is thinking they need a cable or satellite subscription service to watch their favorite television programs… Or need to buy Apple TV, Roku (some kind of streaming media device) or game console to enjoy watching their favorite video-on-demand TV shows, videos, and movies online – which is further from the truth.
You can use what you already have… your computer (laptop or desktop) with a broadband Internet connection. And if you want a computer dedicated to nothing but Internet television, then take a look at some of the mini computers online, whereas you can buy a wireless keyboard and mouse separately for practically peanuts.
Netflix, Amazon Prime Instant Video, YouTube, and Hulu Plus aren't the only web-based sources to find great content to watch online. They are great to use for video-on-demand but what about live TV? There's an unlimited supply of free/paid-to-use streaming content over the web and the easiest, quickest way to get access to all of it is through an Internet connected computer with web browser and stream direct web content service, unless you have a Smart TV with Internet Connection and Web Browser
.
So whether it's cutting the cable cord, living without paid TV or wanting more entertaining TV shows, sports and movies to watch from the Internet, worldwide, it all comes down to knowing the best setup for you and your budget. Individuals living on a fixed income or strict budget, living without cable/satellite or want to cut/downsize their paid TV subscription can do so without losing favorite shows to watch.
One method that should be considered is a 3rd party, web TV/VOD service like StreamDirect Pro. They are a low-cost, pay-to-use service that delivers almost unlimited streaming content from the web, within your fingertips. When I opted into this new and upcoming service to test it, I've found some downsides but the pros outweighed the cons – more on this later.
StreamDirect Pro Review
What Exactly Is It?
Here lies a 3rd party, web-based VOD/TV stream direct software service (no download) created by experienced software developers. They also developed other types of software over the years and still continues to head in that direction with new solutions. You can watch both live and video-on-demand content online, with ease and from one source, for a small one-time fee.
They are not content owners. Instead, they deliver whatever is streaming over the Internet through their platform to members. One thing to note is there's no software to download. This platform can be access when logging in online to watch whatever is of interest. The service delivers over 11,000 TV channels and video-on-demand content from the web instantly.
Watch the 3-part video series below where you get an Introduction to this service and look over my shoulders as I play many streaming TV channels and on-demand content. To choose a different video, play the video first to see and click the video list icon in the lower left corner of the media player…
Click Here to Watch 3-Part Video Review of StreamDirect Pro
Keep in mind, this stream direct service is a cheap alternative for those who don't want to pay the high cost of paid television companies.
There are over 100 countries with all sorts of channels to watch in different languages, such as vod/live sports, TV shows of all sorts, old/recent movies, videos, news, music, radio stations, and the list goes on. Members get instant access to popular TV channels/networks to watch entertaining television programs via Stream Direct from their homeland, which means they can literally watch all their favorites and may never want to go back to high cost of cable.
The Claims…
As an Internet TV enthusiast who purchased, tested, reviewed, and used many TV streaming programs and web-based TV services for my own personal use, not once was I ever contacted by any web TV service – let alone a new and upcoming service – until StreamDirect Pro. When they contacted me wanting my input to add to their development of a great solution to web TV viewers, I jumped at the opportunity – free of charge. Why?
Because I've been waiting for someone to come along and out perform 3rd party, web TV services like Satellite Direct. I've been waiting for a service to offer a better solution than those 3rd party, free-to-use stream TV direct services already available, and offer better technology, reliability, entertainment, and support. A service that puts customers at a high premium through great customer/tech support, with good communication skills for all to understand and receive the necessary help whenever needed.
Lastly, I've been searching for a stream direct service that tries to cater to all countries with more working channels to watch popular, entertaining TV online – not just from the US.
These guys claim to stand by their word to make their service and product #1 through constant improvements to satisfy customers – they are listening – and welcome customer feedback as well. With or without the 7-day trial, which you can opt in or not, this service backups their no-questions-ask 60 day money back guarantee. I have spoken to them many times via email and many things I've suggested have been implemented already, with more to come.
StreamDirect Pro is far from being completed or perfect. There's still much work to do to get some of the kinks out. More customers are needed to test/use their service so they can get your feedback and improve the interface and service. Opting into this service now, during the start-up period, puts you at the helm when it comes to helping them so they can help you more.
To Visit the Official Website Now – Click Here
Stream Direct Pro: How Does It Work?
Simply put, you sign up to become a member (small one-time fee). Once that's done, you sign in to the web-based platform with your username and password when using your computer's web browser (Internet Explorer or Mozilla Firefox). StreamDirect Pro opens within your web browser for use.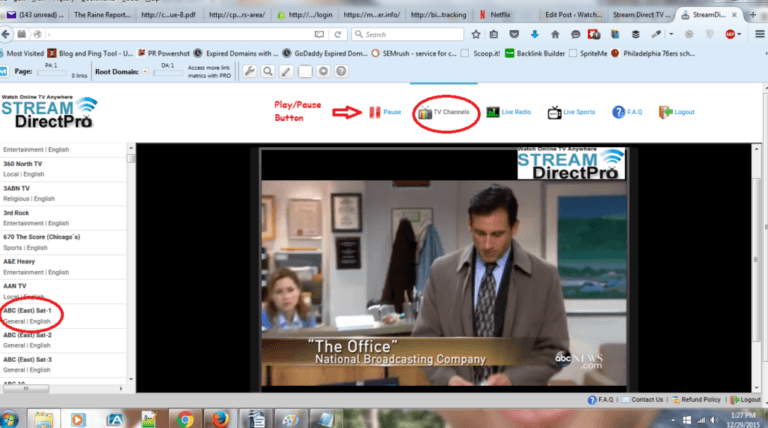 In the left panel, are Countries and channel names with genres that can be selected. Simply click a channel name link to start watching it online. A TV player appears on the right that plays the television program that was selected – mostly all television programs can be seen in full screen. That's all there is to it!
Is It Any Good, Legal, Safe, Legit Service, A Scam?
This StreamDirect TV software service does not host any streaming content on there website where you get access. From that standpoint, it's legal. They also don't decode or descramble any paid TV signals. And from that standpoint, it is legal.
However, there is a bit of gray area when using any 3rd party service like this one, regarding copyrights. Almost unlimited streaming content is scraped from the Internet through open gateways by this service. They link you to streaming channel feeds via channel links within the software platform. But remember, this service doesn't host the content for you to watch directly on their website — it would illegal if that was the case. Linking to the content, at least some of it, can be questionable.
Stream Direct Pro is a new, upcoming, service that opened its doors for new memberships in December 2015. The service is legit and reliable from the standpoint of delivering everything as promised, which includes good quality, channel delivery and interface, ease-of-use and entertaining (many working) channels from many countries.
Since this service is relatively new, you probably won't find any scam reports or product reviews about this online streaming TV software. However, I expect one or the other will occur sometime in the near future. I talked about scams with a representative of Pro web-based software and they told me they will do whatever it takes to make their service scam-free. Even if someone makes a complaint on a scam website, I was told this service will go at great lengths to rectify an issue if any individual makes a complaint and post to scam websites about the service.
To set the record straight, don't confuse this Stream Direct Pro service with an old Streaming TV Software service that went out of business some years ago. This is where you'll find scam reports on a different product/service.
Sometimes things can go wrong, whereas a customer becomes dissatisfied with an issue that went unresolved or miscommunication – it happens. Hopefully, this service will live up to its billing and resolve issues as they occur.
There's no better judge than yourself to decide whether or not this web-based stream direct content service is any good. I suggest trying the 7-day trial (see below) with full access to the web-based VOD/TV, without downloading software, whereas you can cancel before the seven day period is up – if you want.
From what I know and have seen, thus far, is this stream direct service website and service are perfectly safe to use. There is no virus nor malware to worry about. However, I suggest using anti-virus and malware applications when using the Internet, not just StreamDirect Pro. I also suggest cleaning your computer by running security scans periodically – now would be a good time.
Who Is It For?
What's particularly interesting about this TV stream software service is that it caters to all individuals from all walks of life, including countries. This VOD / live TV Internet software service wasn't developed only for English speaking countries such as US, UK, Canada, Australia and others; they also included many other countries (128 and counting) with TV channels from India, Bangladesh, Pakistan, Indonesia, and so on (television programs in various languages). UK TV viewers/residences, see Now TV Channels.
Understanding some English will be needed in order to use the StreamDirect console effectively. Anyone of any age and gender is suitable to use this service; there's no adult content at all, at least when I last checked.
This service should work well for those who enjoy watching a variety of different television shows and genres such as live sports (ESPN), movies, news, all kinds of shows, and so on. Bilingual and multilingual individuals will benefit even more.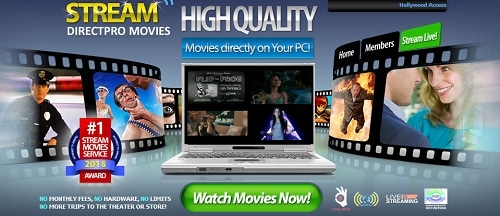 Most guys love watching live sports, popular TV shows, movies and will benefit from using this service. However, this doesn't mean females don't but many do love watching their favorite talk shows, old/recent movies, shopping networks, sitcoms/soaps/episodes.
Does It Work, Channels Play?
The web-based StreamDirect Pro VOD/Live TV works and many channels do play. However, there are reasons why some channels don't play when clicking them. As with any 3rd party VOD/TV software or web-based service, some channels
come and go for various reasons. Some become broken, whereas you'll get some kind of error message or page not found message. When this happens the service encourages the user to report the broken channel.
Some channels are not streamed online 24/7. They may go offline and reappear later on. Then you have different time zones to take into consideration. If you are from the US (for instance) and want to play a channel from Asia or Europe and it doesn't play right then and there, you might need to wait and play the channel later.
Another reason why some channels don't work is your country (IP address) may be blocked, whereas you are Not permitted to get access to the content from a TV/Video website in another country. At this rate, a VPN service like ZenMate comes quite handy. I used the ZenMate free trial to get access to channels that were blocked.
Country and Channel Delivery (Unlimited Content)
There are 128 countries and counting delivered by this stream direct TV software service. One of the issues I spoke
to them about addressed customers buying into the service, whereas less channels work/play in countries outside the USA. No honest service can say all channels will work/play at all times. On-going maintenance is required and it takes some manpower to keep channels working steadily, this service assured me the non-working issue (should it arise) will be rectified quickly when users of the service report channels not working.
I went though many different countries and tested many channels in each to see whether or not most of them worked/played in the stream direct software. I also cross-referenced a list of popular TV channels for a particular country to see whether or not this service delivered them.
Many popular stream direct channels were included but others were not included or didn't work. I gave support a list of those non-working and missing channels for them to work on. What customers can do when a favorite TV channel/network isn't included in StreamDirect Pro is contact support and request to add a channel; they will do so if it's possible.
There are over 11,000 TV channels from many different genres delivered by this TV streaming program. It's
encouraging when individuals from outside the US can watch entertaining channels from their homeland. No matter what country they are from… US, UK, Canada, Pakistan, India, Australia, Indonesia, New Zealand, Africa, Germany, France, or elsewhere… there's something for all.
Nevertheless, it's best to try the Stream Direct Pro 7-day trial if interested in watching TV channels from a country outside the US. This way you can check whether a channel is working or not. If some channels don't work which will surely happen, you can report broken channels to support. They will try to get them up and running. Remember also you can always opt out of the trial before the seven day period is over.
Additional Stream Direct TV Information
What Are The Benefits?
Watch TV online anytime, anywhere
Create extra television at home instantly
Save money, time and headache setting up web TV system
Create TV traveling companion via laptop
Watch TV on-the-go via mobile device
Mac and Linux users can enjoy same entertainment
Never miss favorite shows or sports again
Watch channels from your homeland
Next best thing to cable/satellite, without high costs
No risk, scam, virus, malware to worry about
Watch everything on computer or big screen television
Access favorite TV channels/networks from one source
Test the service and web-based software for hardly nothing
Picture Quality
For the best picture quality and overall performance, a broadband connection is suggested. Keep in mind, in order to play SD content (480p) – 3 Mbps is required. To play HD content (720-1080p) – 5 Mbps is required. But you also have to consider the source where the content comes from. Some countries outside the US may not have as good streaming technology.
Even though you may be using a broadband Internet connection, your connection speed (download speed) may still be sub-par (slow), especially during peak hours (5 PM-11 PM) including weekends and holidays. There are some things you can do to help improve the performance and picture quality – it's suggested to visit YouTube.com and watch videos on how to make these improvements. I also suggest visiting a broadband speed test website to check your download speed from time to time.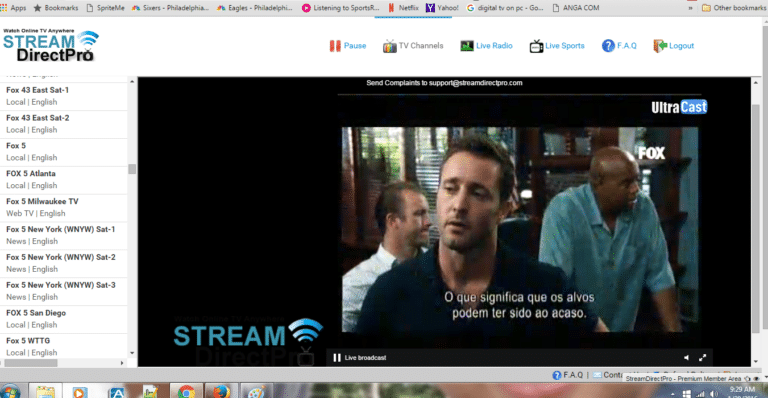 When I tested the streaming TV software, I found many stream direct television channels had good to very good picture quality. There are HD channels included but your computer must also be capable of playing HD TV channels. I recommend trying the 7-day trial to test many channels and picture quality – it cost only a couple bucks for full access (See 7-Day Trial below). You will experience some picture blurriness for some channels, even when having a fast Internet connection.
When I use my wireless broadband connection, my download speed is somewhere around 7-8+ Mbps. When I use my wire broadband connection, my download speed is 80-90+ Mbps. As for the latter, I still sometimes get sub-par picture quality from some channels but they are still viewable.
Features
This isn't one of their strong points right now. Again, this is a new 3rd party stream direct service that wants to grow and continue to improve — according to them. Features are at a minimum but for the most part 'Full Screen' is available on many TV players that open to play popular/entertaining channels. The service informed me there are immediate plans to upgrade their online television software with many features such as, sorting channels, adding to favorites, search bar to find channel, and so on.
The Following Will Serve As Update Information As It Occurs…
********************************************************************************************
1/8/2016: Search feature was added to the stream direct web-based software. Now members can quickly search
and find a channel/network by name or genre (single entry) such as: Fox or ABC or Movie or Sport.
********************************************************************************************
Dedicated Live Sports Area
There's a dedicated stream direct live sports link and when clicked retrieves all live sports channels and events. There were around 80-90+ sports channels including ESPN initially but during the time writing this review, I was told there are now 250+ sports channels and counting — another promise kept by this service.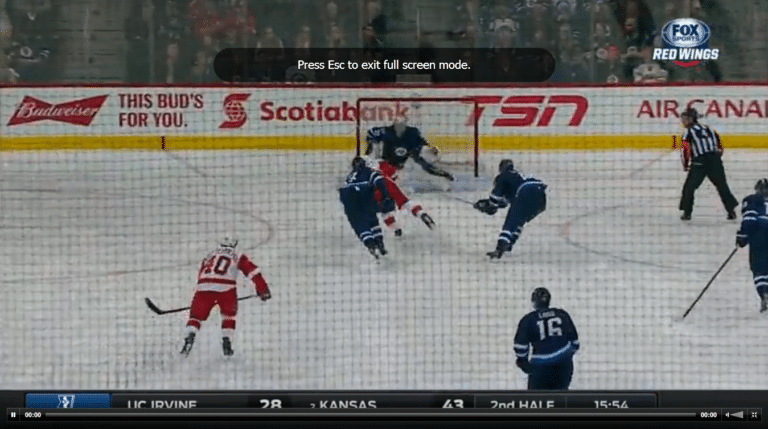 Stream Direct TV software allows the user to watch sports for that day, in one place, may it be live or on-demand content (not necessarily a replay of live ballgames). Some sporting events will have more than one channel link, so if one doesn't work/play, you can try the other.
You will see the sports channel name or sporting event name with time included, from the list of channels that appear at left when using this web-based platform. The 'Live Sports' section will auto refresh the sports list after every 30 Minutes – this way you are always kept up to date with available content for that day with times.
Some of the live sports delivered:
EuroSports
International Games
NFL Football
MLB Baseball
NBA Basketball
NHL Hockey
Soccer
ESPN
College Sports
Handball
Ruby
Cricket
Tennis
Golf
Boxing
Wrestling
Racing
NASCAR
And Many More
All sporting events are available from one source and can be viewed through any device. This service helps put an end to missing sports due to local blackouts, work or traveling; Can even help when needing an extra TV without the cost or visiting someones house where watching sports can't be seen.
Membership, Support
When signing up to become a StreamDirect Pro member, you get a lifetime membership (access) for a small-one time fee. This includes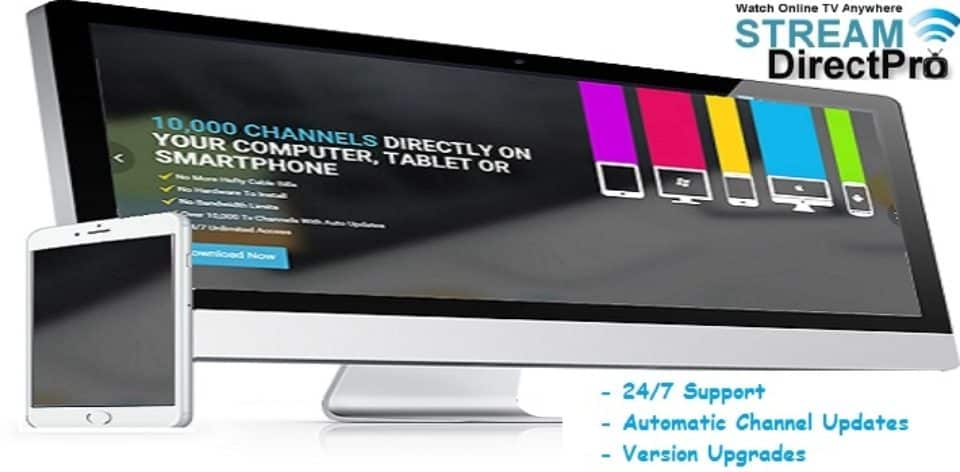 on-going and automatic channel updates, software TV streaming upgrades and tech support. So there's nothing to worry about if wondering whether or not you are going to get whatever a new member receives – unless of course, there's a special version a new customer purchases you don't have.
Cost & Bonus
The cost to become a lifetime member and get on board now (before the price goes up) is $29.95 USD. This is a one-off fee and never are you required to pay anything more, unless opting into something else this stream direct service may offer in the future.
As for the bonus, StreamDirect Pro are giving new members a FREE copy of their RAM/Internet Booster Pro (RAM & WiFi Booster), which you'll receive a separate email with a link to download it to your computer. However, it can only be used on Windows and Android devices right now. I downloaded this software streaming TV online to my Windows computer and it did boost my RAM somewhat. In essence, the software is said to help run your computer better, faster, and longer. There's also a 'Bonus Pack' with 1,000s of radio stations from across the globe.
7-Day Trial
There's another option for those who are a bit skeptical or want to see what channels and countries are included.
For $2.95 USD, you can opt for the 7-Day trial that automatically rebills to $39.95 (one-time fee). You can either let the 7-day period run its course and pay the full price for a lifetime of online entertainment, or cancel before seven days are over. No harm done, but you get to see the full version in action for a couple of dollars.
Compatibility
One of the great assets to using this stream direct, web-based VOD/TV software service is that it offers a lot of compatibility. Most 3rd party services like this one don't provide as much compatibility. As of now, Windows (except XP OS), Mac, Linux and Tablets computers are compatible. Also compatible are iPad and iPhone, Android and Blackberry. Mac and Linux user should be happy to hear this, since they seem to be excluded more often than not when it comes to these 3rd party services.

There is no compatibility for stream media devices and game consoles. No future apps will coming your way for those devices. However, future plans will include apps for mobile devices.
As for smartphone users, I was told a small percentage of stream direct content will not be accessible. The best way to see what is available from this TV streaming direct service is opting into the 7-Day trial.
System Requirements
By now, you might be interested in knowing what machine needs to work with this service. I have included some of the basic requirements, and not any specs on any device you may want to use that's said to be compatible. You will find this information on the F.A.Q. page when visiting their website. Here's what you need according to the service:
Adobe Flash Player
Internet Explorer, Firefox, Google Chrome, Safari, or Opera (ID and Firefox Preferred)
Internet connection with 50+ Kbps. The Higher the better. (Check your download speed periodically)
iPad/iPhone/Android users, 3rd-party Flash Enabled Browser apps may be need (Puffin Browser, Dolphin Browser, Photon Browser, Skyfire Web Browser) – Many available in store for Free
Use any device with Internet connection (Windows OS, Surface Tablets, Mac (Intel based), iPad/iPhone, iOS, Android SmartPhones/Tablets, Home Theater, SmartTv, Linux OS, Nokia Lumia Phones, Micorsoft Mobiles, BlackBerry, PlayStation, XBox or any device which supports Internet
For the best picture quality and overall performance, a fast Internet connection is preferred. Computer users should use a broadband connection and faster the better, especially during peak hours where you might lose some speed.
Pros and Cons
Pros: The people at StreamDirect Pro have expressed a great interest in listening to customers while growing stream direct software name. They have expressed a desire to make their 3rd party software both entertaining and reliable, while making it the best out there. This means they want to be better than their rivals (free/pay-to-use TV software and web-based services).
The fact that they are experienced software developers says a lot about who you will be dealing with when it comes to providing a solution to consumers.
Having a stream direct service that does all the work for you, whereas you don't need to surf the Internet to find channels on your own, don't need to visit one website after another to watch what you want, is rewarding in itself. More and more channels are added constantly – already there are well over 11,000 channels with live and video-on-demand content, including 100s of radio stations.
You get access to many popular TV channels/networks, and while I don't want to let the cat out of the bag, you'll be totally surprise at the content that's delivered. If you can image getting the next best thing to cable and satellite without the high cost or best of web TV entertainment has to offer, then this service could very well be something of interest.
As I mentioned before, more upgrades are forthcoming which involves a members area with helpful information, new feature enhancements to improve web TV viewing and usability, future TV app for mobile users, and other stream direct capabilities.
Cons: During my StreamDirect Pro review, some of the basic features were not available such as: No way to search for a channel by name, but you can search by country name; No feature to sort channels by genre, though the genre name for each channel name is listed; No adding channels to favorites.
The service is working on making these features available right now, which means the next upgrade could very well be implemented right after this review is completed.
Still, more instructions are needed which is the reason a members area is now being created. No doubt you'll come across non-working stream direct channels for whatever reason. If unsure what's going on with those channels, you can always contact support but some instructions are now available in the members area if quick help is needed.
Keep in mind, this method is not the same as watching television, with remote in hand, while sitting on the couch. The trade off is less cost with more entertaining channels as oppose to convenience. You will be required to do so certain things, sometimes, such as closing ads to watch a television program.
Something to note: There are over 11,000 channels available and counting. StreamDirect Pro admits they cannot maintain all working channels, due to lack of manpower. However, they are not a one-man operation. With that in mind, they will rely on members to report broken channels, and at such time, they will try to get those channels working again.
At times, and for certain stream direct channels, you will experience pop-up ads embedded on top of the TV Player, where often you'll hear the channel playing in the background. To get rid of the pop-up ads, you must click 'x' to close them and watch the program. You might want to use something like an Ad Blocker to prevent certain pop-ups from opening a new web browser on your computer. However, this free browser add-on is not a complete solution.
Sometimes clicking a channel will load/open a different TV/Video website in the same web browser tab were StreamDirect Pro appears – you'll lose site of Stream Direct when this happens. The only way to get it back is hitting the 'Back' button on your web browser.
It is recommended to use either Internet Explorer or Mozilla Firefox with this stream direct service. My advice is use both browsers. Other browsers such as Safari, Google Chrome and Opera are not recommended. If wanting to play radio stations, you can use the IE browser. As for Mozilla Firefox browser, you may need to download the Windows Media Player plugin for that browser for some radio stations to play.
Once in a blue moon, another type of pop-ups appeared that sounds an alarm and audio that tells you your computer is infected with a virus, malware, or something. Do Not be alarm — this is a fake. If your computer web browser becomes locked by this fake alarm, then go to your computer's 'Start Task Manager' or whatever you need to go to see what applications are currently running on your computer. Look for the web browser name that's locked, where the alarm sound is coming from, and force that browser to shutdown.
When something like this happens, which is rare, I simply open the 'Start Task Manager' on my Windows computer to find the web browser name that's locked up (alarm message appeared). Then I click to highlight the web browser link such as Mozilla Firefox and click 'End Process' to close it. This way I don't need to shutdown my computer. You should be able to find some YouTube videos if more instructions are needed.
Don't get discourage or afraid, I've already talked with the stream direct support people about this fake security alarm issue that occurs infrequently. Also, there are pop-ups that will tell you to download stuff or that you need to do something – Do Not download anything nor follow what the message tells you to do — just ignore item. Keep in mind, pop-up ads come from another source, this service doesn't annoy you with this kind of stuff.
Remember, this is one of the trade-offs when using 3rd party services to get access to entertaining streaming live TV content.
You will experience some blurry picture at times from some channels, which is to be expected. If you feel the issue may not come from a slow Internet connection or your computer and you did all you could to make the picture better, contact support and let them know.
Lastly, I spoke to StreamDirect Pro support about another issue but this might end up being left up to the user of the StreamDirect software. At times, you may not physically see the 'Full Screen' icon on the TV player when playing a channel. If this occurs, you'll have to play around with the 'Zoom' feature within your web browser to see the 'Full Screen' icon (towards right corner of the player) to use it.
Or you can hit… CTRL and – (minus) keys or CTRL and + (addition) keys simultaneously on your keyword to change the Zoom In/Out percentage. You only do this when you cannot see the 'Full Screen' icon in the bottom right of the TV player.
To Visit the Official Website Now and Get Access to 11,000+ Channels – Click Here
How It Compares To Other 3rd Party Services
If you are familiar with Satellite Direct (use to be top stream direct service) or was a member of that service in past, there were many issues that occurred with that 3rd party service. The service is foreign and part of the problem is English is a second language. I believe the main issue customers have been experiencing with them, including myself, is lack of communication and dedication to members. This is all I need to say.
StreamDirect Pro are aware of these issues and promises to do better than SatelliteDirect – after all this is a rival of theirs. They don't want to make the same mistakes, and after hearing about the plan the representative of the service told me, I became encouraged enough to write this Stream Direct Review — even though more work is needed right now.
It wasn't long after Satellite Direct TV introduced their web-based TV/VOD browser during 2014-15 that things started going wrong; they want further downhill to the point where all the entertaining content disappeared. I'm not sure what. But entertaining movies, TV shows and live sports were gone and replaced with old content and VOD.
This online TV streaming software, on the other hand, delivers the same content SatelliteDirect delivered originally (3,500+) but more of it (11,000+). And the price isn't that much higher.
The differences lie in the number of features for each service, whereas this streaming TV software product/service falls short. However, plans are in the works to add more features. I no longer recommend Sat Direct because they have a much larger problem – too many refund requests, whereas they were removed permanently from a few marketplaces where their product/service was sold (too many customer complaints).
As for 3rd party, free-to-use applications out there, there are plenty. However, one must be careful of running into malware or virus. Many of them don't include best of web TV entertainment and this is the main difference. Many of these downloadable freeware players are not kept up-to-date regularly or don't have the man-power to provider better support. You can search online for free TV software and see what you will find.
Perhaps downloading one or two and trying them out will convince you to come back here to obtain the best of the web entertainment with timely automatic upgrades/updates, and 24/4 support. There's also no risk because you are not downloading software that can cause your computer to crash.
Other Ways This Service Can Be Used…
To get more enjoyment out of Internet TV, simply connect the computer with broadband connection to any large screen TV via HDMI cable (or whatever video/audio cable needed). You can go to YouTube and watch videos on how to make this connection. Once this setup is made, you simply use your Internet connected computer to log into the StreamDirect platform to watch Stream Direct TV channels. To avoid moving your computer where you sit to control what plays on your television, a mini computer may used, which is stationary.
However, you can use a laptop but because the HDMI cable is connected to computer and television, as well as Ethernet cable if wire router/modem is used, you'll have to buy longer cables that will run across your floor where you sit. Then again, a laptop can be left near the television but you'll have to get up, from time to time, to control what you want to play and watch on your large screen television.
If you have a smart TV with web browser (hence: Google Chrome) that allows browsing the entire web, then your smart TV can log into and access the VOD/live TV streaming software directly. But keep in mind, this technology isn't the same as what you have been accustom too. If getting access to some great streaming live TV content with 1000s of additional channels are high on your list, then perhaps this stream direct service can be something to try.
If you are set on purchasing a stationary mini computer, you can purchase a cheap wireless keyword and mouse. This allows setting on the couch or in bed with a wireless keyword/mouse to control/access all kinds of entertaining streaming content from web from a computer or computer to television. And you don't have to keep getting up and down to do anything.
Note: You'll have to use your television remote to select 'Input' or whatever is needed to open your 'Source Input' to select the HDMI input where your computer is connected. Once this is done correctly, everything that appears on your computer will appear on your TV. The computer controls what plays on the television, not the other way around. Simply use the computer to play a channel from the TV Stream software and it will play on your large screen TV.
This is how you get instant access to 1,000s of direct streaming live/VOD TV channels with old/recent movies, videos, all kinds of TV shows, news, live sports and radio stations from the Internet. Now if you want to gain access to all your local TV channels/stations in your area (not applicable to all countries), buy an indoor HDTV antenna. You don't need a computer with this setup. Simply connect the indoor HDTV antenna to any television.
Use the television remote to select TV – Do Not select an HDMI input. That's all there is to it. Again YouTube videos have tutorials on how to make the connection.
One thing to note: In order to watch Internet TV through StreamDirect Pro and live OTA (over-the-air) channels (not applicable to all countries), from your local area, you must use your remote to open 'Source Input' or whatever you have on your television. Select TV when ready to watch local television channels; Select the HDMI input port where your computer is connected to watch Internet TV with Stream Direct.
This stream direct service can also be used for mobile TV or web TV on-the-go content when using a smartphone.
Future Plans In the Works
There are future plans already in the works, according to the stream direct support people that will make the streamdirect software better. I have seen some upgrades already and get the impression this service will continue to improve. After speaking with a representative countless times, I trust there will be a sincere effort made to satisfy customers when delivering the best of web entertainment. If you get on board now, you could be part of a long lasting solution before the price goes up.
Taking advantage of the 7-Day trial works both ways. The service is meeting customers half way by letting them try out the full version for a couple dollars. Not many 3rd party services are doing this and offers so much flexibility and compatibility. I'm already a member and look forward to more future updates and success in the near future.
Perhaps someday this service will be the #1 best TV streaming software and best streaming software for Mac and Linux.
Conclusion
To be clear, there's a trade off when opting for a 3rd party, Internet TV (stream direct) service over traditional TV (cable, satellite & OTA). You will be giving up convenience (remote in hand while sitting on the couch, among other things) to obtain more cost savings, more flexibility, and more entertainment when using this service and Internet. How you get access to web TV content is made easier when having a service do all the work for you.
Of course, there are other choices out there whereas you can buy/use a game console or streaming media device with 'x' number of apps to connect to VOD websites like Netflix, YouTube, Hulu Plus, Amazon Prime Instant Video, etc. But they have limitations and restrictions when going this way such as no web browser, with exception to Chromecast and smart TV that have a web browser — still there are some limitations when using these devices.
Using a computer has no web TV limitations which allows more flexibility. In other words, the entire World Wide Web is your oyster, whereas you get unlimited access to streaming TV and VOD content — all within your fingertips.
Granted, no 3rd party stream direct service can take the place of cable/satellite TV per se. But if savings are high on your list and you don't want to lose entertaining shows and popular television networks that you've grown to love, then this service helps keep your favorites. If you don't know where else to go to watch popular live TV and VOD entertainment from your homeland online, then making a decision to try this service may be worth it.
Saving money is always important and gaining access to many TV shows, sports, news and movies that are generally seen on cable can be accessed online. You can pick and choose what works best within your budget from multiple memberships this service offers. Of course, some extra steps must be factor in when using 3rd party services such as this one but once you get the hand of it – StreamDirect Pro provides instant access to streaming content that keeps you and your family entertained for days, weeks, months, years.
As for the price, it's certainly comparable to other TV stream direct services out there similar to this one. But most of them don't offer 11,000+ channels that include live and video-on-demand content with radio stations. Most of them are not compatible to Linux computers nor as many devices to watch everything online.
Lastly, if you are still skeptical of this stream direct service, the 7-day trial for $2.95 USD that rebills to $39.95 (one-time) should make the decision easier to try this service. There's no problem with canceling full access to the service before seven days are over.
Even if you pay the full price, there's a 60-day money back guarantee, with a no-questions-asked policy. This service also provides another price set at $39 without the trial, so there's some flexibility here when deciding which way to go. If something is holding you back from giving this product/service a try, I suggest contacting customer service to get more answers. You can even contact StreamDirect Pro to see whether or not a TV channel/network is provided or request adding a favorite channel. The 7-day trial could answer many of your questions.
This concludes our StreamDirect Pro Review
To Visit Official Website Now, Click Here ($29.95 USD, One-Time Fee – No Trial)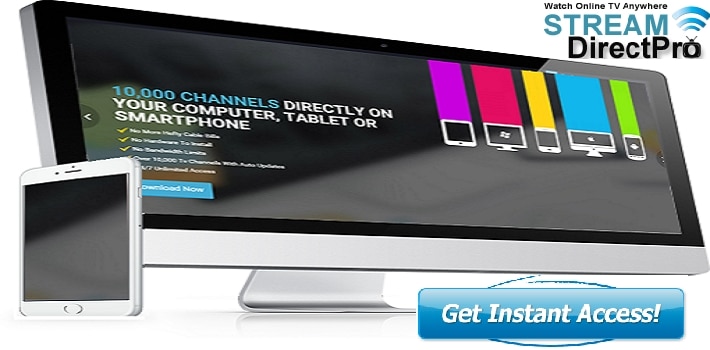 To Take Advantage of the 7-Day Trial While Still Available – Click Here (7-Day Trial @ $2.95 USD, then Rebills to $39.95 USD, One-Time Fee)
To Record What You Watch on Your Computer – Click Here
Like To Tell Us What You Think? Please Comment Below…