How to Use Sling TV App for PC to Watch Cable TV Channels Without Contract
Want to watch cable/satellite TV channels without the high cost, contract, or installing hardware? Well the Sling TV app for PC definitely gives you that and more. Not only do I have Sling TV on my HDTV via Amazon Fire TV Stick, I also went for the Sling TV App for PC download. I can watch the same channels on my Windows 10 computer that plays on my TV at home. Sling TV will allow you to install the app on multiple devices.
Sling TV App on Windows 10
You can download the Sling TV app for PC or Mac including Windows 10 OS, smartphone and other devices. Or watch all the Sling TV streaming content on their web-based platform. With the latter, there's no need to download anything. Simply visit the Sling TV website, login with your username and password, and you're in.
You can download the Sling TV app for Mac or PC right now and take advantage of the 7-day free trial. You'll have more than enough time to comb through all the streaming content, navigation, and features, before opting into the monthly subscription.
Now if you want to watch Sling TV only your HDTV or smart TV and don't have a streaming media device, no problem. Simply buy an HDMI cable to connect your computer to TV and watch everything on the big screen. Since the Sling TV app for Windows 10, Mac, or PC will be installed on your computer's hard drive, you're set to go.
But remember, you really don't need to download the Sling TV app for PC or Mac. You can visit and log into the web-based TV platform and watch your favorites there.
Here's a video that explains more…
The Sling TV app for PC and Mac computers will allow you to watch many of your favorite cable/satellite TV channels online. You get to choose your subscription package with 'x' number of numbers, and you get a la cart TV. Just what you've been looking for. I have a total of 40 Sling TV channels which also includes additional channels, at an additional cost. The total cost is $25 per month — not bad. Right?
Here's what the Sling TV web-based platform looks like (click image to enlarge)…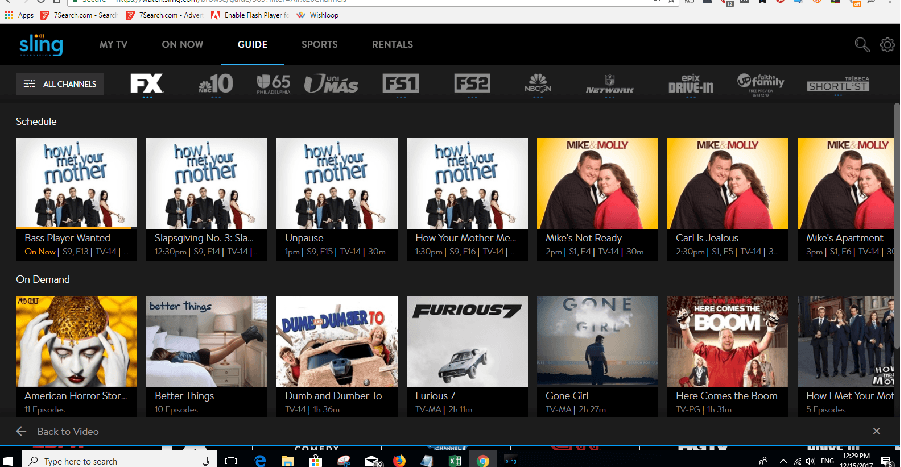 Here's what the Sling TV app for PC looks like (click image to enlarge)…
To Get Your Sling TV App with 7-Day Free Trial Now — Click Here
To Watch How to Use Sling TV App on Streaming Media Device — Click Here
Now if you want to find out how to use the Sling TV app on other devices, check out this video and written review. You'll also discover the best streaming media device to use. And if you want to add even more sports channels that Sling TV doesn't offer as well as save money, Click Here.
With access to movies, TV shows, news broadcasts, and sports, you'll have enough streaming content to watch at home or on-the-go. And while doing it, you will save a lot of money compared to the high cost cable and satellite TV. Why pay for all those cable/satellite TV channels that you don't watch anyway.
So here's a way to have your cake and eat it too. The Sling TV app for PC, Mac, including Windows 10 computers and many other devices, allows full control over the content you want to watch. You can buy Sling TV for as little as $20 per month.
One final note: The Sling TV service and  Sling TV app for PC, Mac, Windows and other devices are only available to US residences. All other countries are blocked from watching the content. Additional streaming content and channels are available in many other languages besides English. Be sure to scroll down the bottom of the page when visiting the Sling TV website. There you will find Latino and International. If you want to record whatever you watch on your computer, Click Here.