Getting the Most Out of Your TV Entertainment, Without High Cost or Contract — Just the Way You Want It
 More than likely, you are searching for the best way to watch TV that doesn't cost a bundle. And at the same time, won't cause you to lose favorite TV channels/shows/sports/news and entertaining movies that you're accustomed to watching. Whether It's a PC/Laptop computer or HDTV/Streaming device that's going to be used, the best way can still be setup to one's liking.
Thanks to the Internet, broadband, technology and various types of web TV services available today, we now have the means to watch what we want, when and where we want. And can so without paying high costs or entering into a contract or bundled package. TV viewers now have the power to choose and pay what they want to watch. The power is no longer in the hands of cable and satellite TV companies.
The best way to watch TV starts with one's budget, taste in entertainment, and device s/he wants to use. This can include online TV or OTA TV, or both, which can be very beneficial. If living with cable or satellite, it comes down to making the decision to cut or downsize one's subscription to save money if this is the goal.
Once the decision is made, moving forward becomes a little clearer. For now, we are going to discuss how to get the best of both worlds (online TV and offline TV) without losing many of your favorites.
If paying the high cost of cable or satellite is not a problem, then keep using the service if this is what you want to do. More than likely, you want to keep it because it's convenient. After all, what can be better than doing mindless channel surfing, while sitting on the couch with TV remote in hand.
Cable and satellite TV companies made it easy to watch online TV shows and OTA TV channels, video-on-demand, and live premium channels. But if paying for many channels you don't watch, along with increasingly rising costs, cause you pain, then you might want to check out these alternatives:
Best Way to Watch TV Online
Right now, there is no web TV service that delivers OTA TV channels from local television stations in your area. There are plenty of streaming content providers and 3rd party services online to watch both live and on-demand TV. The best way to watch TV online is to include both free and pay-to-watch web TV services.
Many folks already use Netflix, Amazon Prime, Hulu, YouTube, and other websites to watch on-demand movies and TV shows. Now comes where do you go to watch live TV? You have three choices:
Use all-in-one, low-cost web TV service — brings together both live and on-demand TV to watch in one place. This can include subscription-based TV with/without free TV – See PlayOn or Select TV
Use low-cost, 3rd party web TV/VOD service to watch live premium TV channels with/without on-demand TV – See Direct PCTV, StreamDirect Pro, or 247TvStream
For More Alternatives for Best Way to Watch TV Online – See Top 10 Comparison Chart
Combining both VOD and live TV web services above provides best way to watch online TV. Use any Internet-connected device with web browser such as smart TV, computer, tablet, media streaming device, smartphone, or game console. You can also connect your PC/laptop to any HDTV and watch everything on the big screen. PlayOn also has a TV app for other devices to watch TV online such a Roku.
There are plenty of free VOD websites online TV shows, music videos, movies, and other videos. Some of these sites include YouTube, Crackle, and Pluto TV. By themselves, this could offer the best way to watch online TV if living on a tight budget.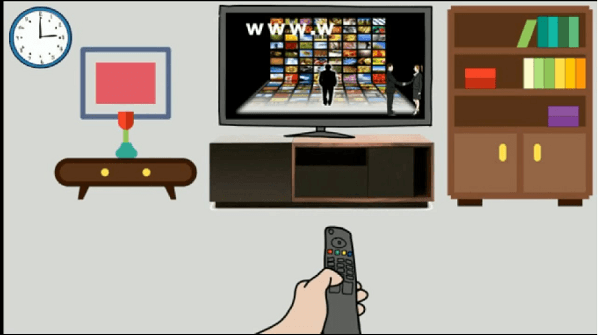 Best Way to Watch Live TV Online (Online TV)
In the past years, you couldn't find many alternatives to watch live TV online. As a result, the best way to watch live TV online was cable and satellite. Today, paid TV companies now offer their TV packages online to their subscribers. But for those who don't have cable/satellite, there are plenty of alternatives out there that offer the best way to watch live TV online.
You can opt for one of the streaming content providers such as Sling TV and pay a lower fee than you would for cable or satellite. Or use an all-in-one web TV solution, such as PlayOn, where you choose what to watch and pay. Unfortunately, cost will increase when opting into many subscription-based TV providers to watch their content online.
A workaround to PlayOn TV, if you don't want the cost to increase, would be a 3rd party web TV service. These services deliver over 150 live premium TV channels to watch live sports, TV shows, movies, and news broadcast. You can watch TV channels from multiple countries. And you pay a small one-time fee or subscription fee to watch everything online, from one source.
As for Sling TV, many believe this is the best way to watch tv online. Some folks are trying to figure out what's the best way to watch Sling TV. While everyone's needs are different, a laptop and smartphone have become popular. These portable devices come in handy when moving around the household or when traveling away from home, near or far. Of course, using any HDTV that's connected to an Internet-connected computer with Sling TV via HDMI cable (or compatible cable) is also popular.
Individuals can also use a smart TV or streaming media device such as Roku or Chromecast and download the Sling TV app. But what this really comes down to is using whatever device you have on hand and feel comfortable with using — best suits your needs. There's really no need to buy any extra streaming device. The best way to watch sling TV really depends on what is most convenient.
If you want to cut/downsize cable or satellite TV to save money, you can do it without losing your favorite TV channels/shows or sports. If you are living without cable/satellite services, you now have the know how to go beyond watching just OTA TV. Then again, you could keep your cable or satellite TV subscription and downsize it (basic cable TV or satellite), and turn your second household TV into an online TV system.
Cut Cable Cord Guide
There's a free ebook download that helps with setting up the best way to watch TV online and offline, without cable/satellite. Many of the web TV services previously mentioned are included in the free guide — To Learn More Click Here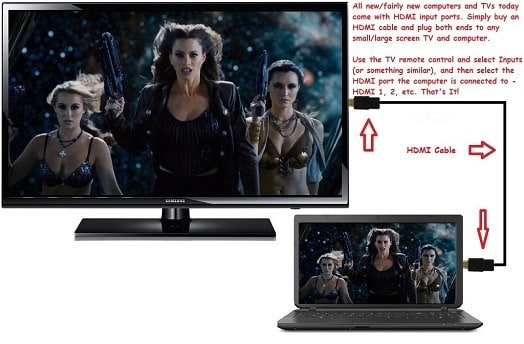 Best Way to Watch TV on PC
Earlier we talked about using both free and pay-to-watch web TV services, as the best way to watch TV online. In fact, there are some pretty good free-to-watch websites available if you really want to save cost. If not, Netflix, Hulu Plus (now with Live TV Beta) or Amazon Prime Video can take care of all your VOD needs, whereas you can watch everything on your computer (Mac, PC, or laptop). In fact, there are plenty other devices that can be used also.
You might want to use your computer to watch YouTube (free) and Netflix (paid) for movies and TV shows. If you like downloading software, the PlayOn TV software for Windows PC (paid or free trial) offers an all-in-one platform to watch free and pay-to-watch TV online. However, the cost will increase when opting into any subscription-based TV service.
Many have found PlayOn the best way to watch tv online. They like using the cast and record feature, especially record which gives them ability to record whatever they watch online. Recordings can be downloaded to any computer's hard drive, external hard drive, or burn to DVD. In addition, you can use any one of low-cost, 3rd party web TV services or content providers to watch live TV online. You just need to weigh the cost, content offered, among other things when making a decision.
StreamDirect Pro TV Software is another one that delivers both live and on-demand streaming content. You can watch live sports, TV shows and news broadcasts online. They provide many live premium TV channels and offer 9 free bonuses related to online TV including a free DVR. They also have a 7-day trial which gives you full access to everything.
It's no secret that many people worldwide believe using a laptop or similar portable device offers the best way to watch TV on PC. This would include college kids that don't have enough dorm room space. Someone that travels a lot or a person that uses his/her computer a lot will use a laptop.
Whatever you decide it will be the best way to watch TV on PC, HDTV, or any compatible device that caters to your specific need.
See Top 10 Comparison Chart to Compare All Web TV Services Mentioned – Click Here
Another thing you can do is connect your computer to any HDTV at home to watch everything on the big screen. You can do this when using an HDMI cable (or compatible cable) that connects to both TV and computer. Grab the TV remote and switch to the HDMI port where the computer is connected. Whatever appears on the computer screen now appears on the TV screen.
Whatever you watch online on the computer can now be seen on the HDTV screen with audio. See Hooking up Computer to TV.
But how do I get access to OTA (Over-the-Air) TV channels from local TV stations in my area? Glad you asked… Read below:
Best Way to Watch OTA TV Channels
You may or may not know you can watch your local OTA TV channels from your area without cable/satellite. In fact, you will get even better picture quality when setting up the following:
If you don't have an outdoor antenna connected to your HDTV, then buy an indoor HDTV amplified 50-mile radius (or higher) antenna. When connected to back of the TV, grab the TV remote and do a scan for local channels in your area. When the scan is finish, you will have access to local TV channels to watch offline. You'll notice how much better the picture quality is compared to paid TV.
You will need to choose TV when going inside the TV menu to watch local channels. See How to Get Basic TV without Cable — http://internettvdotcom.com/local-channels-without-cable
Note: Outside of cable/satellite, there were no web TV services available to watch OTA TV channels from your local area. However, this could change in the near future.
Best Way to Watch TV Live and On-Demand without Cable or Satellite
Here's a quick breakdown of what may interest you and offers more savings. You can decide what best suits your TV online entertainment when checking below…
Best Service to Watch Live Premium TV Channels (Sports, News, TV Shows & Movies):
Best Service to Watch Live Sports Online:
Best Way to Watch TV, Both Live and On-Demand:
Best Way to Watch Movies and TV Shows Online:
Best Way to Record Whatever You Watch on Computer:
You've just learned the best way to watch TV that can suit your needs. If you still want to watch cable or satellite TV, you can turn a second household television into an Internet TV. If you want to cut the cable cord or ditch the dish to lower costs, the alternatives provided should help. If living without a paid TV service, you now know how to watch TV live and on-demand without cable or satellite.
The best way to watch TV is the one that allows you to choose what you want to watch and pay. Say hello to a la carte TV and goodbye to traditional television. You can still watch many of your favorites without cable and satellite.